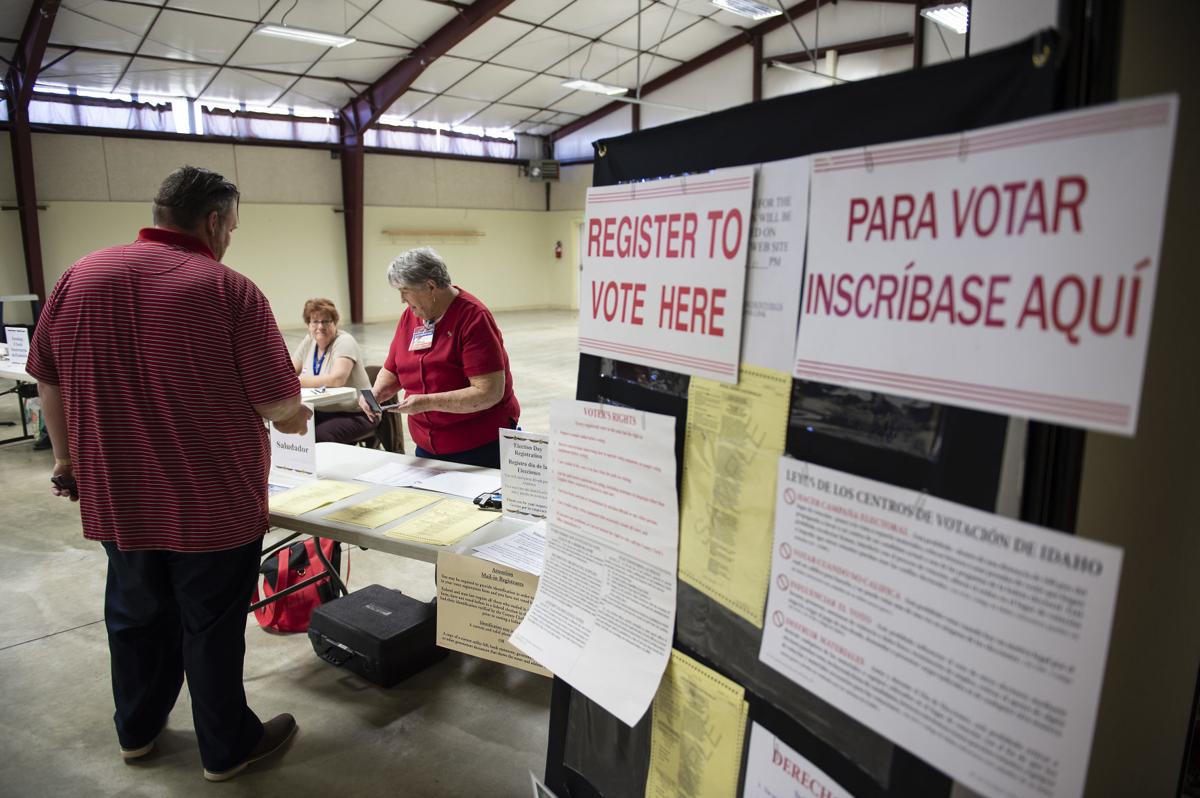 SHOSHONE — With fewer than 10 days until the absentee ballot request deadline for the May 19 election, Lincoln County does not have sample ballots and instructions on requesting an absentee ballot available in Spanish on its website.
Lincoln County is the only Magic Valley county that meets the standards laid out by the Voting Rights Act requiring it to provided ballots in another language. It first did so for the 2018 gubernatorial election. Those rules state that if more than 5% or more than 10,000 voting-aged citizens are limited-English proficient, and if the number of voting-aged residents with less than a fifth-grade education exceeds the national rate, then a county must provide ballots in that language. This means that all material that would be available in English must be available in Spanish, but the rules do not specify what channels must be used to make the information available.
County officials said that sample ballots, which have voter information in Spanish printed on them, are posted at Hispanic markets and the post office.
"Our Spanish population does not usually use our website," Lincoln County Clerk Brenda Farnworth said. "Our sample ballots have the translation on it. The (Department of Justice) told us to do this, and according to them it doesn't make sense to put it in places (Latinos) will not go."
Conservation Voters for Idaho, a Boise-based voting rights group, said it contacted the county in September 2018 about the lack of Spanish information on its website. In October 2018 the county had a Spanish voter information form and a Spanish absentee ballot request form, neither of which exists on the site anymore.
Lincoln County does not have its sample ballots in English on its website either, but it does have a link to the absentee request form on the elections page of its website. The description of the link is not in Spanish.
"Conservation Voters for Idaho is disappointed to see Lincoln County, once again, fail to meet the requirement under the Voting Rights Act to provide Spanish-language voting resources," Antonio Hernandez, voting rights associate at Conservation Voters for Idaho, said in a statement. "County election officials need to be proactive in providing up-to-date voter information in accessible formats, especially when our upcoming election has dramatically changed due to COVID-19."
The state primary election will take place by mail due to the COVID-19 pandemic, leaving many Idaho voters confused about how to vote. High volumes of requests crashed the online portal to request a ballot on the State Board of Elections website several times.
Some sample ballots posted to the Lincoln County Facebook page are improperly translated. On its judicial nominating ballot "to succeed justice" is translated to "para tener exito justicia." "Tener exito" means to have success, not to replace. The Department of Justice states on its language provisions guide that proper translation is crucial to protect the vote.
"Care should be taken to provide an accurate translation that meets the needs of the minority community," the guide reads. "Poor translations can be misleading for voters and embarrassing for local officials. Beyond quality control, there can be significant differences in dialect within a given language group, and it is the responsibility of local officials to provide a translation that local voters actually can use."
In two posts, one from April 30 and another from May 6, information about how to get help with election-related questions were in English only. Farnworth said Spanish speakers can call the county clerk's office at 208-886-7641. She said that the county uses an automatic translator so that anyone may answer calls in Spanish, though the Department of Justice suggests relying on trained bilingual staff.
Voting rights groups are concerned that these issues along with those brought by the pandemic will result in low voter turnout across the board, but especially for those who face accessibility barriers like language and a stable internet connection. Advocates are concerned that much of the voter outreach across the state is not appropriate for the demographics it intends to reach.
"There's a lot of assumptions being made about voters," said Jeremy Woodson, community engagement manager at the American Civil Liberties Union of Idaho. "If you have five solutions and they all require you to go online, there's an assumption that all voters have an internet connection and that's not the case."
Farnworth said that the county has continued to look for ways to bring information directly to Spanish-speaking voters, but has struggled, especially with the sudden shift to mail-in voting brought on by COVID-19, the disease caused by the novel coronavirus.
"It's challenging to reach them," she said. "That's what we've come up with to get the ballots and voting information to them at this time."
Not a unique problem
Voter disenfranchisement has historically been a problem for Latinos and is not exclusive to Lincoln County nor Idaho. A lack of voter information and outreach at every level of government as well as a tendency toward lower education and income levels contribute to a host of issues that keep Latinos from showing up at the polls.
The Secretary of State's office emphasizes the responsibility of individual counties to provide comprehensive information for all voters, but groups like the American Civil Liberties Union of Idaho say that the state can do more to enforce compliance and encourage proactive, inclusive voter outreach without the need to wait for directives from the federal government.
Twin Falls, Jerome and Gooding counties all told the Times-News prior to the November 2019 election that they did not have voting material in Spanish and would not be doing so unless ordered. Counties like Jerome that are close to hitting the threshold that would require it to provide information in Spanish tried to get voters engaged through registration drives and answering questions on Spanish radio, but still experience a low voter turnout from Latinos.
Spanish ballots aren't enough to engage voters and address structural barriers to voting. Lincoln County actually experienced a decrease in voter turnout the first election it provided Spanish ballots. Experts say it's too early to tell if the translated information is effective. Advocates say voter education is necessary to bring historically disenfranchised voters to the table.
"There is a huge education barrier for new voters," Ruby Mendez, advocacy fellow with the ACLU of Idaho, said. "It's very difficult to get registered to vote, to get out to vote, to find a polling place if you don't know where to start."
Conservation Voters for Idaho created its own voter information page that is also translated into Spanish. Advocates at the ACLU of Idaho said that while these groups are monitoring voting rights, there's only so much they can do and it is up to officials to create and enforce uniform standards for voting rights for everyone in the state or it will continue to be insufficient.
"If this is what happens when that's a requirement," Woodson said of Lincoln County and the lack of appropriate voter outreach in Idaho, "Then what does it look like when there's not a requirement?"
Megan Taros is a Times-News reporter and Report for America corps member covering the Magic Valley's Hispanic community and Jerome County. You can support her work by donating to Report for America at http://bit.ly/supportRFA.
Get Government & Politics updates in your inbox!
Stay up-to-date on the latest in local and national government and political topics with our newsletter.