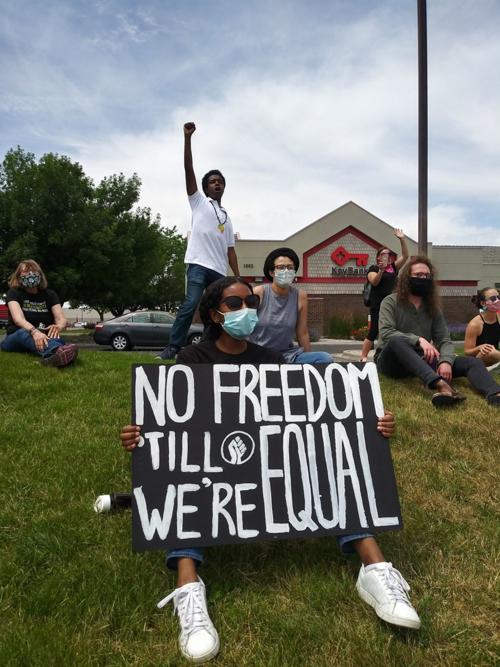 TWIN FALLS — Hatim Eujayl raised his fist high in the air and led a group of about 25 protestors in a chant over the sound of afternoon traffic.
"When I say 'Black Lives, you say 'Matter,' Eujayl shouted.
"Matter!" the group called out.
The protest was organized to draw attention to the Black Lives Movement and how Twin Falls could serve as a leader for police reform.
The protest started in front of the Twin Falls Visitor Center Saturday and ended with a sit-in protest at Blue Lakes Boulevard and Pole Line Road.
Organizer Savina Barini had protestors sign a letter before the sit-in began. The letter is addressed to Twin Falls Mayor Suzanne Hawkins, Twin Falls Police Chief Craig Kingsbury and the Twin Falls City Council. It asks them to stand with the group and commit to implementing eight restrictive use of force policies meant to reduce killings by police.
"Twin Falls has the opportunity to be the first city in Idaho to implement the 8 Can't Wait policies and lead the way for other cities to make all their citizens safer," the letter says. "It is significantly more difficult to implement new policies in large metropolitan areas. The smaller departments in Twin Falls are better equipped to listen and respond to community needs, and owe it to our community and the country to set an example of positive change based on reputable research being brought about quickly and peacefully."
The #8CantWait initiative is part of Campaign Zero, which launched as part of Black Lives Matter in 2015 after the shooting death of 18-year-old Michael Brown by a police officer in Ferguson, Missouri. The deaths of George Floyd and Breonna Taylor have renewed the push for police reforms like implementing #8CantWait.
The #8CantWait policies include banning all chokeholds and strangleholds under any circumstances, banning officers from shooting at moving vehicles in all situations and requiring officers give verbal warning in all situations before using deadly force.
From the Twin Falls Visitors Center, the group marched to one of the busiest intersections in Twin Falls.
"We are still losing lives," Eujayl said to the group. "It's not too late to end police brutality. ...Twin Falls has a chance to be a leader. We can make a difference and I'm so happy to see you all here today."
The group sat by the road holding signs that said "Black Lives Matter" and "No Justice, No Peace, Black Lives Matter."
Some drivers honked horns in support.
Others stared in silence.
One woman sitting passenger in a car rolled down her window, hollering as she smiled and waved.
The driver of the car honked their horn wildly as the group yelled back in appreciation.
Get Government & Politics updates in your inbox!
Stay up-to-date on the latest in local and national government and political topics with our newsletter.