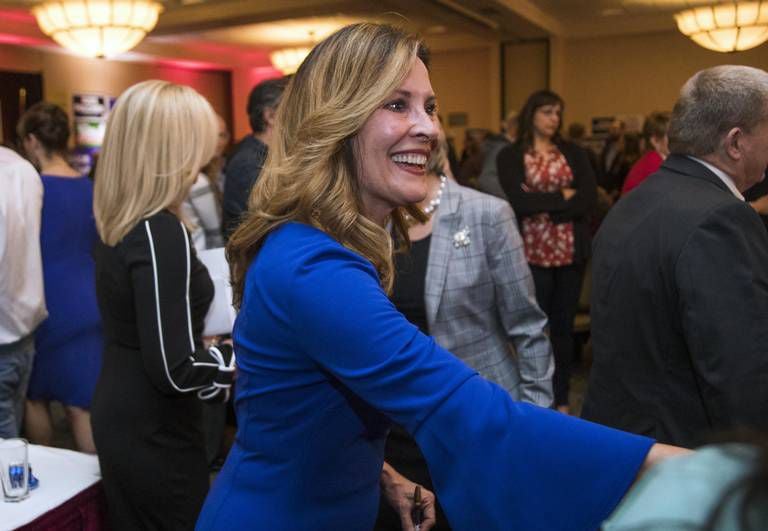 BOISE — Lieutenant Govenor-elect Janice McGeachin has made history as the first woman elected to Idaho's second-highest statewide office. That, you already know.
But what else should you take note of before the Republican from Idaho Falls is sworn in to office on Jan. 6? We've got you covered with five things you should know about McGeachin:
1. You don't say the "ch" in her last name.
It's pronounced Mc-Gee-in.
2. McGeachin owns an Irish pub in Idaho Falls that smokes its own meat in-house.
The Celt Pub and Grill serves up scotch, whiskey and plenty of corned beef.
McGeachin and her husband, Jim, also own the wholesale automotive parts supplier store Idaho Transmission Warehouse, which has two Idaho locations, as well as a torque convertor remanufacturing plant called High Torque that they bought from Jim's father.
3. She had private guards during a public television debate during the campaign.
As a candidate for lieutenant governor, McGeachin brought multiple security guards to an Oct. 17 debate at Idaho Public Television in Boise — the first time staff there recalled a candidate taking such a step, the Idaho Statesman earlier reported.
A McGeachin spokeswoman told the Statesman the campaign was not aware of any specific threats, then declined to answer questions about the guards, saying she would not comment on "specifics of security."
But McGeachin last week told Idaho Falls radio station KID NewsRadio the guards' presence "wasn't a security deal."
"They were veterans," McGeachin told KID NewsRadio in an interview shared on Nov. 1. "They are my friends. They support me. I was happy to have them be there and I had previously mentioned the fact to them that my campaign has received some harassment from supporters of my opponent and they wanted to just be there to help me, you know, be there for me. That's what it was. It wasn't a security deal."
As lieutenant governor, McGeachin may have access to protection from Idaho State Police troopers.
4. While in the Statehouse, she fought Obamacare's implementation in Idaho.
McGeachin spent a decade in the Idaho Legislature starting in 2002, and she chaired the House Health and Welfare Committee. There, she voted against a bill supporting a state-based health insurance exchange, made cuts to Medicaid funding and pushed to create a Health Care Reform Oversight Committee.
The Statesman earlier reported that in a debate during her 2018 lieutenant governor campaign, McGeachin characterized Medicaid expansion as "an expansion of Obamacare in our state. Which I have always opposed." Idaho voters passed Proposition 2 to expand Medicaid with 60 percent support on Tuesday.
5. McGeachin was aligned with the tea party back in its heyday.
While in the Statehouse, McGeachin sponsored legislation that aligned with the tea party's interests, including tax reform. It was also rumored that she would run to the right of Republican U.S. Rep. Mike Simpson in Idaho's 2010 primary at the tea party's urging — and rumors flew about more possible challenges to Simpson in subsequent election years. McGeachin never filed to run for Congress.
She still espouses staunchly conservative views. McGeachin wrote in the Idaho Statesman's voter guide ahead of the 2018 election that she hopes to help the governor "by increasing our freedoms and liberties, free from the bonds of excessive government regulations. The federal government has become too restrictive in how we teach our kids, manage health care, build our roads and manage our resources."