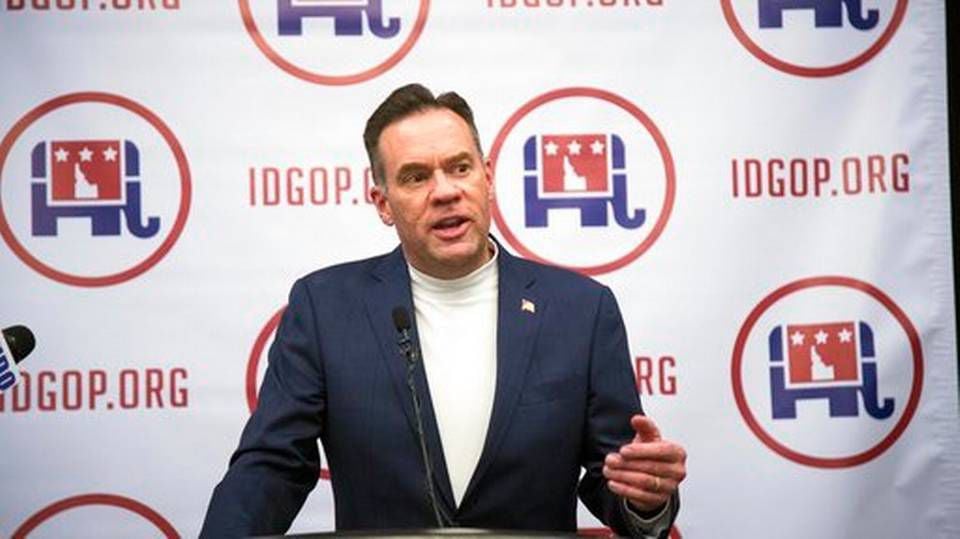 WASHINGTON — The U.S. House early Saturday morning passed a sweeping coronavirus economic aid package to deal with the virus rapidly spreading across the nation.
One Idaho congressman voted against the measure. Another voted for it.
No Democrats voted against the bill. Among the 40 Republicans voting no is freshman Idaho U.S. Rep. Russ Fulcher, who represents Idaho's 1st District covering north and western Idaho. U.S. Rep. Mike Simpson, who represents the 2nd District, voted yes.
emergency paid sick and family leave
emergency food aid
unemployment among other items aimed to expedite response to and treatment of the coronavirus
financial assistance to people and businesses affected by virus' effect on the nation's economy
The House passed the package, H.R. 6201: Families First Coronavirus Response Act, on a bipartisan 363-40 vote.
President Donald Trump backs the measure, which came after two days of intense negotiations between U.S. Treasury Secretary Steven Mnuchin and House Speaker Nancy Pelosi. The Statesman asked Fulcher why he chose to vote no.
Here is Fulcher's full statement:
"The coronavirus aid package was negotiated between Speaker Pelosi and Sec. Mnuchin. The president had agreed in principle, but other Republicans were cut out of the negotiation and the final draft was still being written while voting was taking place, reportedly, with drafting errors yet to be corrected. We did know that billions in spending were included having nothing to do with coronavirus, and government was mandating small businesses to pay sick leave. After already voting to spend $8.3 billion for emergency provisions, I wasn't comfortable spending another (roughly) $50 billion not knowing exactly what it was for, other than the portion having nothing to do with the coronavirus effort. We should have stayed until we got it right."
Just before the House was slated to vote on the measure, Trump wrote on Twitter, "I encourage all Republicans and Democrats to come together and VOTE YES! ... Look forward to signing the final Bill, ASAP!"
The U.S. Senate is expected to take up the bill when it returns to Capitol Hill on Monday, March 16.
Following Friday's announcement of Idaho's first coronavirus case, Idaho U.S. Sen. Jim Risch issued a news release stating he will work with his colleagues in the U.S. Senate to pass emergency funding where needed.
Crapo has not publicly commented on emergency funding, but on Twitter on Friday he wrote, "As Idaho confirms its first positive case of the coronavirus, I pray for that individual's speedy recovery. I will stay in close communication with (Gov. Brad Little) to ensure Idaho has the resources necessary to continue being proactive to stop the spread of the virus."
On Monday, Simpson issued a news release explaining why he voted yes on the aid package.
"I fully support President Trump's call to pass the second emergency supplemental package in response to COVID-19. That is why I cast my vote in favor of H.R. 6021, which delivers on the urgent needs our country faces," Simpson stated.
Simpson said the bill includes "critical funding for testing, enhanced food security for our most vulnerable citizens, and economic stability provisions to help businesses and employees around the country."
"I stand ready to continue to work with my colleagues in Congress and with President Trump to help the American people through these challenging times," Simpson said.
Idaho prepares for May 19 primary
Fulcher and Simpson are up for re-election this year as is Idaho U.S. Sen. Jim Risch.
Idaho will hold a state primary on May 19 to elect the state's Constitution, Democratic and Republican candidates for federal and state offices. The general election is Nov. 3.
Fulcher, who is in his first term, is seeking re-election. He faces one challenger, Nicholas Jones of Boise, in the Republican primary.
Two Democrats, Rudy Soto of Nampa and Staniela Nikolova of Moscow, are seeking the Democratic nomination. One Libertarian, Joe Evans of Meridian, also is running for the seat, according to the Idaho Secretary of State's Office. The deadline to file a candidacy form was March 13.
"This is not a time to play partisan games with the health of Americans and the country's stability at stake," Soto said in a statement to the Statesman after reading Fulcher's response. "Now more than ever it is necessary to put partisan bickering aside, work together, and compromise for the sake of Idaho and the country.
"While it may not make sense to Rep. Fulcher to provide other forms of assistance during this public health crisis, it is essential to support emergency paid sick and family leave for those who are sick and their caretakers, so Idahoans can limit the spread of the virus and focus on recovering with the peace of mind of a paycheck."
Concerned about COVID-19?
Sign up now to get the most recent coronavirus headlines and other important local and national news sent to your email inbox daily.