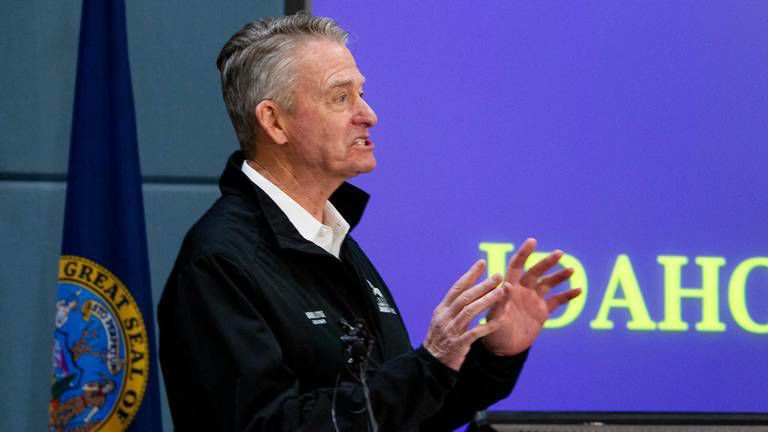 BOISE — Idaho Gov. Brad Little said Thursday night that he expects to add some sort of action on top of the 21-day, stay-home order he issued March 25.
His original order runs through April 15. It was designed to slow the spread of the coronavirus that causes the COVID-19 disease.
"I know something will take its place," Little said during a half-hour Q&A with Idaho Public Television. "As we see the science and the epidemiology from the other places, as we see what we have here, we will adjust it. … Until we have a vaccine, until we have immunity, until we have good treatments, something's going to have to take place after the 15th, but it depends upon the science that's out there.
"Life will not go back to normal for a long time."
Little, who resisted putting significant restraints on citizens until community spread was confirmed, said the stay-home order was not done "lightly." He issued a county-wide order when community spread was confirmed in Blaine County and a statewide order when it was confirmed in the Boise area.
Blaine County's case total ballooned to 351 on Thursday as it has experienced one of the nation's worst per-capita infections.
"This is not my natural state at all," Little said, "in a state, the most unregulated state in the union, that's my natural state. But the safety of the people of Idaho is paramount. … It's a heavy responsibility to me. We want to be able to go back to what we were before, but the consequences of not doing it, of having the spread like we had in Blaine County, that rapid spread we had there, I just felt an obligation to get ahead of it. Today, we have community spread in every corner of the state."
Idaho had 141 total confirmed coronavirus cases on the day Little issued the stay-home order. That number jumped to 870 on Thursday — eight days later. With the lag in testing results, the latest number is more indicative of what the situation was like when he made the order.
It will take at least two to three weeks to learn how well the stay-home order is working.
Community spread has been confirmed in 12 of Idaho's 44 counties, and 30 have reported at least one COVID-19 case.
"It's absolutely, from a scientific basis, and from a health care basis, and from a legal basis, the right thing to do," Little said of his order. "But it was a heavy decision for me to do it. By not doing it, the health consequences would have been worse, and we would have overrun our health care facility, and we'd have those terrible consequences like are about to happen in New Orleans, happened in Italy, and we don't want that to happen in Idaho."
Concerned about COVID-19?
Sign up now to get the most recent coronavirus headlines and other important local and national news sent to your email inbox daily.