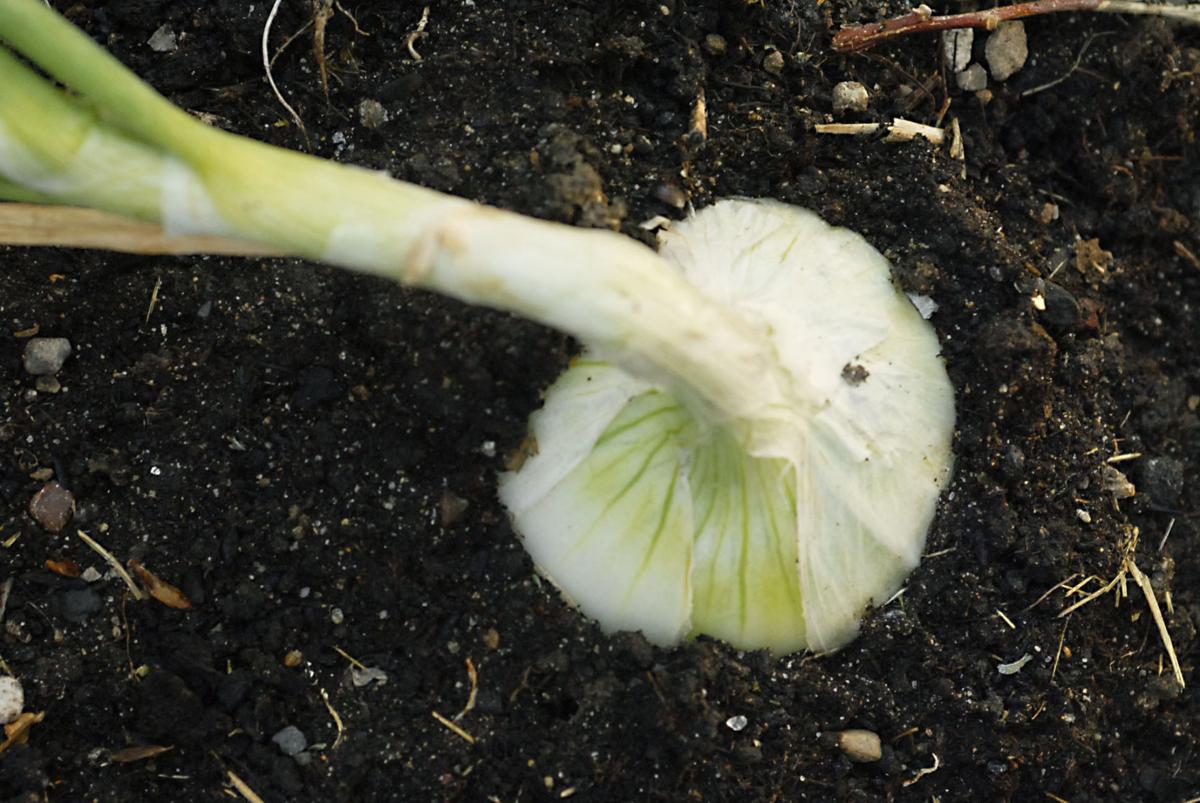 It doesn't take a person long to learn the smell of an onion. Once this smell is learned it is easy to identify the other members of the allium family. Some individuals cannot stand the smell of onions or other alliums. It is the same for many insects. Plants in the allium family can be used to deter pests away from desired crops or plants. The smell of alliums also can mask the scent of the desired host plant and the insects cannot find them. This is known as allelopathy and is used in plant associations, but that is an article for another day.
One question that I get regularly is why I can't purchase onions from certain plant catalogs or online companies. The answer is plant quarantines. Southwestern Idaho and eastern Oregon produce more commercial onions than any other region of the United States. To protect our onion production the Idaho Department of Agriculture is trying to keep white rot out of Idaho. This disease is transported in allium bulbs and sets, but not on seed. The reason we do not want this in Idaho is that the sclerotia from the fungus can live in the soil for up to 30 years, making growing allium species in that area extremely difficult. The only control option is to prevent it from getting here. For further information on plant quarantines in Idaho, please visit extension.uidaho.edu/publishing/pdf/CIS/CIS1183.pdf. This disease was identified in a field in northern Idaho last year, but that has been determined to be an isolated event.
Alliums grow very well in Idaho. Alliums can be grown from seed or sets. Onions, chives, garlic, leeks and shallots are common species grown as vegetables. There are general growing requirements for this group and a few tips specific to individual species that will help you produce a healthy high yielding crop.
General growing requirements:All allium species prefer full sun and fertile well drained soil. They all respond well to the incorporation of organic matter into the soil prior to planting. They require regular watering and water stress will decrease yields and bulb size. Weed competition also will produce similar results. All do well with being mulched to control weeds and support water conservation. Alliums are hardy cool-season plants and can go out into the garden early. Seeds are planted 1/4—1/2 inch deep and in rows 8 – 16 inches apart.
Species specific tips:Onions: Planted from seed or sets. Seeds and sets should be planted 3 – 4 inches apart to allow for bulb set. If you like green onions, you can plant them closer and thin and use as green onions. Harvesting onions properly will allow for longer storage. Watch for the tops to fall over. When the tops fall over, lift the bulbs out of the ground and leave them in the garden to dry for 1 – 2 weeks. Use the tops of the onions to cover the bulbs to protect from the sun. You will know when the onions are cured when their skin is papery, and the roots are dry. Store onions in a mesh bag or braided in a cool dry location.
Garlic: Planted in the fall, 2-3 inches deep, 3-4 inches apart and in rows 6-10 inches apart. A side dressing of a nitrogen fertilizer in May will keep the plants growing strong and increase yields. Harvest garlic when the tops are yellow but before they dry. There are two forms of garlic neck types (hard or soft) and elephant. Hardneck have a hard stem that grows up through the bulb and a short storage life. Softneck store very well and are used for braiding. Elephant are closer to a leek than a garlic and have a much milder flavor and store poorly.
Chives: Grown from seed, transplants and division. This is one plant that can provide many benefits to your garden and lasts for many years. I have planted chives under my fruit trees for many years to help deter insects. You can even divide a portion of the plant and bring it indoors in autumn for use throughout the winter and plant it back outdoors in the spring. If bringing indoors, place in a sunny location and keep soil from drying out.
Leeks: Grown from seed or transplants. After plants have grown up, hill the soil around them two or three times throughout the growing season pilling 2-3 inches of soil each time around the plants. This makes for a larger blanched edible stem. You can begin harvesting and using leeks when they are larger than one inch in diameter. Varieties that do well here are King Richard and Large American Flag.
Alliums have many uses in the landscape and the garden thanks to their allelopathic properties, so let nature help you by planting them. They are also good for your health. And best of all, they are easy to grow and harvest. If you haven't planted alliums, there is no better time to start than today.
Garden Wise is presented by the Magic Valley Master Gardener Association. We will try to answer questions of general interest submitted by the community. Email questions to gardenwise@cableone.net.
Get local news delivered to your inbox!
Subscribe to our Daily Headlines newsletter.