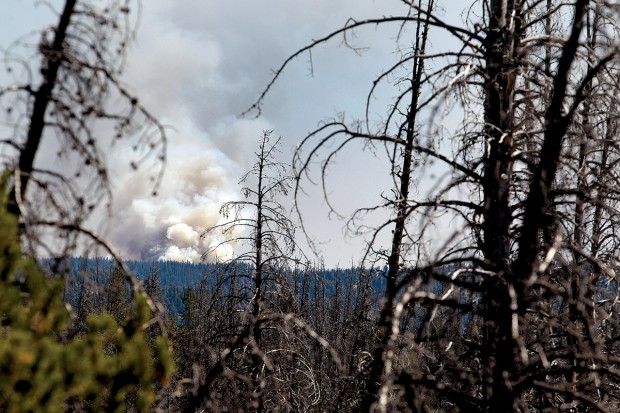 KETCHUM • Idaho's trees need a hug.
After years of being ravaged by aggressive beetles, forest officials are now reporting signs of a new insect infiltration just south of Stanley.
The new invasion is just another blow to efforts to help recover the ecosystem of southern Idaho's forests, said Jim Rineholt, forester with the U.S. Forest Service.
"I've said it before, it's a rough time to be a tree in a forest right now," he said.
The Sawtooth National Recreational Area is currently experiencing a spruce budworm outbreak first spotted in 2004. The insect is known for defoliating Douglas-fir, spruce and many other tree species. Once stripped of their foliage, trees are at a greater risk of reduced growth, dead tops and mortality.
The outbreak is part of the forest's long line of insect infestations that have wreaked havoc on the SNRA.
Most recently, mountain pine beetles once infested the majority of lodgepole pines in the Sawtooth Valley. The beetles first showed up in the 1990s and fed on the forest until 2010.
Though the beetles are gone from that area, Idaho is still feeling the effects of the attack. For example, fire crews have pointed to the multitude of beetle-killed trees as one of the reasons the 153,000-acre Halstead Fire grew so quickly.
Idaho is far from the only state to experience an onslaught of insects and disease in its forests. More than 6.4 million acres of the nation's forests died from a combination of insect and disease in 2011, according to a recent report from the Forest Service.
Close to 60 percent of the mortality was caused by the mountain pine beetle and more than 4.5 million acres were defoliated by spruce budworm, the report stated.
Overall, Idaho has seen a drop in the amount of trees killed by insects and disease since 2008. But that doesn't mean forests are getting better, Rineholt said.
If Idaho's weather continues to have shorter and warmer winters, then the ecosystem must change, he said.
Without a cold enough winter, the chances of insects and diseases dying remain low. This could eventually force forest officials to change what types of trees get planted in the forest in order to assure long-term survival, Rineholt said.
"This is the start of a broader picture," he said. "These trees are going to have to face more insects than drought in the long term."