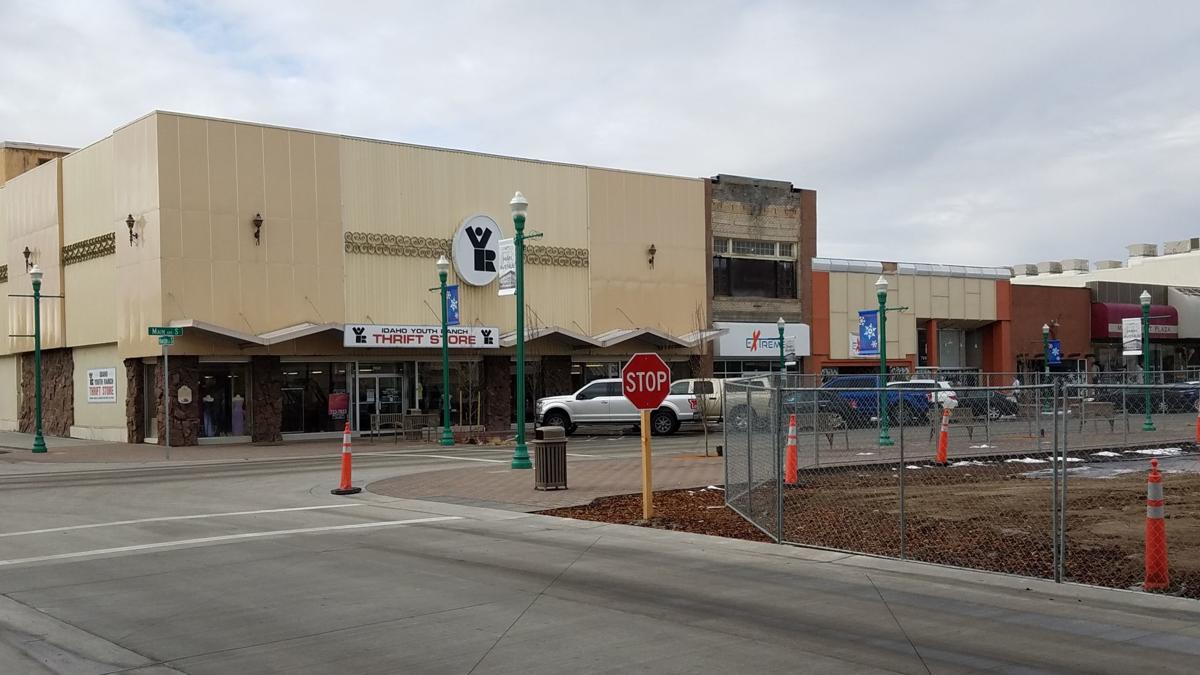 TWIN FALLS — After two trips through planning and zoning and another two through the City Council, a downtown building project appears ready to start demolition on the old Idaho Youth Ranch store.
On Monday, the City Council again approved Summit Creek Capital's proposal to build what will be Twin Falls' tallest building. The six-story, 75-foot building's top four floors will be apartments, with office spaces and retail occupying the second and ground floors respectively.
The project had to reappear before planning and zoning and the council because of an address mix-up during the project notification process. Instead of notifying business owners and residents within 750 of 160 Main Ave. South, the notices went out to those within 750 feet of 160 Main Ave. North — just a tenth of a mile down the street.
"It was never our intent to try to skirt the process," owners' representative Fran Florence said.
Several individuals with downtown business interests spoke in favor of the Youth Ranch proposal. They said the six-story building will be valuable for downtown's ongoing revival.
Dan Brizee, owner of Brizee Heating and Air Conditioning and a former Urban Renewal Agency chairman, said that the URA bought the Youth Ranch property with a big project in mind.
"This is really important for the redevelopment of downtown Twin Falls," Brizee said. "Downtown can't prosper without more housing and it can't prosper without more business."
Downtown business owner Rudy Ashenbrenner voiced his support for the project. Ashenbrenner is a member of the Urban Renewal Agency, but spoke as a private business owner.
"If we can't make adjustments for growth, we're in trouble," Ashenbrenner said.
Not all felt the project was entirely beneficial. Downtown business owner Susan Hall said the building is too big, although she appreciates that it will bring people downtown. At 75 feet, the building will be more than 30 feet taller than City Hall.
"I think it's going to dwarf us," she said. "It's a monstrosity."
Business owners and city officials alike noted that Twin Falls will continue to grow, and in order to accommodate that growth without losing agricultural land, it's important to start building vertically. Many emphasized that if the goal is to maintain Twin Falls' rural feel, it will become increasingly necessary to build up instead of out.
City Councilman Greg Lanting commended the developer and future occupants for helping make the project happen.
"It brings jobs downtown, it brings housing downtown," Lanting said. "I can't imagine how many restaurants are going to pop up."
There could be more controversy surrounding the project in the future. Florence said that there will be a need for additional parking. Planning and zoning staff said that there is sufficient parking near the Youth Ranch site to handle the new building and its occupants.
KickBack Rewards Systems CEO Pat Lewis, whose software business will be using office space at the new property, said he expects parking to eventually become an issue.
"There will in fact need to be more parking there," Lewis said. "If I can't get enough parking for my employees, I'll only put about half of them downtown."
Florence alluded to the possibility of parking projects near the Youth Ranch site, although City Councilman Chris Reid emphasized that the city has made no commitment to any sort of parking structure.
Summit Creek Capital, the developer for the project, said last month that demolition of the building should begin shortly after City Council approval. Construction is expected to begin in the spring, and will last over a year.
Get local news delivered to your inbox!
Subscribe to our Daily Headlines newsletter.