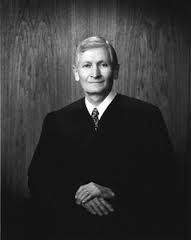 TWIN FALLS — Former state Attorney General and Idaho Supreme Court Chief Justice Jim Jones says we can expect to hear more from him now that he has retired.
Jones was elected to the Idaho Supreme Court in 2004; he did not run for his third term last year.
"Living in my ivory tower, I couldn't get out and hobnob — couldn't say anything about issues of public interest," Jones told the Twin Falls Rotary Club Wednesday. "Now I feel liberated."
By state law, judges must remain neutral and not express their opinions, said Scott Graf, spokesman for Idaho Attorney General Lawrence Wasden's office.
"Say Jones was still on the bench and he speaks very passionately about something he believes in," Graf said. "Then a year later, the issue comes before him in court. He couldn't be impartial and wouldn't be able to hear the case."
No longer forced to be silent, Jones, 75, has a lot to say — especially about refugees and "the so-called news that has caused a lot of trouble for businesses, like Chobani, and (the College of Southern Idaho's) refugee program," he said. "These (refugees) need safe haven. They should be welcomed here."
Jones called out Breitbart News, World Net Daily and others he says have played "fast and loose with the truth" and should not be regarded as credible.
He made an impassioned plea to give Twin Falls' refugees a chance as he described his own experience with those from a war-torn country.
You have free articles remaining.
Jones, who was raised in Eden, served a tour of duty with the U.S. Army in Vietnam from 1968-69. He said the Vietnamese he worked with earned his respect and admiration. When South Vietnam fell in 1975, a flood of Vietnamese came to the United States.
Fear-mongers warned "'these people are going to be a problem for us,'" he said. "It didn't work out that way."
Jones' comments were met with nods of approval from club members.
"I respect his courage and perspective," CSI President Jeff Fox said.
Greatest accomplishment
Jones considers the Snake River Basin Adjudication, a legal process that started in the mid-1980s to determine who owns water rights in the Snake River Basin drainage, to be the defining event of his legal career.
Shortly after he was elected Idaho attorney general in 1982, water rights came to the forefront when Idaho Power Co. tried to claim all the water in the Snake River to generate electricity at Swan Falls. Jones worked hand in hand with then-Gov. John Evans and others to protect the water rights of irrigators.
"(Jones) really was very much involved with the Swan Falls agreement," said Vince Alberdi, recently reappointed by Gov. C.L. (Butch) Otter to his third term on the Idaho Water Resource Board. "That agreement set the path for the management of water resources for today and in he future.
"Due in part to guys like Jim Jones, Idaho is head and shoulders above other states when it comes to administrating water rights."