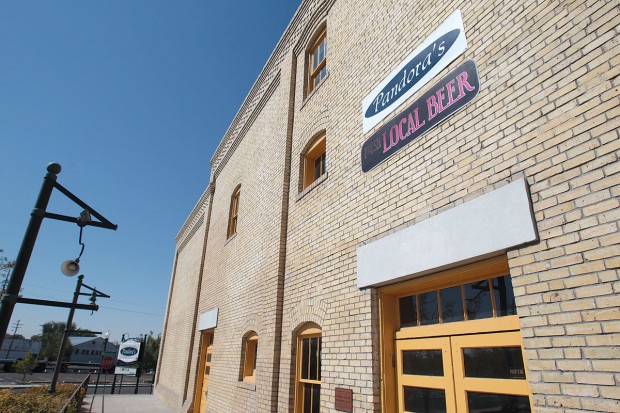 TWIN FALLS • Those who turned an Old Towne flour warehouse into a trendy brewpub in the 1990s were pioneers — leading the way in private investment to redevelop the historical district's industrial structures.
But that transformation was costly. Since 1996, three restaurants came and went in the Muggers Brewpub building, unable to consistently draw enough business to sustain its high costs. Vacancies followed each departure, as Twin Falls restaurateurs went elsewhere for more affordable real estate.
Now, a foreclosure and a sheriff's sale have put the building back on the market — at a price that's attracting interest.
Once listed at $1.1 million and later sold for close to $650,000, the brewpub on June 6 was sold at public auction to creditor Bank of the West for $366,000.
"We recognize that the building at 516 Hansen St. S. in Twin Falls is a unique location, and we are in the process of seeking a buyer for the property," Jim Cole, spokesman for the California-based bank, said Wednesday.
The 1990s restoration left some brick walls exposed and employed a good deal of dark wood, for a classy but comfortable pub setting. Sun Valley's Scott Featherstone of Trail Creek Brewing Co. operated the second microbrewery there before leasing the space to Pandora's Restaurant. The doors have been closed since Pandora's exited in September 2010.
In March 2011, lender Bank of the West filed a civil case against Featherstone, Trail Creek Brewing and associated businesses in Twin Falls County's 5th District Court, seeking repayment of a $348,175 loan plus costs, fees and interest.
By September 2011, Featherstone and Trail Creek were in default for failure to plead or otherwise defend in the case, and Featherstone did not return calls from the Times-News this week. A November 2011 foreclosure judgment ordered the property sold to satisfy the debt and other fees — which by early June totaled $440,287, court records say.
On June 6, Twin Falls County Sheriff Tom Carter sold the property at public auction. Bank of the West's high bid left more than $74,000 of the judgment unsatisfied.
What price will Bank of the West put on this distinctive piece of Twin Falls' historical district? The bank isn't saying.
Potential buyers were unwilling to speak on the record this week. But the prospect of a price lowered by foreclosure has some in the restaurant industry talking.
"I've heard varying interest in it. I understand there are qualified buyers who are interested in purchasing. And I think it bodes well for downtown," said Lynn Sheehan, executive chef at the nearby Cucina Gemelli.
Any deal now would have to take into account a right-of-redemption period that doesn't expire until early December.
Because this was a judicial foreclosure, Idaho law provides for a right of redemption — by previous owners or junior lien holders — for six months from the sale date, said Kelly Greene McConnell of Boise, attorney for plaintiff Bank of the West. After that point, the sheriff's office will be authorized to issue a deed to the bank, she said.
Has there been activity by anyone intending to redeem the property?
"I haven't received any notification that there has been," McConnell said.
Neither has Carter's office, sheriff's spokeswoman Lori Stewart said.