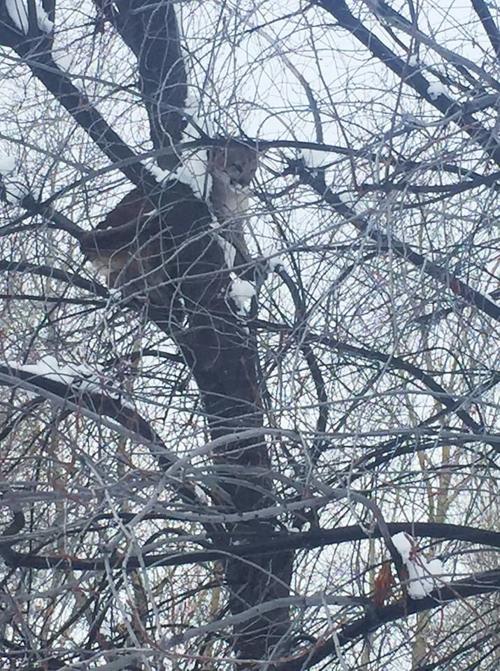 KETCHUM — Fish and Game officers killed a mountain lion Wednesday morning after two dogs were fatally attacked in the Warm Springs area of Ketchum, the department said.
Officials were called to two separate reports of mountain lion attacks early Wednesday morning, the department said in a statement. When they arrived at the first, officers found the dog, which was in a fenced backyard, still alive, but it later had to be euthanized by a local veterinarian.
Shortly after the first report, officers were told a second dog had been killed by a lion a few blocks away.
Officials called for hound owner to help track the lion, which was soon found hiding under a deck just across the street from the attack, the statement said. The officers then euthanized the lion.
"The mountain lions living within our local communities seem to be growing more accustomed to hunting in and around neighborhoods," Senior Conservation Officer Clark Shackelford said in the statement. "The large number of resident deer and elk are bringing the lions into town, and then the lions, which normally feed on these animals, are also finding that there are other things to prey upon, which unfortunately can include local residents' pets."
Two other dogs were attacked by mountain lions in the past week in the same region.
A mountain lion attacked a dog Saturday while it was on an unfenced porch in west Ketchum. The dog's owner stopped the attack quickly, and the lion immediately left the scene. The dog was injured and was being treated at a local veterinary clinic.
A mountain lion killed a pet dog Sunday in Gimlet, an unincorporated town south of Ketchum. The dog was in a fenced backyard when it was attacked.
Shackelford reminds local residents to be vigilant and aware of their surroundings when outside, especially if they have pets.
"If you walk your dog, especially in the early morning, or evening, keep your pet on a leash," he said. "Winter is just beginning, and we anticipate that mountain lions will continue to move into the valley over the coming months due to the availability of prey."
Fish and Game says if someone encounters a mountain lion they should never run, but back away from the lion slowly and make as much noise as possible.
Anyone who has a significant encounter with a mountain lion should call the Magic Valley Regional Fish and Game office, 208-324-4359, or local law enforcement.
Get local news delivered to your inbox!
Subscribe to our Daily Headlines newsletter.