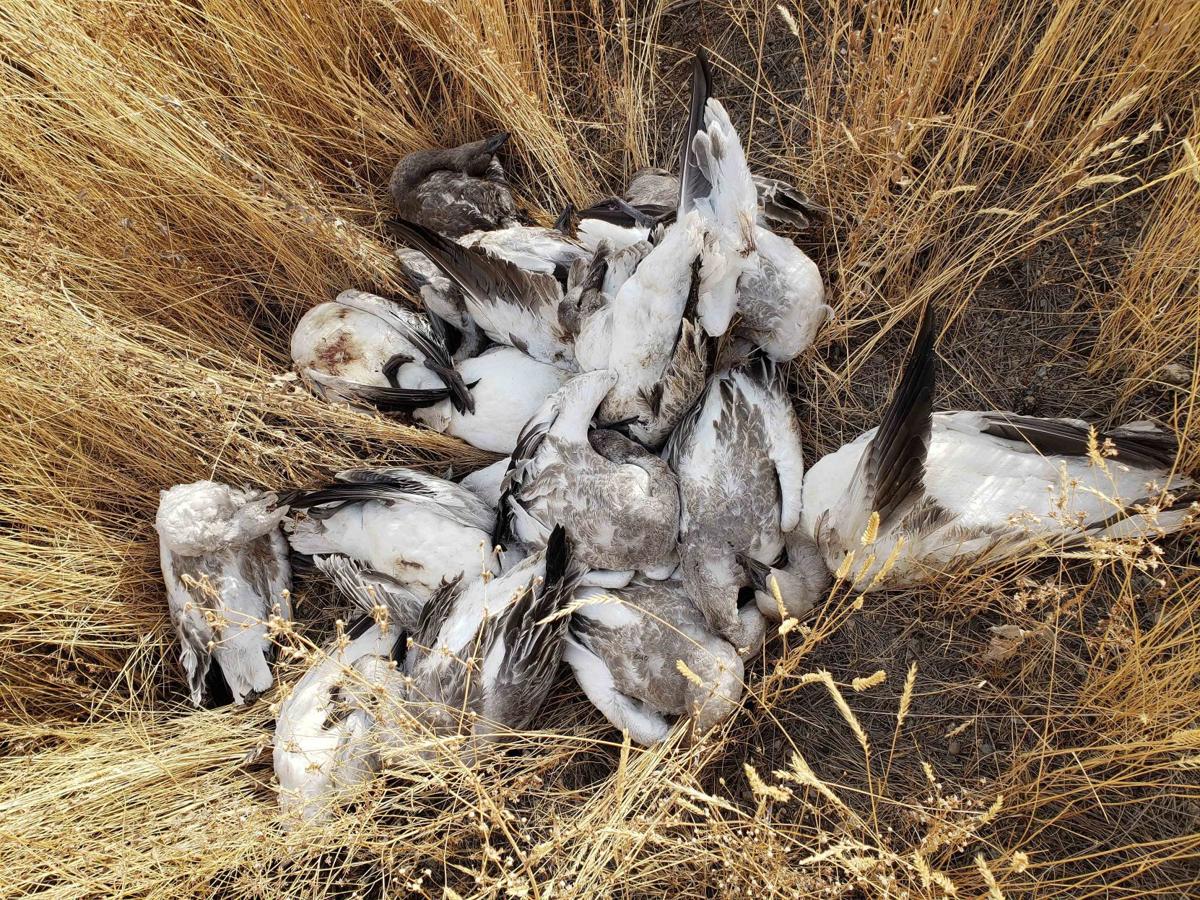 GOODING — Idaho Fish and Game has found 154 dead snow geese, Canada geese and mallards left to rot in piles along Idaho Highway 46, just north of the Gooding and Camas county lines.
Idaho Fish and Game Conservation Officer Trevor Meadows said the birds were dumped before Nov. 15.
The case is an unusual and massive example of illegal wanton waste. Wanton waste is when an individual harvests an animal and removes little or no meat from the carcass before throwing it away.
Idaho Fish and Game Regional Communications Manager Terry Thompson said whoever committed the crime doesn't deserve to be called a hunter.
"Even though they did this using a firearm, they're not hunters," Thompson said.
The 154 carcasses were left completely whole. Hunting laws require an individual remove at least the breast meat from a bird before discarding the dead animal.
The birds were likely poached as well, although Fish and Game can't confirm that based on available evidence.
"They might have been taken legally," Thompson said. "Odds are with that many birds they were not taken legally. But we can't say that for sure because we don't know where they came from or who took them."
In theory, a handful of hunters harvesting birds over several days could have collected the animals without breaking the law. Also, in Canada there's no limit on snow geese hunting, Thompson said. So harvesting the birds there wouldn't have been illegal.
The number of snow geese dumped on the side of the road could be a clue. While Canada geese and mallards are common in south-central Idaho, there aren't many snow geese in the Magic Valley this time of year.
"The thought is that maybe they came from the eastern side of the state," Thompson said of the snow geese. "They could have come from as far away as Canada."
Thompson didn't have the exact numbers on hand, but said roughly 116 of the dead birds were snow geese. Three were Canada geese and the rest were mallards.
People with information on the wanton waste, or knowledge of a vehicle that was in the pull-off just north of the Camas and Gooding county line can call the Fish and Game Magic Valley Regional Office at 208-324-4359 or Citizens Against Poaching at 800-362-5999. Tipsters can remain anonymous and may be eligible for a reward.
People who commit these types of crimes tend to enjoy bragging about them, Thompson noted. He hopes the agency can quickly find the individual or individuals involved.
"This was wrong on so many levels," he said.
Get local news delivered to your inbox!
Subscribe to our Daily Headlines newsletter.