HANSEN — The tree erupted into flames with a loud whoosh. It crackled and popped and belched a fat teardrop of dark smoke into the light blue sky. Firefighters held their drip torches still for a moment to watch the subalpine fir blacken and wither.
At a wildfire, the firefighters might have leaped into action at the sight of a forest tree engulfed by 50-foot flames. They might have sprayed it down with water and foam and begun digging containment lines.
But in the South Hills recently, all of the helmeted firefighters in green and yellow looked calm. They made no effort to save the tree or snuff out any of the knee-high flames licking at the fat logs and branches gathered in the clearing. No one batted an eye. They had started the fire on purpose.
This fire was a prescribed by the U.S. Forest Service and Bureau of Land Management in an effort to promote forest regeneration and mitigate the negative impacts of wildfire.
"Don't be afraid of fire," USFS Assistant Forest Fire Management Officer Josh Brinkley said. "Fire's not always bad."
The forest service, in partnership with the BLM and Idaho Department of Fish and Game and with funding assistance from the Rocky Mountain Elk Foundation, wants to burn more land. Prescribed burns can clear fuels, open up the forest for new growth and provide habitat for big game and other species.
Forest Service Burn Boss Trainee Paul Mitchell said that prescribed burns like this one are critical for maintaining healthy forests and reducing the risk of intense wildfires leaving devastating scars.
"Do we want to have elk in here next year?" Mitchell said. "Do we want to have elk in here tomorrow? Or do we want to have a black nuclear holocaust that nothing lives in for the next 50 years?"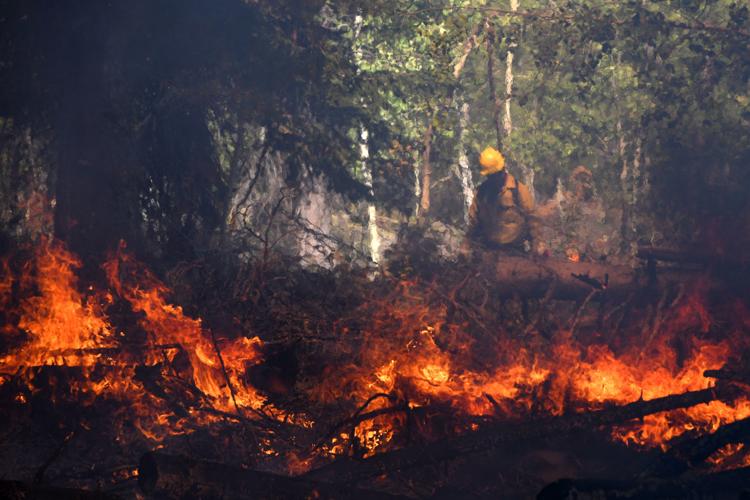 A new way of thinking about fire
There are strategic reasons for doing prescribed burns in the fall. In the summer, fires can get out of hand more quickly because stray embers can ignite dry grasses. In the fall, when grasses hold a bit more moisture, the risk of small spots of fire drops. But fuel is still dry.
The prescribed burn crew also monitors the weather to ensure that wind and moisture conditions are where they want them, within the prescribed fire sweet spot. If the conditions aren't right, they can shut the fire down.
This burn was in the Deadline area of the South Hills, near the Diamondfield Jack campground, and covered about 67 acres. Some 30 firefighters from the forest service and BLM worked on the blaze, with many agency higher-ups volunteering and grabbing a drip torch to help out.
In the past, many government agencies had a single-minded approach to fire. Most fires were seen as bad and were suppressed.
"Smoky Bear has done a really good job," Brinkley said.
But cutting all wildfires short might not have been the wisest approach. Now agencies are learning to allow more wildfires to do their job, removing old growth the way they would naturally.
"There's sad-face fire and there's smiley-face fire," Mitchell said.
Without wildfires to clear dead plant matter and kill off old trees, fuel builds up on the ground. That, combined with climate change, has made modern wildfires more intense. And that intensity can cause more damage than a natural wildfire.
Mitchell said the main purpose of last week's burn was to open up the land for aspen regeneration by removing "old, nasty subalpine fir trees." Aspens require disturbance to grow and they spring up quickly in burn areas. Young aspens provide excellent forage for ungulates such as deer, elk and moose. They're also valuable cover during calving season.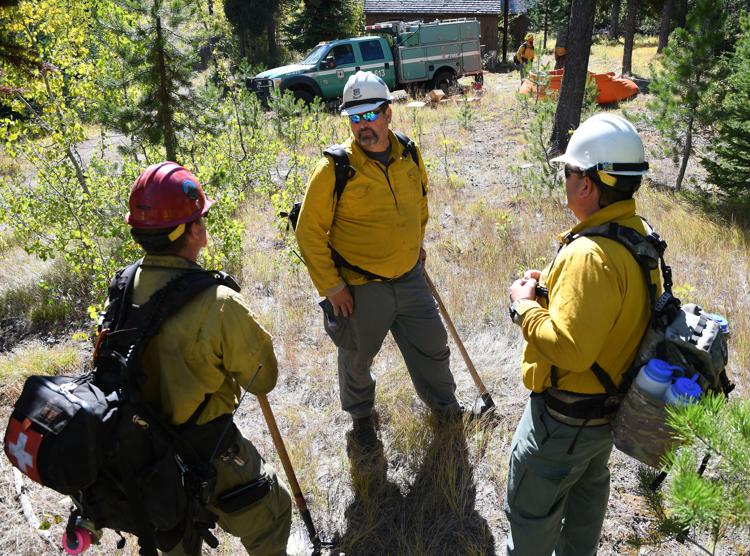 'A whole different beast'
Burning 67 acres in the South Hills isn't just good for aspens, fire mitigation and deer. Doing a small prescribed burn, in a controlled way, helps the forest service and BLM train for bigger burns that can involve flame-spewing helicopters and torching tens of thousands of acres.
Mitchell said that prescribed burns are a "whole different beast" from wildfires.
"For a lot of firefighters, you spend years suppressing fire, so you build a lot of really good instincts," he said. "To do prescribed fire, you have to not listen to a lot of those instincts.
"We want these trees to die. It's so difficult as a firefighter to do that, to not engage, to sit there and watch it burn out and to be calm about that."
Prescribed burns also give firefighters the opportunity to observe fire behavior. Mitchell said prescribed burns are great for fire nerds. In the heat of a wildfire, there isn't necessarily much time to pay attention to the nuances of how fires react.
"I've seen way more bonkers stuff on a prescribed fire than I have on wildfire," he said.
There are a handful of small prescribed burns planned for this year. The forest service plans to burn 189 acres in the Albion division. A 400-acre burn in the Sublett division has already begun. Last week's 67-acre burn was minuscule compared to what agencies have planned for the years ahead.
In the South Hills, the forest service plans to treat 23,000 acres in the Goose Creek area, with about 3,000 acres of that happening this year. The goal isn't always aspen regeneration — in some areas the aim is to limit the spread of juniper trees for the sake of maintaining sage grouse habitat. The Black Hills area of the South Hills will see between 15,000 and 20,000 acres treated, and the Albion mountains will see between 5,000 and 6,000 acres treated for aspen regeneration.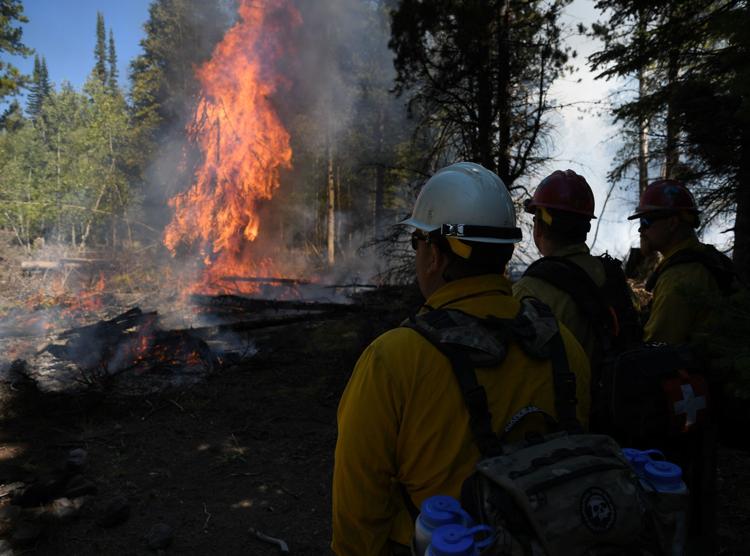 Changing the Magic Valley mindset
Forest officials said that changing public perception of fire, and burning more acres, are both critical right now. Firefighters said that public opinion is changing as people begin to understand that prescribed burns are necessary and beneficial. The more accustomed the public becomes to seeing smoke, the better, they say.
But prescribed fires need to be bigger than 67 acres.
"When you're talking landscape-scale restoration, (67 acres) is nothing, it's not remotely adequate," Mitchell said. "Deer don't care about your 50-acre unit. They travel 60 miles a day if they want to."
Forest Service Training Officer Andrew Addey has spent years fighting fire. He used to work on the Sawtooth Interagency Hotshot Crew, fighting some of the biggest blazes in the country. He said he hopes the public understands that these burns are for the benefit of the South Hills and Idaho's natural places.
"We're not just out here nuking off trees," Addey said. "We're doing it for a purpose."
Get local news delivered to your inbox!
Subscribe to our Daily Headlines newsletter.