WENDELL – Wendell High School's 42-year-old gymnasium shows its age.
Paint is peeling off the bricks on the outside wall. Inside, some of the ceiling tiles have water stains. There's a hole in one of the tiles, probably from a student who kicked a ball up there, said Troy Fletcher, Wendell School District maintenance coordinator. Several bleacher sweats have cracks.
Fletcher has been focusing more on fixing doors throughout the high school, and there's one glaring example of a future project at the east entrance of the gym. The glass pane in one of the doors is out of place. Instead of filling out the entire pane, the glass looks like someone pushed it down a few inches, creating a gap at the top.
The list of small but noticeable issues at the school almost overwhelms Fletcher – largely because he can't see any major fixes on the horizon.
"They give me a budget, I have to work with it. I stay within that budget," he said. "I guess it's always been tight around here."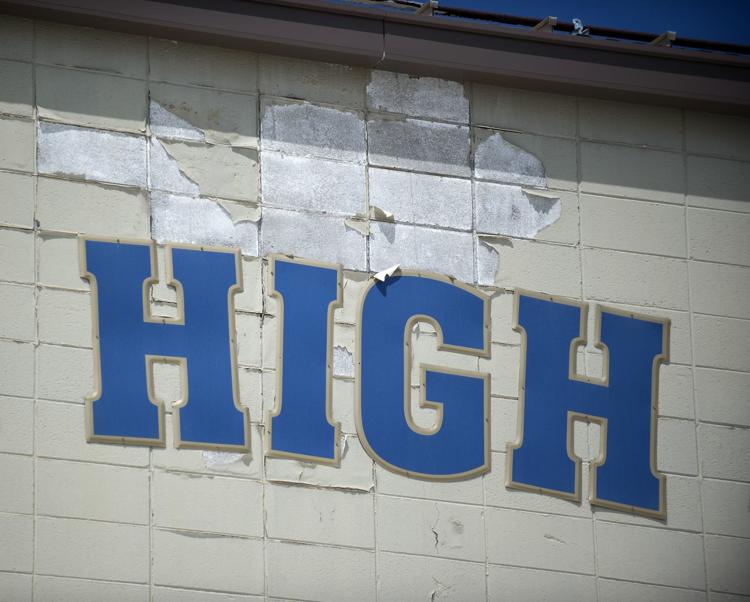 Those turbulent two years illustrated the dark side of school facility funding in Idaho. Many school districts pass bonds or levies with ease, never struggling to make basic repairs, never facing gym condemnation. But when voters — sometimes as few as 33.4 percent of them — decide they don't want their taxes going toward building repairs, districts end up in a helpless position.
"For the districts that can't get those levies passed, that has to be absolutely paralyzing," said outgoing Hansen School District superintendent Kristin Beck.
After four bond failures, Wendell passed a supplemental levy in May 2016, and the gym roof was replaced a few months later. Fears of losing the gym were postponed for the foreseeable future.
But the building still has cracks and leaks and misplaced glass panes. For better or for worse, large scale facility fixes are at the mercy of district taxpayers.
"All of the school districts, or the only two I've been in, there's always something to do," said Fletcher, who worked in Jerome before taking the Wendell job less than a year ago. "You're never gonna get finished. That's just the way it is."
What's your damage?
The replacement of Wendell's gym roof was one of several large construction projects this decade for athletics in the Magic Valley.
Back in 2014, Jerome School District proposed a $24 million bond largely designed to remodel the high school. The town was experiencing a population growth, and with that came an influx of students, said superintendent Dale Layne. By 2016, many of the new students would be in high school, and the district feared its facilities wouldn't be able to handle the wave.
The high school cafeteria was too small, Layne said, and there weren't enough classrooms. The school also had just one gym, which was rare for a school of Jerome's size.
During the winter, Jerome's basketball and wrestling teams tried to cram practices into the lone gym, sometimes at 5 a.m., Layne said. Space for physical education classes was limited. For at least a decade, Layne estimated, Jerome High School held its graduation ceremonies at the College of Southern Idaho's gym because Jerome's gym was too small.
By themselves, none of those issues was dire. But together, they added up to the crucial need for a second gym.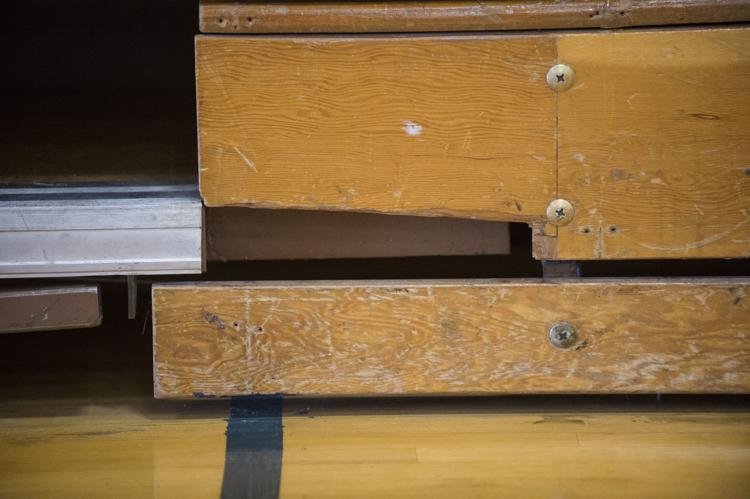 "We didn't market it as, 'We have to build a new gym,'" said Brian Bridwell, Jerome School District's business manager. "We didn't get an overwhelming opinion of, 'Hey, we need to address athletics.' We needed to make the building safer."
The bond also helped pay for new wrestling, weight and training rooms.
This summer, Jerome High School plans to resurface its 18-year-old track. The project will cost close to $100,000, which will be covered by district funds, said athletic director Jeremy Munroe.
A few years ago, Buhl High School finished its own track construction project – an even bigger undertaking than Jerome's.
In 2015, Buhl's track had cracks in its asphalt base, patches in its rubber surface and weeds sprouting through various openings. The track was 20-to-30 years old, estimated athletic director Stacy Wilson, and had been refurbished in 2000. But resurfacing wouldn't be good enough. The whole track needed to be replaced.
A seven-year, $370,000 plant facilities levy was approved by Buhl voters in March 2015, and a large chunk of the money went toward the new track, which Wilson said cost about $300,000. Some of the levy money also went toward replacing the Buhl High School gymnasium bleachers.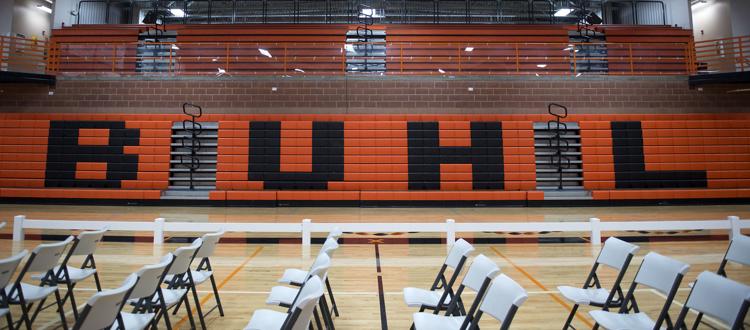 Though it's owned by the school district, Buhl's track is open to the community, contributing to excess wear and tear. But it also meant the damage affected more people than a typical school-owned track.
About two years ago, Twin Falls High School replaced its gym floor and bleachers thanks to a $74 million bond approved in 2014. Most of that money went toward the construction of three new elementary schools. The project was completed early and left the Twin Falls School District with savings, about $200,000 of which went toward the TFHS gym floor and bleachers.
Though most school districts require the passage of a bond or levy to update its sports facilities, sometimes other sources of revenue intervene. Last fall, for example, Hansen School District received a $1 million donation from a private family for a community gym.
Smaller projects, such as general facility repairs, are often covered by school district general funds. Many sports programs raise money for facilities that are low on their school district's priority list. For instance, Minico High School raised $95,000 for a new hitting facility last summer. Vera C. O'Leary Middle School resurfaced its track and gave it a rubberized overlay in 2013, and a large chunk of the money for that project was fundraised.
"You don't have too many rubberized tracks at middle schools. It's kind of a luxury, so you generally find those at the high schools," said Twin Falls School District Superintendent Brady Dickinson. "But the school really wanted to have a rubberized track, so the parents, the booster clubs and the PTOs (Parent Teacher Organizations), basically they raised the money for the rubberized surface."
Path of resistance
When school districts are required to turn to taxpayers to upgrade their facilities, it can lead to long, tedious battle. Jerome High School finally built a second gym five years after it initially asked for one. It took Wendell two stressful years and several different methods of drumming up support to win over voters.
One crucial difference between Wendell and a school district such as Twin Falls is a plant facilities levy, or lack thereof. The levy allows school districts to use property tax money to maintain school facilities. Twin Falls School District has utilized a plant facilities levy for the past 60 years, and voters approved another one in March that will run through 2028.
"For most school districts, if you don't have a plant facilities levy, it is really difficult to maintain the buildings adequately," Dickinson said. "You end up putting a Band-Aid on the fixes, and they tend to be very temporary because the cost is too prohibitive in doing the kinds of repairs that need to be done."
Without a plant facilities levy, Dickinson said, school districts often have to tap into their general funds, which are intended for educational needs — things that happen under school roofs, not the roofs themselves.
In 2014, Wendell School District proposed three bonds in five months hoping to pay for building repairs, including the leaky gym roof. One year later, voters rejected the district's fourth bond attempt.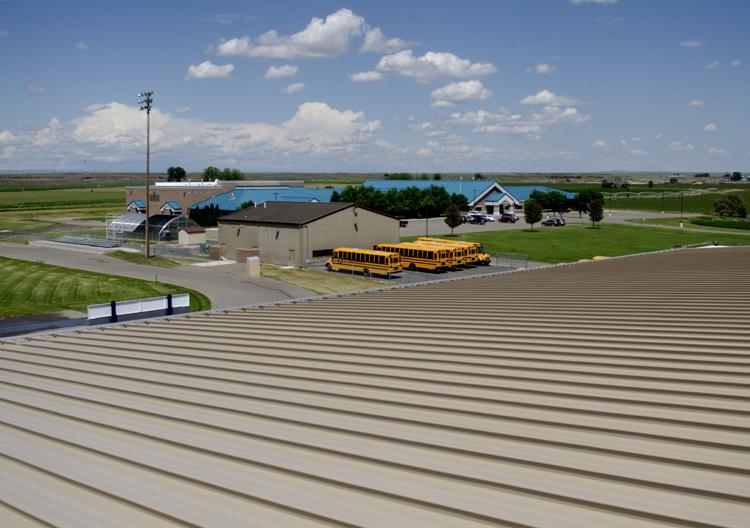 While facility bonds require a supermajority to pass, supplemental levies require only a simple majority. So that's what the Wendell School District decided to pursue after repeated bond failure.
"Every community and school district is unique," said outgoing Wendell superintendent Greg Lowe. "Our patrons wanted us to be very specific with where their taxes went."
Burley High School also has a sports facility that needs fixing, and it has also struggled to get the issue addressed. But unlike in other school districts, failed bonds have not caused the delay.
For years, the Burley's city tennis courts have been riddled with cracks that alter game play and pose and injury risk to players. The Burley High School tennis team continued to play on the courts until the 2017 season, when the Bobcats began playing all of their scheduled home matches at Minico or at opponents' home courts.
Because they are city-owned courts, Burley High School tennis players are not the only people who use them, and the increased traffic has exacerbated the damage. And unlike for Buhl's school district-owned track, levies cannot be applied to repairs.
The Bobcats' varsity tennis coach, Riley Christensen, said the courts, which are more than 50 years old, were resurfaced in 2012, but that expensive fix was temporary.
"You can fill in the cracks, but you can't get the structural integrity back," Christensen said. "The only thing we can really do is demolish them and build new ones."
Two years ago, the city of Burley was searching for grants to fund the reconstruction of the tennis courts, and the recreation district also planned to provide some funding. Zeke Zimmerman, administrator for the Oregon Trail Recreation District, told the Times-News at the time that the courts were priorities near the top of the district's priority list.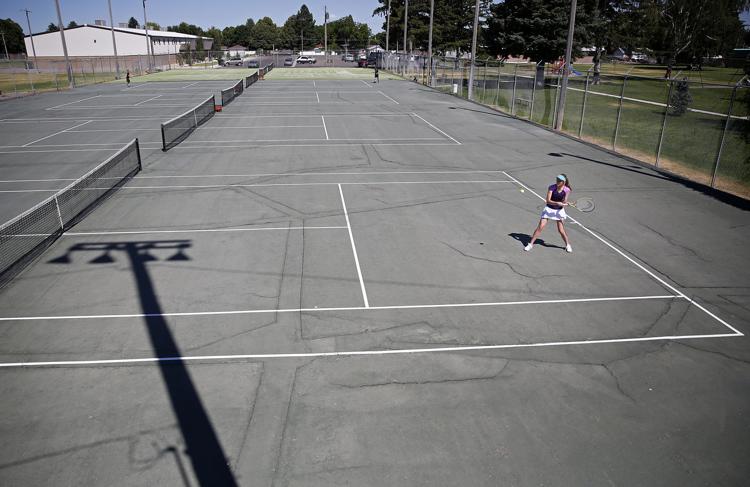 Christensen wishes Burley was more like rival Minico and owned its own courts. The school would have a tighter leash on who used the courts, he said, which would delay the decay of the surface.
"Added cost," Christensen said, "but there are also benefits."
School-owned tennis courts would also rely on different sources of funding. Money for repairs would likely come from school district funds, bonds or levies.But even then, it's no guarantee that the money would flow.
"The state doesn't want to raise our taxes, but all of the schools passing levies are raising taxes," Stacy Wilson said. "It all takes money. You have to get the school board and the community to believe in it."
No quick fixes
In February, school districts across Idaho received a scare.
A bill was introduced in the state Legislature, proposing to make school districts and government agencies wait at least one year to pursue a bond or levy after it failed. The goal of the bill was to limit overzealous public agencies, forcing them to ask for taxpayer money only when the school districts needed it.
Local school officials such as Greg Lowe rejected the bill's premise. Lowe knew firsthand the difficulty of passing a bond. If Wendell had half as many chances to pass a bond or levy from 2014 to 2016, its high school gym may have been condemned altogether.
"I am not sure why we would want to restrict or deny local voters the chance to decide what is best for their own community," Shoshone School District Superintendent Rob Waite told the Times-News in February.
All three of Shoshone's attempts to pass the bond have happened within a year.
Idaho and Kentucky are the only two states in the country that require a supermajority for bonds to pass. If the threshold were lowered, February's bill would be less frightening to Idaho school districts such as Wendell and Shoshone, because fewer bonds would be defeated.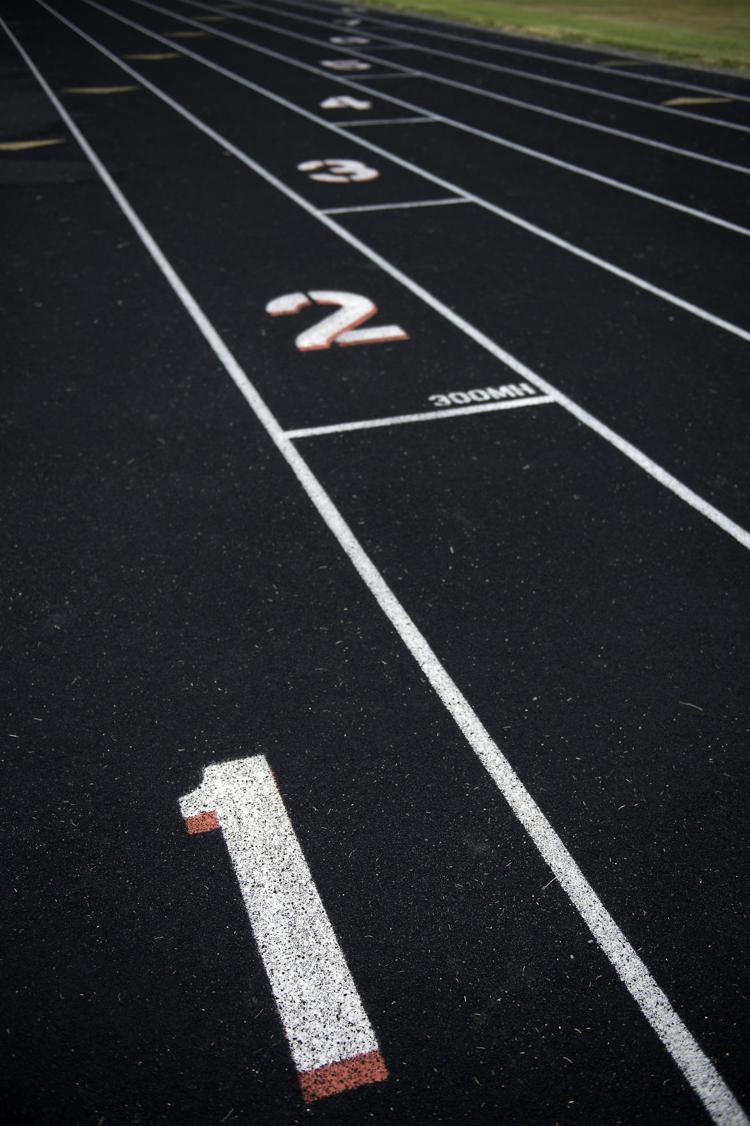 While some politicians and school officials are happy with the current state of school funding, others wish the state would funnel more money into the public school system.
"It's really hard to maintain facilities on just state discretionary funding," Lowe said. "That's why it's a necessity to pass a supplemental levy or a bond."
Brady Dickinson is content with the supermajority threshold mandated for bonds. He believes school districts should be held accountable for the taxpayer dollars they spend, and laws that make bonds and levies tough to pass help accomplish that goal.
Dickinson also understands that radical changes to the existing system would likely be met with resistance.
"We live in Idaho. People are concerned about taxes. It's a conservative state, in terms of funding," he said. "If districts didn't have to run levies, and all the money came from the state level, again, it's all taxpayer dollars. It just depends where that funding source is. It also might be a tax that's more diverse."
Twin Falls is an example of a district with a diverse tax base, thanks in part to the industry in town. More industry in a city, Dickinson said, leads to a smaller tax bill for homeowners. Not every community enjoys that luxury, which is why more state funding could solve some of the problems school districts have faced.
"At a state level, now you're looking at all the communities in Idaho, as opposed to a small community like a Wendell or like a Kimberly where you have a lot of homeowners," Dickinson said.
Wendell High School's gym roof is no longer leaking. The gym is not in danger of being condemned. In some ways, one of the Magic Valley's most glaring examples of a broken system for funding facilities is actually a success story.
Of course, nothing involving Wendell's gym can be summed up so simply. Wendell's bond struggles from 2014 to 2016 can be traced back to Idaho's supermajority threshold and the small slice of state funding. The town of Wendell was culpable in many ways, from skeptical taxpayers to a lack of industry. Solutions can be easy to spot and hard to implement.
Fletcher, the maintenance coordinator, views Wendell's issues from a concrete level. He sees the gym's peeling paint, broken bleachers and out-of-place glass panes every day. He'd love to repair those things, but they rank low on his packed priority list.
"It's a frustration," he said, "not having the money to do things."
Get local news delivered to your inbox!
Subscribe to our Daily Headlines newsletter.