Tourism promoters will tell you about the scenic byway and the state park. Outfitters will offer you whitewater rafting excitement, and a string of river access sites invite you to bring your boat and fishing pole.
But our reporters will show you the Hagerman you never knew.
On the Hagerman reach of the Snake River, the arts and sciences flourish — wine making and paleontology, sculpture and entomology. Our three-part series reports new developments in riverside business and recreation, but it also features innovation and exploration on the Hagerman reach.
L. Geothermal greenhouses
It's called the Miracle Mile.
In a one-mile radius around Onsen Farms south of Hagerman, many properties with an abundance of spring water and geothermal wells grow a variety of produce such as citrus, wheat, rye and pinto beans. 
Onsen Farms owner James Reed's unique water resources allow him to heat his 10,000-square-foot greenhouses and grow produce during the winter. Reed typically sells food from November to June, but he plans to switch to a year-round growing season this fall and collaborate with neighboring farmers.
Reed sells his produce through community supported agriculture memberships or through Idaho's Bounty, a cooperative food hub he helped create. In the CSA model, which Reed has used for the past three years, consumers pledge support to a farm operation, and both growers and consumers share the risks and benefits of food production.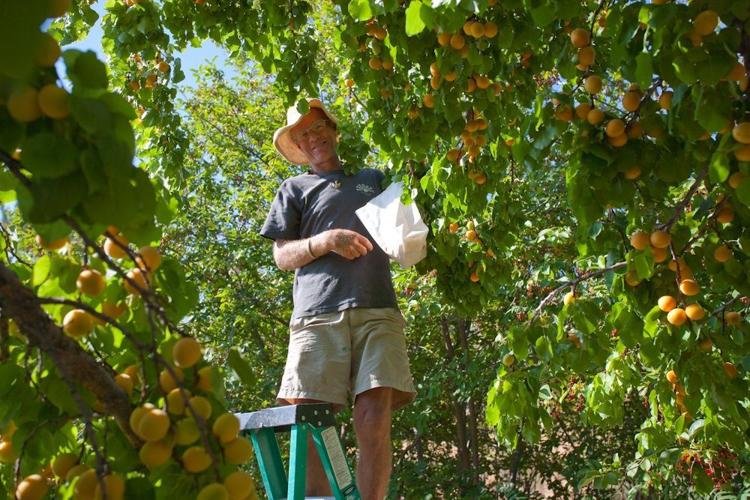 In September, Reed plans to expand his CSA membership to 100 members. Neighboring farms in the Miracle Mile are joining Onsen's CSA to provide members an assortment of foods.
"That means that a family will purchase one of these shares from us," Reed said. "They pay at the front end at our farm in September. It gives farmers money upfront to grow their food. It's everybody in there together fighting for it. It's a way for the eaters to help." 
He recently dug a tilapia pond and will dig one for trout. These ponds will be the first at Onsen Farms to be managed for protein.
"We are not competing with the other guys," he said. "We will be having events for our CSA members. They might come and fish for dinner, or fish might go out to CSA members."
Reed intends to market especially to the Twin Falls area; he also plans a home delivery option.
"Twin Falls has less options for people looking for fresh, quality food," Reed said. "We will have phenomenal offerings of food including dry beans, potatoes, onions and winter squash. As we grow, we will have a complete offering of lamb, cheese and dairy."
M. Hatchery innovation
As the Eastern Snake Plain Aquifer shrinks and the springs flowing from the Snake River Canyon walls diminish, the Hagerman National Fish Hatchery is making do with less water.
In standard raceways, that means raising fewer steelhead smolts destined for release in the Salmon River.
But an innovative experiment is enabling the hatchery to regain its lost production — and perhaps showing the way for other Magic Valley fish hatcheries dealing with diminished flows.
A new building houses the pilot project: a 2,000-gallon-per-minute partial recirculating system of three circular tanks, each 6 feet deep and 30 feet in diameter.
The water inside each tank has a circular movement that helps push uneaten feed and fish feces down a drain in the bottom (much like a toilet). The system takes in 500 gallons of fresh spring water per minute and recirculates 1,500. The recirculated water — filled with carbon dioxide from fish respiration — is pumped to the top of a tower where carbon dioxide is stripped off and vented to the outdoors and a low head oxygenator supersaturates the water with liquid oxygen. As fish grow, workers speed up the circular flow in the tanks.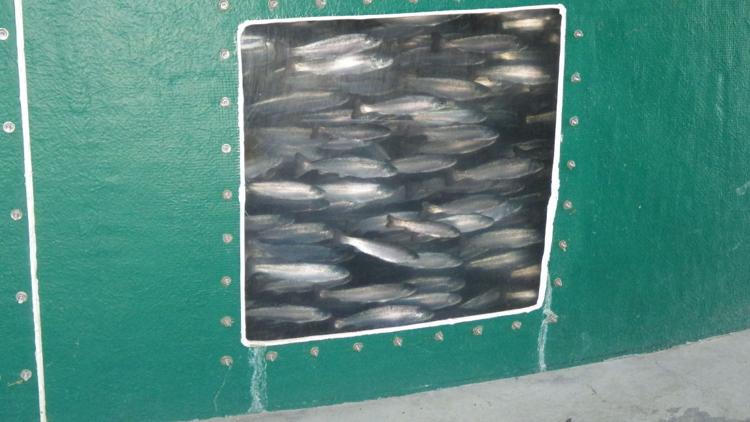 The national hatchery — which relies on water from 16 springs on the canyon walls — had to cut back its annual steelhead production from 1.5 million to 1.4 million because of the diminished flows, Project Leader Craig Eaton said. But with the recirculating system, built in fall 2014, it regained the lost 100,000; the other 1.4 million are raised in the same raceways as before.
Hagerman National Fish Hatchery is the first federal hatchery in the Northwest to use even a partial recirculating system, Eaton said. A couple of state hatcheries in Washington do it too, and a state hatchery in Alaska boasts a fully recirculating system.
The first year, Eaton's team had to work out a lot of bugs and monitor the new equipment constantly. Now, they find it requires less of the manual labor needed for cleaning standard raceways — thanks to that toilet effect.
In April, the second brood year raised in the recirculating system was released in the Salmon River, just below the state's Sawtooth Fish Hatchery south of Stanley. From there the steelhead swim toward the Pacific Ocean, through the Snake and Columbia rivers.
A three-year study will compare smolts raised in the circular tanks with those from standard raceways: How many will make it downriver to the first dam? And how long will that segment of the migration take?
That data will come from tiny electronic tags with unique codes injected in some of the fish. The passive integrated transponders, or PIT tags, will be scanned as the fish pass Lower Granite Dam. Those steelhead still will have their PIT tags when they return as adults to spawn in the Salmon River and its tributaries, so scientists may be able to compare return rates, too.
The theory is that steelhead raised in circular tanks exercise continually and, with those big muscles, can migrate faster when they're released in the river.
"That's to be proven," Eaton said. "I'm not really sold on that, but that's why we're doing a three-year project on it."
What he is sold on: raising the same fish on a third of the water.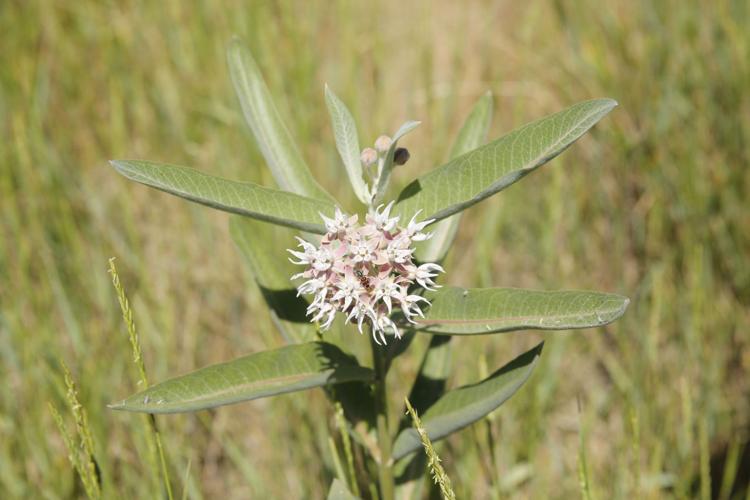 N. A place for pollinators
Visitors to the Hagerman National Fish Hatchery will see something new this summer: a garden full of plants that pollinators love.
Unexpected, perhaps, at a steelhead hatchery.
But a nationwide initiative of the U.S. Fish and Wildlife Service — motivated by declining numbers of the migratory monarch butterfly — directs the agency's facilities to cater to pollinators if they have the space and the means. So its Hagerman hatchery plans to build a 107-by-25-foot garden between its public parking area and Riley Creek.
Craig Eaton, the hatchery's project leader, applied for a grant to help purchase plants, building materials and a sprinkler system. And he appealed to Gooding County master gardeners for their volunteer labor and their expertise on plant choices.
"They were throwing all kinds of names at me," Eaton said. He remembers butterfly bush. And milkweed, of course — the plant monarch caterpillars feed on. "We'll be planting a lot of milkweed."
Some of the plants will come from Hagerman High School's greenhouse, Eaton said in early May, as the hatchery was about to start building its garden beds. They're raised beds, to avoid disturbing an archaeological hot spot.
Soon, visitors will be able to walk along the split-rail fence that surrounds the garden and read signs explaining the plants and their purpose.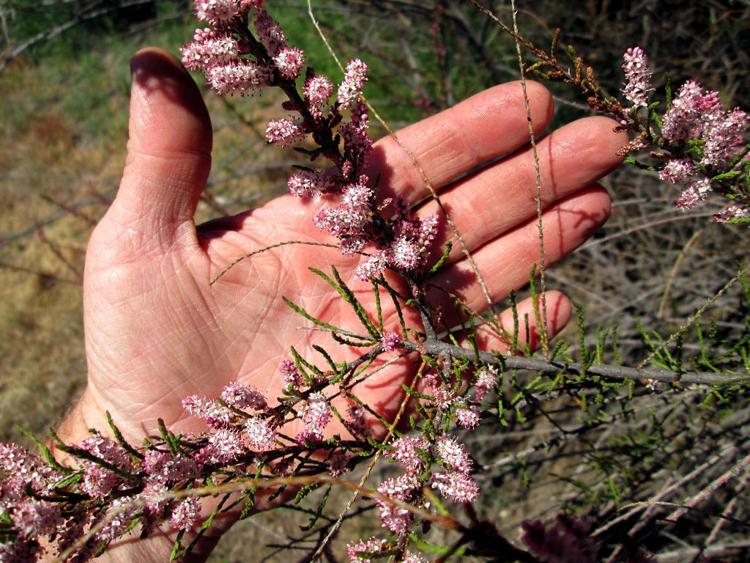 O. Dangerous invader
Dennis Newman noticed something alarming at Niagara Springs last summer: a tree-like evergreen shrub with a pretty purple flower.
Ornamental, but invasive.
It's salt cedar, the water-thirsty plant that has devastated riparian habitats in the Southwest by choking out waterways. Imported from Africa and Eurasia, the salt cedar can reproduce through both seeds and underground shoots, and it has a competitive advantage over Idaho's native riparian species: It excretes a salt from its stems and leaves that causes a salty crust on the soil surface and inhibits the growth of willows, cottonwoods and dogwoods.
On the extreme end, an adult salt cedar plant can use almost 200 gallons of water a day, mostly through evapotranspiration, said Newman, a regional habitat biologist for the Idaho Department of Fish and Game.
And salt cedar isn't a wildlife-friendly plant.
The seeds are too tiny to be a food source. The leaves and stems aren't palatable. The structure isn't conducive for most species' nesting. Most songbirds avoid it. The only redeeming factor, Newman said, is that pollinators tend to like it.
Salt cedar may be an inescapable reality in the Southwest, but southern Idaho is another matter.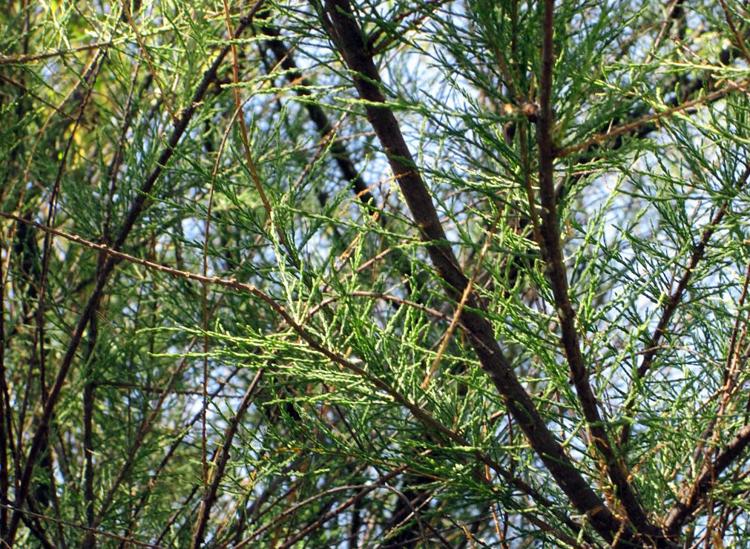 "We still have a chance here to at least keep it in check or eradicate it," Newman said.
After last summer's discovery at Niagara Springs, Newman started looking downstream. He found scattered salt cedar plants on Snake River islands and riverbanks as far downstream as Billingsley Creek. On one late-April day, walking 300 yards of riverbank on Fish and Game's Niagara Springs Wildlife Management Area, he spotted more than 30 plants.
Some of the plants are several years old; salt cedar simply went undetected among the native willows.
"It doesn't stand out. It doesn't pop from a distance," Newman said. "It comes to boots on the ground, just beating the shorelines to try to identify where plants are."
In this tale of danger, he needs someone to come to the rescue.
Newman was trying to enlist volunteer help this spring to fight the salt cedar on the agency's islands and its Hagerman, Billingsley Creek and Niagara Springs WMAs — by clipping or sawing off the plants and treating the stumps with herbicide.
"This is something we're going to have to pay attention to for years to come," he said, "and stay ahead of it."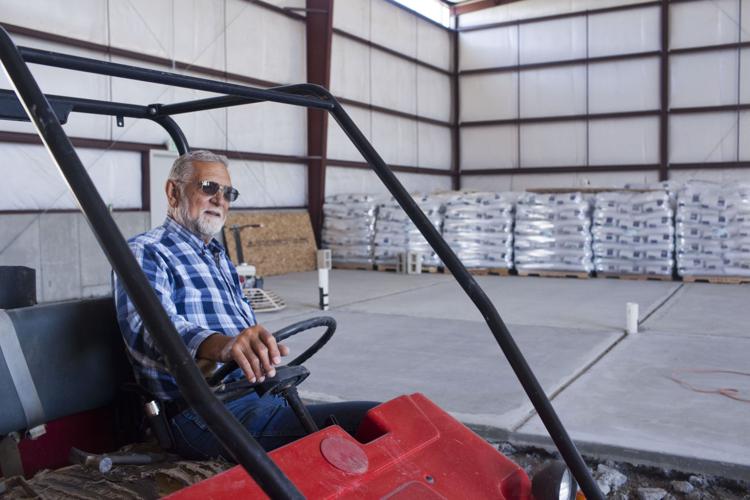 P. The fish man's feed mill
Leo Ray never gave fish a second thought in college.
Ray, who majored in wildlife conservation at the University of Oklahoma, thought he would work for a fish and game agency after graduation but instead went into business for himself.
You have free articles remaining.
He has owned Fish Breeders of Idaho in Hagerman since 1968. 
It all started with an invertebrate zoology class. Ray's professor received a grant to study the feasibility of catfish farming — the grant that started the whole catfish farming industry. The professor hired four students at the end of the course to help him, and Ray was one of them. 
"That's what got me into fish," Ray said.
He now raises catfish, tilapia, trout and sturgeon in Hagerman's cold springs and warm geothermal water. His company also specializes in tropical aquarium fish and white sturgeon caviar.
And in 2017, he expects to start processing his own fish meal to feed the fish he raises. 
"There is no excuse to have no fish meal for fish production," he said. "Most fish are filleted. And if you fillet a fish, you can get enough byproduct from that fish to make a good diet to grow another pound of fish."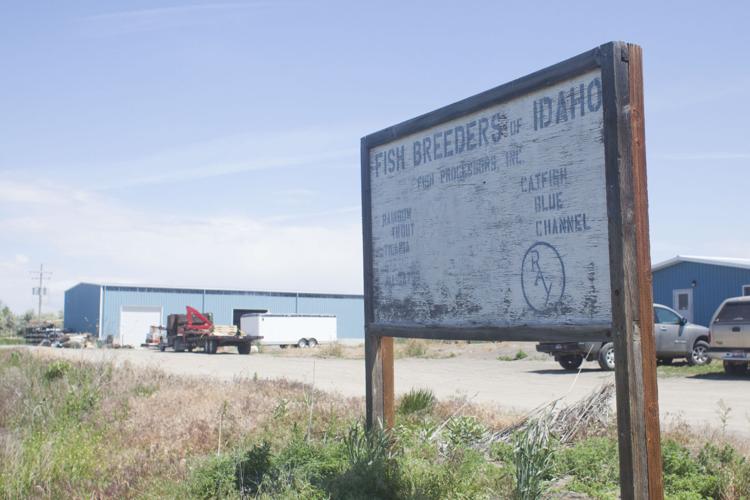 The 60-by-125-foot building already stands on Ray's property at 18374 U.S. 30, and he's waiting for key pieces of equipment to arrive including an extruder, which sterilizes the byproduct created when a fish is filleted. The extruder won't arrive until fall.
"What the extruder does is basically what happens when you pop popcorn," Ray said. "When you release that pressure, all the moisture turns to steam and ruptures all the cells. It makes it more digestible. This kills any living organisms."
Ray and Starla Barnes, production manager, have been attending workshops on fish meal processing at Kansas State and Texas A&M universities. Barnes has doctorate in fish nutrition.
The mill can produce up to 5 tons an hour, but Ray expects to average less than 3 tons an hour. He previously purchased his fish meal from Buhl-based Rangen Inc. and a company in Canada. 
"We are building this for only the fish we process," he said. "We're not building with attitude it's a commercial mill to sell."
The mill won't generate smell or noise, Ray said. Most of its ingredients — which include wheat, corn, peas, canola and soybeans — will be from local farmers because he wants to eliminate the expense of long-distance trucking.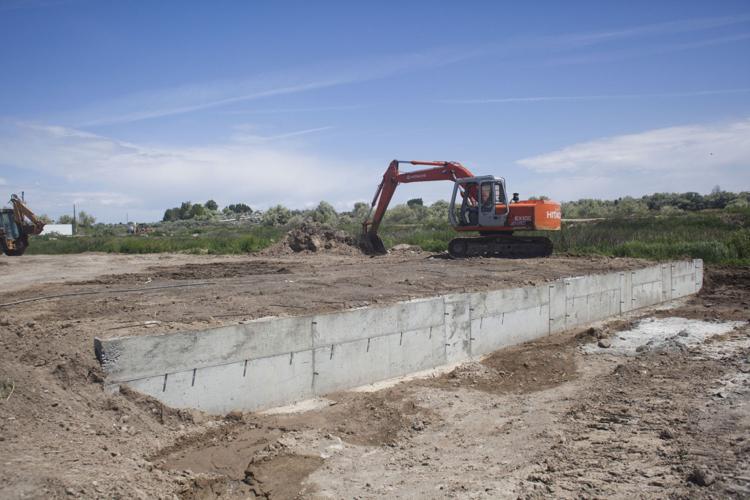 Q. Discovery among the fossils
More than 70,000 fossils in the Hagerman Fossil Beds National Monument collection are waiting to be identified, and Kari Prassack is the lone paleontologist tasked with that job.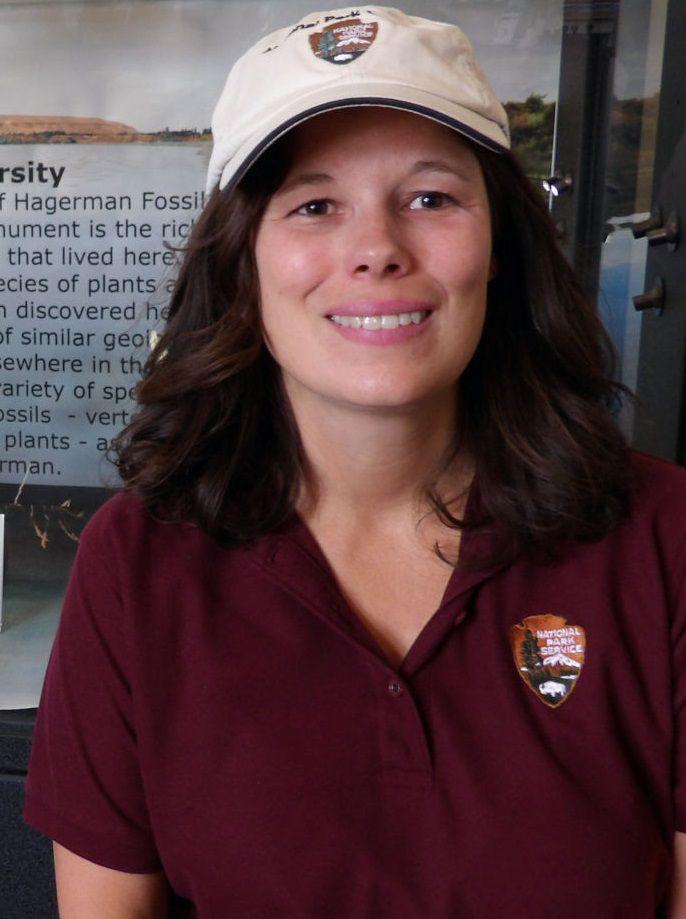 In her search to learn more about mustelids — the family of carnivorous mammals that includes the otter, badger, weasel, ferret, mink and wolverine — she corrected a misidentified fossil in the spring of 2014 and discovered a new species of prehistoric otter. 
"It really comes down to luck," Prassack said. "You have to be the one who finds it in the field or the museum and recognize it for what it is. It was a nice surprise. Something I didn't expect to happen."
Prassack gave the otter fossil the name Lontra weiri, accepted for publication in December 2015. The species name comes from the word weir — a type of fishing trap — and reflects the otter's diet of fish. It also honors Grateful Dead guitarist Bob Weir.
"I used to attend a lot of Grateful Dead shows in the '90s," Prassack said. "It was a great experience for me. It was a part of me growing up and helped me become the person I am today. It was a great opportunity to thank them."
Prassack, 41, has worked at the Hagerman Fossil Beds National Monument for nearly four years.
The Lontra weiri, which lived in Hagerman more than 3.8 million years ago, is an ancestor of today's North and South American otters, which are also of the genus Lontra. The Lontra weiri was very small, about half the size of today's river otters. The arm bone is curved, which means it swam like modern otters. The teeth indicate it ate a diet of meat.
Hagerman has a second, much larger species of fossil otter: Satherium piscinarium. The two otters probably coexisted by eating different-sized fish and maybe other aquatic animals like crayfish, insects and frogs, says a National Park Service statement.
How did Prassack find the Lontra weiri?
The fossils of a jaw and an arm bone — collected by a Bureau of Land Management paleontologist when the Hagerman site used to be BLM land — were originally misidentified as those of a grison. Prassack came across them while researching mustelids at the Idaho Museum of Natural History in Pocatello, which serves as a depository for Hagerman Fossil Beds National Monument.
"I thought that would be something interesting to focus on," Prassack said, "how many mustelids we have, what their behavior and ecology was like 3.8 million years ago."
Thousands of fossils from Hagerman have been stored at the Pocatello museum since the late 1980s. Prassack traveled to Pocatello in 2014 and started going through fossil collections of otters and badgers. 
"I had been working on otters and badger, so I had a really good idea of what otter teeth look like," she said. "I noticed the differences in the teeth right away. I requested a loan of it to bring it to Hagerman and proceeded to get loans of otter fossils from other museums to compare it to."

Her submitted paper on the new species discovery appeared in the Journal of Vertebrate Paleontology in April.
The actual Lontra weiri fossils will not be on display in Hagerman. Because they are holotypes, or specimens used to describe a new species, they're kept away under lock and key. However, 3-D prints will be made to display at the visitor center in Hagerman.
"Ninety percent of fossils are casts," Prassack said. "The actual fossils are very fragile and need to be stored under special conditions."
The last time a species found at Hagerman was published was 2009: the ferinestrix, a wolverine-sized badger. It wasn't a new species, but it was a particular badger found only in Hagerman and Russia.
More discoveries could be waiting for a keen-eyed paleontologist.
"Museums all over the country have thousands of thousands of fossils," Prassack said. "They don't have staff to identify everything. So fossils can sit there for decades before being identified."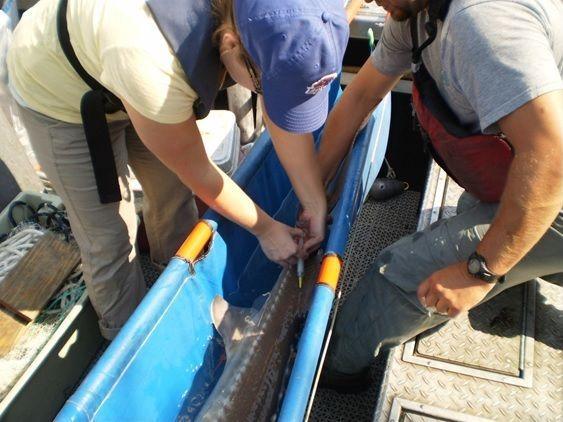 R. Sturgeon in a segmented river
The Hagerman reach of the Snake River offers an exhilarating experience: fighting the monstrous white sturgeon that inhabit the deeps.
"It's one of the important parts for diversity of fishing opportunity in the Magic Valley, and it's one that we take seriously," said Doug Megargle, regional fishery manager for the Idaho Department of Fish and Game.
But it's a fishery with limits.
Sturgeon populations upstream of Bliss Dam are segmented by dams, and there's little to no natural reproduction.
Sturgeon thrive in reaches with a "natural hydrograph" that peaks during and after spring runoff, and with spawning habitat that is generated and renewed annually; flow and temperature cues during runoff trigger reproduction.
"Those conditions are hard to meet when you have impoundments that tend to store in the spring and much of that water is diverted or released in ways that do not mirror natural conditions for sturgeon spawning," Megargle said.
Conservation managers believe sturgeon don't reproduce at all from Bliss Dam to the Upper Salmon Falls hydroelectric project. They classify the reach from Upper Salmon all the way to Shoshone Falls as intermittent sturgeon spawning, but they don't have a lot of evidence that the population manages to sustain that spawning.
So any sturgeon on a Hagerman angler's line probably comes from a hatchery.
But genetics matter. Local wild stocks are best adapted to life in this river.
Fish and Game, the College of Southern Idaho's aquaculture program and Idaho Power — whose hydroelectric licenses on the Snake require mitigation for effects on the fish — collaborate to capture and spawn wild sturgeon from the Snake between Bliss Dam and C.J. Strike Reservoir, a stretch where sturgeon still reproduce naturally. In the Hagerman reach, Megargle limits stocking to the F1 generation: the first generation from two of those wild fish.
His challenge: Work within those bounds to maintain or enhance your chance for some sturgeon-fishing excitement.
Fish and Game gets abundance and growth data on the sturgeon populations in Hagerman's isolated reaches from Idaho Power survey crews. But Megargle knows less about angler satisfaction.
"That's one where we don't have a lot of good information," he said.
Sturgeon anglers are notoriously difficult to contact for interviews because they're spread out in remote spots, and the state no longer requires anglers to file reports on their sturgeon fishing.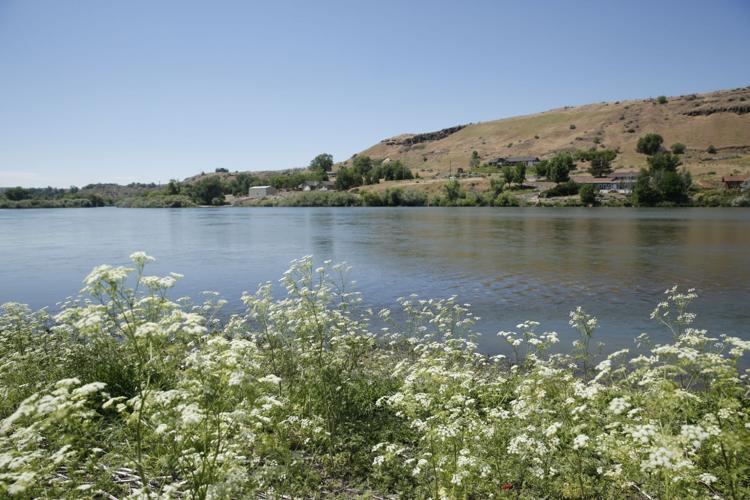 S. Rethinking bass regs
In south-central Idaho, bass anglers must follow special regulations on only one stretch of the Snake River: between the Lower Salmon Falls and Upper Salmon Falls dams.
On that stretch — informally called Bell Pool because the lower dam inundated Bell Rapids — the bass limit is zero from Jan. 1 to June 30, with catch-and-release fishing only. From July 1 through Dec. 31 the bass limit is two and, to protect spawning-size fish, anglers may keep no bass between 12 and 16 inches long.
When those regulations were created more than a decade ago, fishery managers were seeing high harvest on spawning bass and believed there wasn't enough reproduction to repopulate Bell Pool. But the Idaho Department of Fish and Game's population surveys haven't shown the regulations producing a big rise in fish sizes and reproduction.
"We've been questioning their effectiveness," said Doug Megargle, regional fishery manager for Fish and Game. "To have exceptions to the rules, we want to make sure they're working."
So what about dumping the special regulations? Would the public support letting general regulations apply in Bell Pool?
Fish and Game asked for comment two rule cycles ago and got about a 50-50 response, Megargle said.
So he plans some non-lethal electrofishing on Bell Pool to look at bass sizes, age classes, growth and condition, then comparing trends over time, so the agency can better describe the special regulations' effectiveness or ineffectiveness. Fish and Game probably will try again to gauge public opinion in next rule cycle.
Fishing rules are effective for three years. Public comment gathered in 2018 will help regional employees generate recommendations for the Fish and Game Commission's consideration for rules effective in January 2019.