Tourism promoters will tell you about the scenic byway and the state park. Outfitters will offer you whitewater rafting excitement, and a string of river access sites invite you to bring your boat and fishing pole.
But our reporters will show you the Hagerman you never knew.
On the Hagerman reach of the Snake River, the arts and sciences flourish — wine making and paleontology, sculpture and entomology. It's a polymath's dream.
Our three-part series beginning today reports new developments in riverside business and recreation. But it also features innovation and exploration on the Hagerman reach.
Leonardo da Vinci would be proud.
A. Islands of mystery
In a shallow channel of the Snake River, Steve Ross maneuvered the jet boat's bow to the bank of an island edged in willows and Russian olives, and Ross Winton hopped off to whack a path into the scratchy tangle.
What lay beyond, in the island's unseen interior? Bird nesting habitat? Invasive plant species?
Winton and his fellow biologists didn't know on that morning of June 9.
The Idaho Department of Fish and Game owns this small island — just south of 1000 Springs Resort — and others nearby on the Snake around Box Canyon and Banbury Springs. But Winton, a regional nongame wildlife biologist for Fish and Game, and colleague Dennis Newman, a regional habitat biologist, couldn't find records of any habitat monitoring there.
"I don't think anyone's done anything on these islands for, like, 20 years," Winton said.
Armed with binoculars, notebooks and specimen vials, the two biologists began laying a baseline for an understanding of the island habitats with their June 9 excursion — piloted by Ross, a senior conservation officer, and trailed by wildlife technician Austin Young and a pair of journalists.
"You'll definitely be looking for ticks when you get home," Ross warned from behind the wheel as Winton labored to open a path through the brush.
Ross was right. But Winton and Newman cheerfully picked ticks off their clothing as they narrated their discoveries on the island: ripe golden currants, a monarch on blooming milkweed, a barn owl that emerged silently from the branches overhead.
"You take the Russian olive out, and so far we're pretty native," Newman said.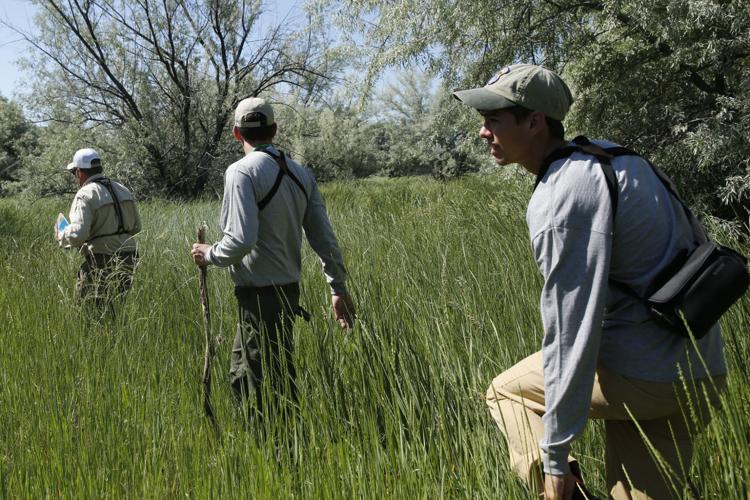 Winton was in the lead as the group broke into an open grassland of native bromes and wheatgrasses, and he announced: "Look at all the deer bedding areas!"
Newman plucked a ball of milkweed seeds and spread it as he walked. Young watched a black-headed grosbeak through binoculars. Winton collected a plug of grass when debate with Newman failed to settle on its name, and he picked a few gooseberries to offer the others.
"The birds love that stuff," he said.
Young's joy over the grosbeak's song was interrupted by competing excitement:
"You're going to love this beetle," Winton called to him, crouching to watch two metallic-blue milkweed leaf beetles mating.
The island visitors glimpsed a mule deer fawn — probably less than two weeks old — retreating through the grasses. And as their boat pulled away, a doe and two fawns swam from the island to the riverbank.
At an island farther upstream, south of Banbury Springs, the biologists' observations began before they disembarked.
Winton: "There's anglewing butterflies all over here."
Newman: "Apparently we've got a porcupine working on these trees."
But the centerpiece attraction on this island is one you can hear from U.S. 30: a rookery for great blue herons, black-crowned night herons and great egrets. Juveniles flew among the tops of old-growth willows and elms or stood in their high nests, and the rookery produced a constant soundscape of harsh, rasping caws.
Newman led the group through shoulder-high Canada thistle for the sake of a few berries. And Winton had a more important goal at the upstream end of the island, so they bushwhacked through poison hemlock whose feathery white blooms waved a couple of feet over their heads. Suddenly, the plants around them were coated in white.
"Now we're in the poop zone," Winton said. Birds screamed as the visitors passed near the nests.
Winton and Newman stomped down stinging nettle to emerge onto a beach strewn with mussel shells — the remains of mussels eaten by raccoons or muskrats or exposed by changes in the river level.
Idaho designates the western ridged mussel as a species of greatest conservation need, and Winton wanted to know if the rocky beds in the shallow water above the island still held live mussels. He and Young donned chest waders and waded into the river with aquascopes fashioned from plastic piping.
"That is weird. All those dead ones, and not many lives ones," Winton said, leaning over his aquascope.
Actually, he hadn't found any living western ridged mussels yet. But he suddenly straightened. "Got one! There it is with its tongue sticking out."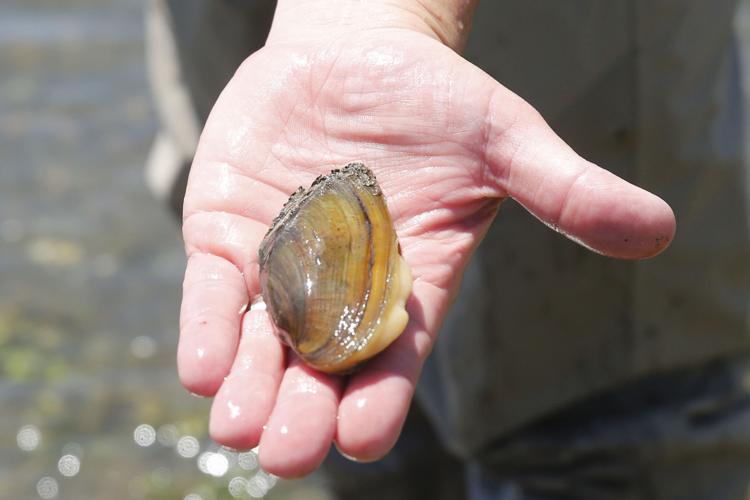 B. New place for a winter soak
You don't really know southern Idaho until you've enjoyed a warm soak in Hagerman's geothermal waters.
It's a time-honored tradition, but it's getting an update.
Dean and Lola Olsen founded Miracle Hot Springs in 1959 south of Hagerman, and four generations of Olsens have worked at the family business. Grandson Enoch Olsen took over in 2003, and in August Enoch purchased Banbury Hot Springs, a similar business on the other side of U.S. 30 fronting the Snake River.
Enoch was visiting Banbury's previous owners when they offered to sell.
"It caught me off guard," Enoch said. "I jumped right on the opportunity. I saw that as a great benefit to Miracle Hot Springs and a great asset."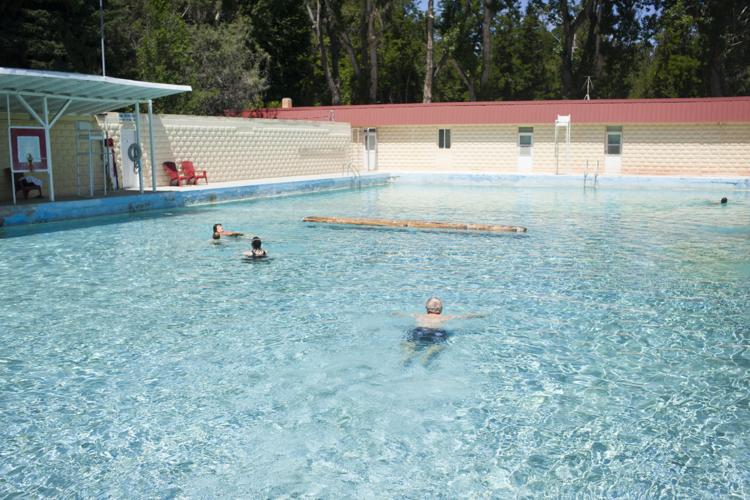 Banbury was owned by Bob Jensen, his son-in-law Kenny Webb and friend Bill Ehrstrom, who purchased the 10.5-acre property from longtime owners Herb and Zippy Deuel in April 2014. The Deuels owned it for 40 years. Banbury, built in 1920 along the Snake River, was founded by John Banbury, who moved to the valley from Chicago in 1906 and purchased the property after discovering the hot springs. In 1918, he began piping water from a cooler spring across the river and opened the main pool for business. The family sold the resort in 1950.
Banbury was typically open only during summer, but Enoch has opened it year-round.
"When we took over in August, it was pretty slow letting people know it's open during the winter," Enoch said. 
For Miracle, summer is a slow season. It's better known as a place for a hot soak during winter than as a place to swim. Banbury, on the other hand, is busier during summer with its diving boards and a log for children to play on.
"Miracle is known for its hotter water, and Banbury is known for summertime swimming," Enoch said.
Buying a business that's almost a century old means change is certain.  
"Right from the start, we needed to do quite a bit of renovations," Enoch said. "Things are getting old."
But if you plan to head to Banbury this summer, don't worry. Major renovations won't occur this season; Enoch intends to evaluate the property at the end of summer. Banbury features 10 1/2 riverfront acres with an RV park and a boat ramp, but the property is overgrown, making river access difficult.
"We'll be renovating the main pool and all the restroom and dressing room facilities," Enoch said. "Our future plan is to add more camping cabins along on the river and make more use of the riverfront property."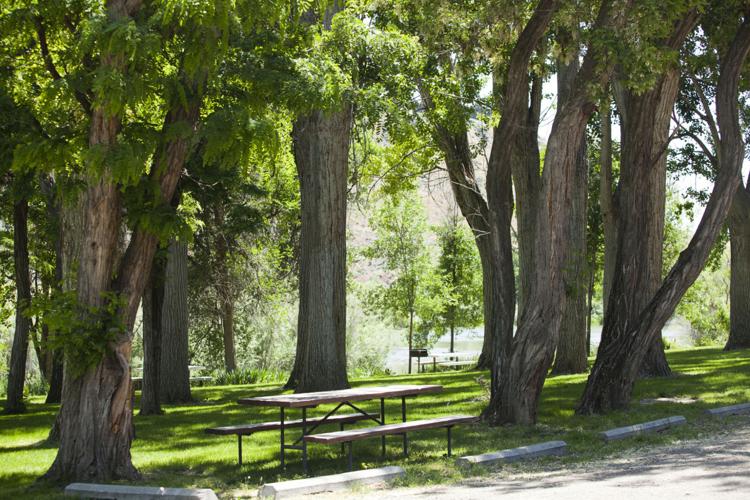 C. Endangered gastropods
You have to squint to see them, but their significance is weighty.
Three threatened or endangered gastropods unique to southern Idaho inhabit the Hagerman reach of the Snake River or the springs that feed it.
"They're about the size of the head of a pin," said Ross Winton, a regional nongame wildlife biologist for the Idaho Department of Fish and Game. "They're all very, very small aquatic snails."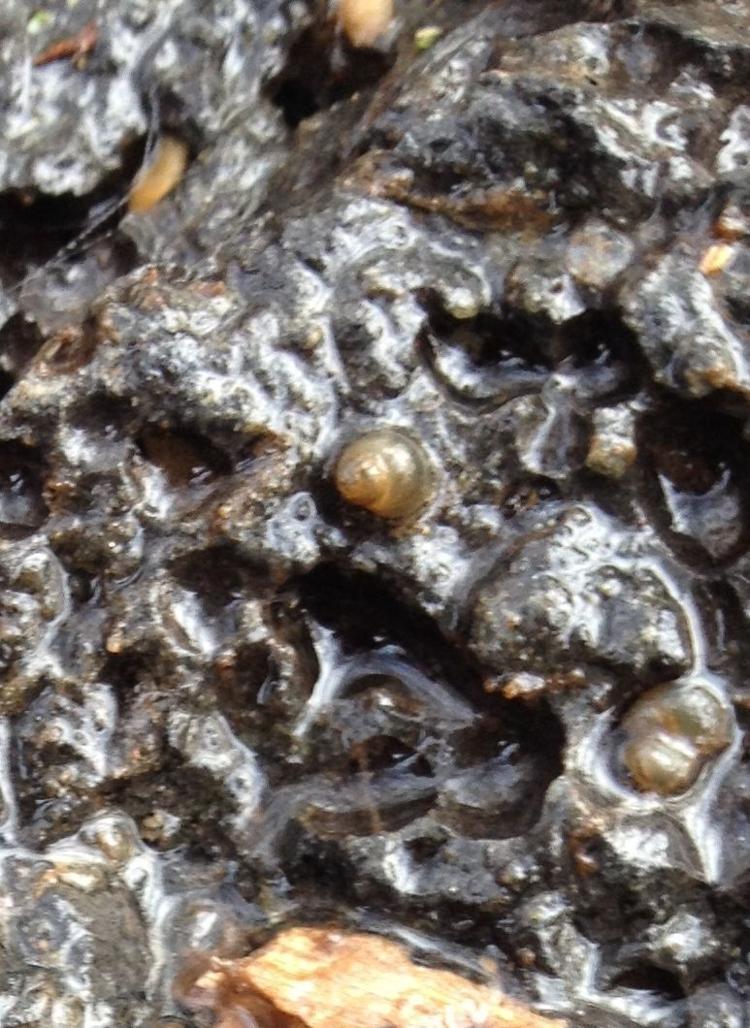 Technically, two of them are snails. The third is a lanx, a gastropod with a conical, pyramid-shaped shell.
"It's pretty unique," Winton said, "because we don't have anything related to it anywhere close by."
The endangered Snake River physa snail, which can reach a length of about 6.5 millimeters, lives on sand and rocks in areas of swift current. While the U.S. Fish and Wildlife Service estimates the species' current range at more than 300 river miles — all in the Snake — the snail has been recorded in only 5 percent of the collected samples and never in high densities.
The threatened Bliss Rapids snail lives on cobbles in cold-water springs and spring-fed tributaries to the Snake River — including waters at the Hagerman National Fish Hatchery and Fish and Game's Billingsley Creek Wildlife Management Area — and in some reaches of the Snake. The snail's discontinuous distribution covers only 22 miles of river, and the free-flowing, cool-water environments it needs are vulnerable to deteriorating water quality and invasion of the non-native New Zealand mudsnail.
The endangered Banbury Springs lanx, or limpet, lacks specialized respiratory organs and requires cold, clear, well-oxygenated water with swift currents. Lanx colonies — found on underwater boulders and cobbles — exist only in four springs of the Thousand Springs portion of the Snake.
In late April, Winton was midway through a three-week survey, checking for the three listed species in the aquatic habitats at all of Fish and Game's Magic Valley fish hatcheries and wildlife management areas along the Snake. Surveying, in this case, means picking up rocks in the springs that come from the canyon walls, turning them over to examine the undersides and using a handheld lens for a closer look.
Winton proposed this survey after a crisis three years ago.
A major irrigation ditch blew out in Fish and Game's Hagerman WMA, and hundreds of thousands of gallons of water carried sediment into Riley Creek, the main water source for the agency's hatchery there. Fish and Game needed to stop the sediment flowing into the hatchery or risk losing a lot of fish, but the U.S. Fish and Wildlife Service required surveys for listed species before construction could proceed.
It's better to know now where the endangered gastropods are, Winton argued, rather than waiting until other construction needs loom.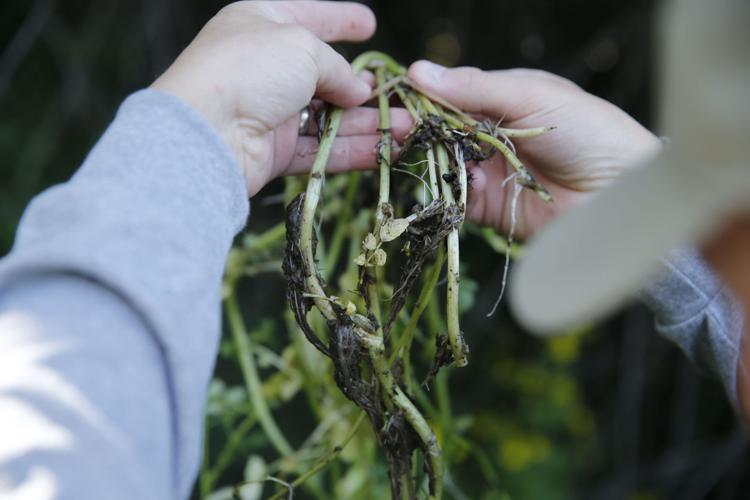 D. Drivers beware
In 2018, a highway widening project south of Hagerman will address a dangerous intersection.
U.S. 30 will be widened both north and south of 4800 North to create a center left-turn lane with deceleration lanes. The Idaho Transportation Department estimates the project will cost $2.1 million and take six to 10 months. 
This intersection of U.S. 30 and 4800 North has a high crash rate, said Nathan Jerke, ITD spokesman. It's near the bottom of a long 3.5 percent grade, it's partially obscured by cut slopes, and it lacks turn bays.
The highway here has average daily traffic of 1,600 with about 18 percent trucks. The intersection provides access to Miracle Hot Springs to the west and River Road to the east.
To add the left-turn lane, ITD will need to replace the Salmon Falls Creek bridge, built in 1956. Also, the department will add signs to warn drivers of the partially obscured intersection.
E. May you get the goose?
If a goose flies low past your duck hunting blind on the Hagerman reach of the Snake River, are you allowed to put a heavier load into your shotgun and get the goose?
Since last year, the answer is yes if you're hunting upstream of Ritter Island.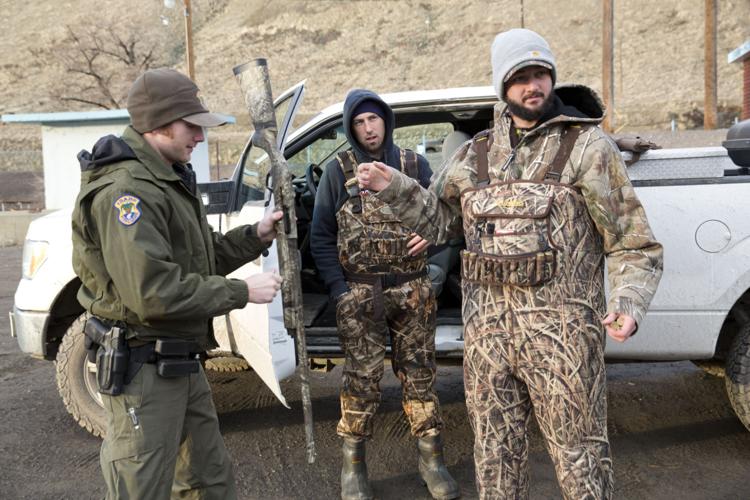 Three decades ago — before hunter-conservationists' massive effort to build nesting platforms helped Canada goose numbers recover — Idaho closed a stretch of the Snake River to goose hunting.
Geese aren't particularly vulnerable to a decoy spread on a river, so most hunters target them in the fields where they feed. But geese are sensitive creatures, upset by any disturbance.
"If they're pressured for any reason … they will tend to move on. And when geese move on, they move long distances," said Josh Royse, regional conservation officer for the Idaho Department of Fish and Game. "If we give waterfowl a place to be, then we'll hold them in the area."
Now, Canada goose numbers are substantially up, and agricultural producers complained of geese-inflicted crop damage. It was time for reevaluation.
Hagerman's longstanding goose-hunting closure stretched from the Lower Salmon dam to the pipeline that crosses the river at Banbury Springs. But last spring, after taking public comment, the Idaho Fish and Game Commission reduced the size of that closure — opening up the stretch of river from the southern tip of Ritter Island to the Banbury pipeline, as well as canyon rim land on both sides.
That's a significant change.
Duck hunters come from all over the Western U.S. to hunt this part of Idaho, and that particular stretch of water is one of the state's most popular. Now they have the option of harvesting geese, too.
Not many did so in the first season of the reduced closure, Royse said, though Fish and Game did see some goose hunting in newly opened fields above the canyon rim.
F. B&B on the river
Thousand Springs Winery and Bed and Breakfast offers breathtaking views of the Snake River along with its locally grown and produced wine. 
Now you can book a room after summer ends, too.
Newly open year-round, the bed and breakfast is owned by Bernard and Marguerite Janes, who moved to Hagerman in 2013. The couple, from Seattle, decided on the Hagerman area after years of commuting between Nevada and Washington.
Visitors to their bed and breakfast can stay on the top floor, which has three bedrooms — The Sunshine Room, The Green Room and The Suite — living room, dining room, kitchen and deck area with views of the river. The home is Tuscan-inspired, with touches of Idaho such as a living room fan made from fishing rods and bicycle sprockets.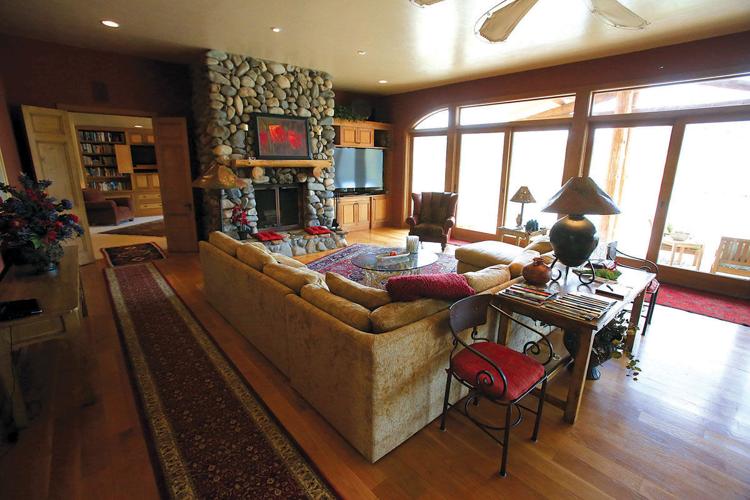 The Janeses are considering a few ideas for their first winter season. One is to increase two-night stays by offering a winter weekend package deal.
"I haven't worked all the details yet," Marguerite said. A New Year's package for a group of three couples will include a catered dinner and sparkling wine to toast at midnight.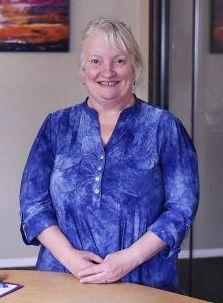 The Janeses plan to increase their reservation add-ons. For example, they may offer in-room massages, sparkling wine, Hagerman caviar, wine and cheese, catered dinner for two and a pass to a local hot springs.
"We are trying to showcase local businesses in these offerings," Marguerite said. "With the year-round capability, it opens more marketing and advertising opportunities as many such businesses require a 12-month contract. Hagerman attracts hunters and bird-watchers during the winter months. We plan to begin advertising to those markets."
She hopes increased business will allow them to hire part-time workers. 
The Janeses had a record weekend for Memorial Day — an increase in visitors, great wine sales and plenty of overnight guests. The bed and breakfast side of the business doubles each year.
"We expect to double again for 2016," Marguerite said. "With our first wines, launched in September 2015, our wine sales are increasing."
They offer eight wines and have five more in the making. Their first, Feathered Winds Rose, a Syrah wine of Hagerman grapes, won a bronze medal in the 2015 Idaho wine competition. 
"We were very jazzed about that," she said. 
However, one aspect of the business went sour. Their downtown tasting room, which opened in January, will close at the end of June. 
Though the tasting room is open only three days a week, Marguerite said, business has been dismal. Its closure will give them more time to focus on other aspects of the business. 
G. Arts festival in new hands
For the first time in 17 years, a new entity will organize the Thousands Springs Festival of the Arts.
But don't worry: The magic of the event won't fade. It still will be on Thousand Springs State Park's Ritter Island — a place full of history nestled next to springs tumbling from the cliffs — and will continue to draw artisans, musicians and food vendors from around the Magic Valley and surrounding states.
It's a classic southern Idaho experience.
After a bus ride into the Snake River Canyon, the festival's visitors can browse the work of painters, sculptors, wood carvers and jewelry makers, rent a canoe to paddle around the island, take a wagon ride and walk through a historical dairy barn.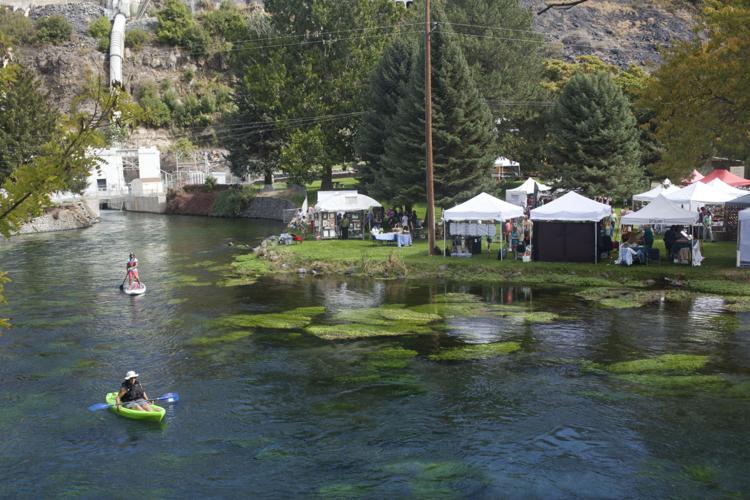 Every year, more artists ask to show their creations than the Thousand Springs festival has space for. About 90 wanted to come last year; organizers chose about 65 of the best.
This year, the Southern Idaho Land Trust is handing over the Sept. 24-25 event to the Magic Valley Arts Council. 
"We've been involved for many, many years," said Jack Kulm, president of the land trust. "We're just getting to the point where we are retiring."
The nonprofit is managed by local residents, and its mission is to preserve and protect natural, historical, productive, recreational and open space values in south-central Idaho. Land trust members will continue to be involved with the arts festival as volunteers and will assist with the transition. 
"We wanted to find an organization that is focused on the arts, and it was a perfect fit," Kulm said. "The Magic Valley Arts Council is a much larger organization. We expect to have the same festival, and there is always new music and new artists. The arts council has enough associated artists there may be many be more applicants this year."
Last year's 23rd annual Thousand Springs Festival of the Arts returned to Ritter Island after a two-year absence due to bridge repairs; in those years it was held at the state park's Malad Gorge unit.
H. Ice cream on Ritter Island
More than 300 people showed up when Thousand Springs State Park served free ice cream on Ritter Island.
Naturally, the park wants to repeat that success.
The park's first ice cream social, in July 2015, celebrated the Idaho Department of Parks and Recreation's 50th anniversary and recalled the ice cream traditions of a dairywoman who lived on the island in the early 1900s. Now park manager Dave Landrum wants to make it an annual affair.
This summer's ice cream social is set for 10 a.m. to about 2 p.m. July 9. While you savor your ice cream, you can watch a square dancing club's exhibition and line up for a lesson. Another spectacle that day: An old-time tractor club will plow and disc a field, then members of a mule and horse association will plant oats meant to benefit deer, ducks, geese, quail and pheasants.
The state park is making other changes on Ritter Island, too.
It started last fall remodeling all the houses on the island: a large rock house built in the early 1900s, a yellow house, a pink house and a red house. Workers removed lead and asbestos and by May were still painting, redoing flooring and repairing plaster cracks. Landrum hopes to rent out the houses by the night and offer them for reunions, church groups, business retreats and weddings; they should be available within the next year.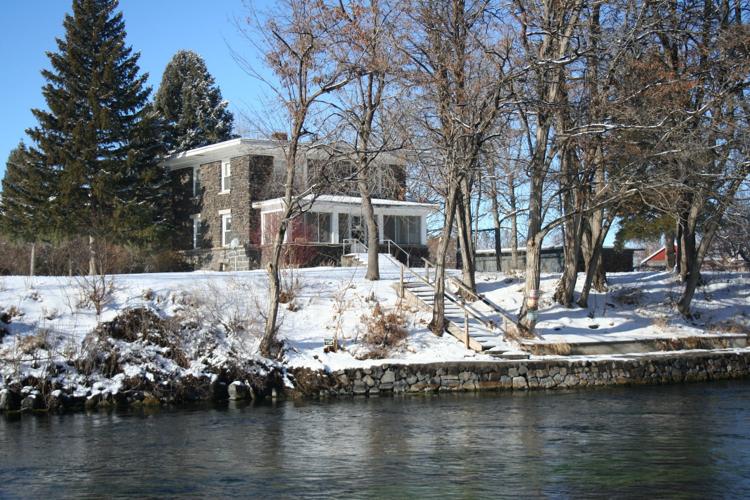 The park received a grant — matched by local clubs, businesses and volunteers — to repaint the historical dairy barn's exterior this summer. The park's next project will be finding funding to reroof the barn.
"Other than that, the building is very solid and stout," Landrum said. The park gives barn tours by appointment, and people can walk through on their own any day.
I. Magical invention
William W. Priestly was a man before his time. 
In about 1890, Priestly created a pump that allowed water to flow uphill. His hydraulic ram accomplished this feat without the use of any moving parts, and it allowed him to irrigate his Hagerman land just above Thousand Springs.
The site of his creation, near the present-day Thousand Springs Power Plant, was placed on the National Register of Historic Places in 1975.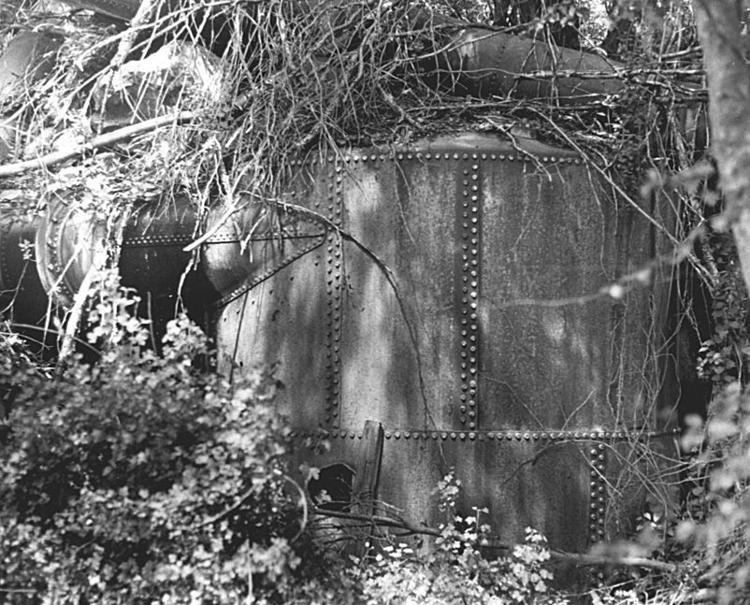 "Although evidence points to a similar less sophisticated device in Arizona in 1886, four years before, Priestly is thought to have come upon his invention independently," says the National Register of Historic Places nomination form. "Similar hydraulic air compressors were built near Montreal, Conn., in 1902. However, these pumps, which operated with about 70 percent efficiency, were displaced by much more efficient steam, gasoline and electric pumps, before any possible development of widespread use of Priestly's pump." 
Priestly's pump consisted of a series of 24-inch-diameter pipes made of 1/4-inch boilerplate.
To operate it, he placed one pipe opening at the largest spring flowing from the cliff. It caught the water in such a way that a lot of air was combined with the water. This aerated water fell through the pipe for 190 feet to a tank reservoir at the bottom of the cliff. The water was drained off into the river, and the channeled air was forced by great pressure back up the cliff in a second pipe. The air pipe was connected to a third pipe, which also caught spring water, but not as much as the first pipe. This pipe dropped the water 60 feet before it met the air pipe. When the air from the second pipe met the water from the third pipe, it pushed up a fourth pipe that fed the water onto the arid farmland 110 feet above Thousand Springs.
The 1974 nomination form said parts of the pipeline and the storage tank remained at the site. But it's uncertain what happened to the hydraulic ram next.
"It may have been taken apart and salvaged for parts," said Shane Baker, Idaho Power senior archaeologist. "Or moved somewhere else, or perhaps abandoned in place.
"To my knowledge, no one has ever found any remnants of the facility. The exact location for the ram is unknown, and it may be possible that the first hydroelectric plant built at Thousand Springs in 1912 may have been built over top of the location of the old ram."
J. Castellated architecture
The 1919 black-and-white photo looks like a scene from a fantasy movie. 
A white castle sits in front of waterfalls tumbling from high, rocky cliffs. Fast-forward 97 years and the Hagerman scene is still recognizable, despite some changes. But instead of a princess living inside these walls, you are more likely to find Idaho Power employees in safety goggles and steel-toed boots.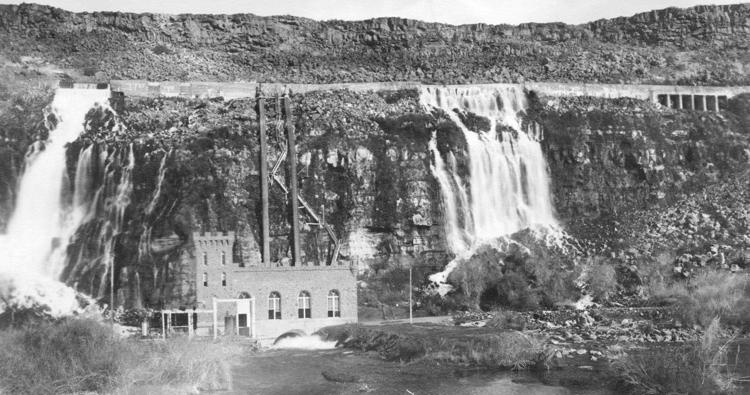 The 1912 Thousand Springs Powerhouse was made from black volcanic rock with a light mortar and arched windows. After 1920 additions, it's still a fanciful design.
Idaho Power Co. acquired the plant in March 1917 from the Thousand Springs Power Co. In Idaho Power's first several decades, the company focused on expanding its plants' generation capacity, and it wanted to do the same at Thousand Springs. 
In the fall of 1919, Idaho Power established two camps for workers here. One was on the bench near Snowbank Springs; the other was near the plant where the utility's day use park is today. Each camp consisted of six bunkhouses with a capacity of 20 men each, mess hall, office, blacksmith shop, storehouse and foreman's house.
The Thousand Springs Powerhouse's 1920 expansion boosted capacity but took away from the building's history. It may look similar from afar, but the renovated side is made of a steel frame covered in horsehair and concrete. The entire exterior was plastered to make the original lava rock side and the additions look the same.
The windows with high arches are still there, but the top of each has been covered. 
And the generating capacity? The original plant: 2,500 kilowatts. Now: 6,800 kilowatts.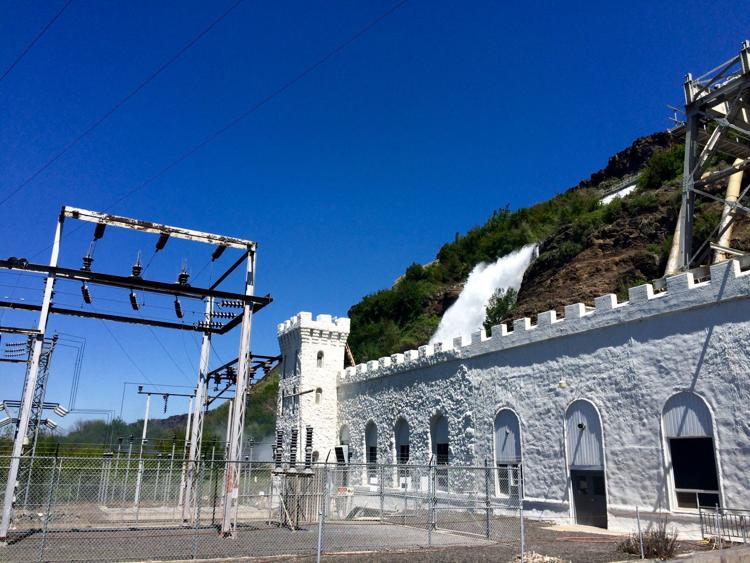 K. Tours of paradise
C.J. Holmes wants other people to fall in love with Hagerman as quickly as she did. 
Two years ago, Holmes traded in the fast-paced world of California for something simpler in Hagerman. The former real estate broker now spends her days tending her farm.
"We bought an old farmhouse and are getting to know the community," Holmes said. "It's really wonderful, and the people are so friendly and they care."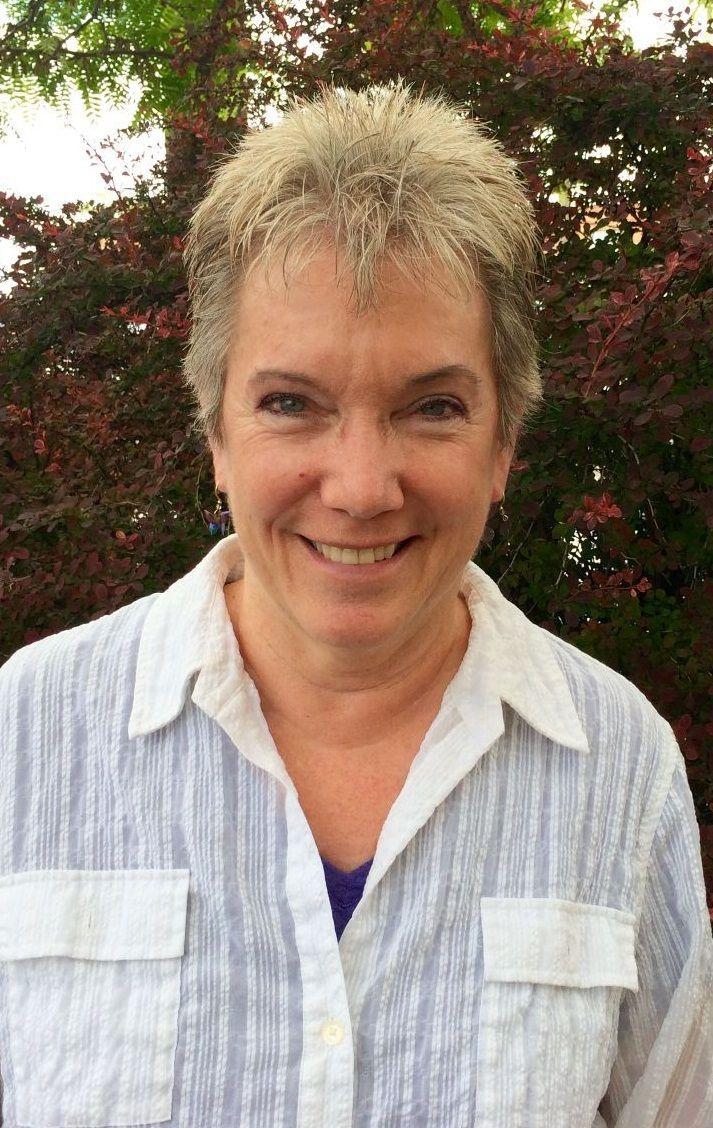 But Hagerman represents an entrepreneurial opportunity, too. 
Holmes this month was preparing to launch a tourism business, Hagerman Touring Co., with a lineup of June 25 tours. The $39 version: the historical Minnie Miller farm, barn and dairy on Ritter Island; a Malad Gorge geological guided tour; and a wine tasting. The $64 variation: riverboat tour, Malad Gorge and wine tasting. The $79 option: whitewater rafting and wine tasting.
Her prices included transportation to and from Twin Falls and a picnic lunch; tours from Boise cost a little more. 
Holmes, who's preparing for another round of tours in July, plans to serve as the tour guide and greeter but will also have experienced docents for each item on the tour.
Holmes, who's active with the Hagerman Valley Historical Society and Museum, said out-of-state visitors often stumble upon the museum, not knowing about other interesting Hagerman highlights. 
"We got recreation, fishing and hunting and whitewater river rafting," Holmes said. "They don't know about the museum or the fossils."
Her guided tours (208-352-2080, hagermantours@gmail.com, Hagermantours.org) will also feature historical downtown buildings, the Hagerman Valley Museum, the Oregon Trail south of Hagerman and possibly a windmill farm across the river from the town.
"I think it's a good and exciting introduction to the area," Holmes said in an email. 
Other aspects she'll highlight: birding and photography opportunities, hot springs, fish hatcheries, the Shoshone tribe and fossils founds in the area.
"There are some things we can really build on in this community to bring tourism here."