TWIN FALLS — Idaho Superintendent of Public Instruction Sherri Ybarra told more than 100 local school administrators April 30 she's disappointed the state Legislature didn't act on her school safety proposal.
But Ybarra also highlighted several key education decisions made during this year's legislative session: $1.9 billion in kindergarten through 12th grade public school funding, increasing starting pay for teachers to $40,000 over two years, doubling literacy money to $26 million for next year, and new discretionary money for operations and employee health benefits.
Ultimately, no bill was passed to implement a new public school funding formula, Ybarra said, but noted first steps were taken to collect data from school districts.
Idaho State Department of Education officials stopped April 30 in Twin Falls for a yearly legislative roadshow. Ybarra also visited Jefferson Elementary School in Jerome — the same school Gov. Brad Little toured April 18.
The roadshow — held at the College of Southern Idaho's Herrett Center for Arts & Science — was geared toward local public school administrators. Attendees also included school board trustees, teacher's union representatives and state legislators.
Presentations during the all-day event covered topics such as public school finance, a legislation update, school safety and security, mastery education, ethics, and technology.
The legislative session wrapped up April 11. The statewide roadshow began April 24 in Coeur d'Alene and concludes Wednesday in Idaho Falls.
Before her remarks, Ybarra decided to get attendees involved in a "Family Feud" style game with questions covering topics like graduation rates.
"It's always fun to highlight your accomplishments with a game," she told the crowd.
Two school administrators faced off each round, and the winner received a "100 Grand" candy bar for their school district.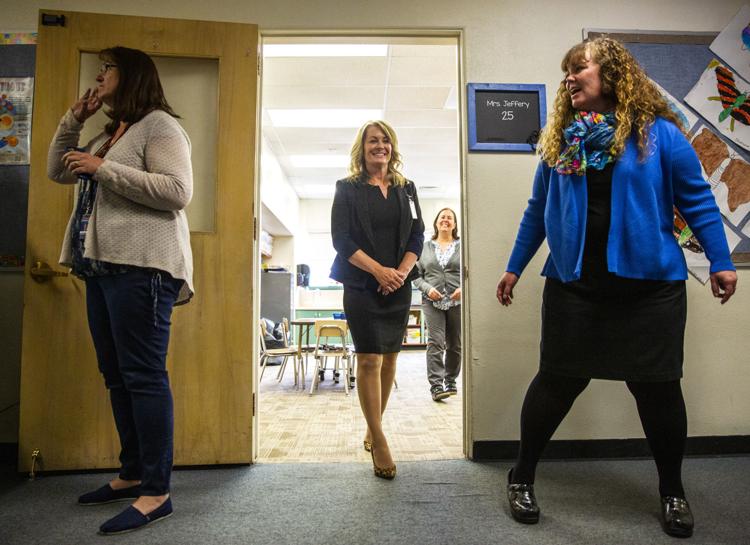 After the game concluded, Ybarra proceeded with her remarks. She told school administrators she's disappointed the Legislature didn't act on school safety.
You have free articles remaining.
Ybarra sought about $19 million for her Keep Idaho Students Safe (KISS) initiative, but it wasn't funded.
Ybarra didn't reference KISS by name, but she said a proposed initiative would provide resources to help with student well-being, such as addressing cyber bullying, substance abuse prevention, and social and emotional challenges among students.
Under KISS, money would have been used for three major projects: to help schools hire and train school resource officers or other security personnel ($18.67 million), a 45-hour safety course required for teacher re-certification to focus on protecting students and addressing risky behaviors ($1.99 million) and a statewide crisis communications counselor ($116,584).
Despite the lack of funding allocated for school safety, that doesn't mean schools aren't already doing what they can to keep students safe, Ybarra said.
Ybarra also focused her remarks on Idaho's public education system rankings and academic achievement. There's always more work to do, but the education system is on an upward trajectory, she told attendees.
There has been a lot of hard work in creating a more positive and supportive culture for students and educators, Ybarra said, adding she believes it has contributed to academic gains.
Contrary to popular belief, Idaho isn't ranked 49th in the nation for education by a long shot, Ybarra said. She didn't specify which data or report she was referring to.
She highlighted an Idaho ranking of fifth in the nation for college and career readiness, but not the source. She also said the state has received national recognition for mastery-based education, where students at some schools move through lessons at their own pace rather than by grade level.
Following her address, Ybarra traveled to Jerome to visit Jefferson Elementary. School principal Angie Brulotte told the Times-News on Tuesday that both Little and Ybarra's visits to the school was to see what was happening in classrooms — particularly related to literacy initiatives.
Jefferson and Horizon elementary schools were both pilot campuses last school year for Istation's Indicators of Progress early reading test. That replaced the old Idaho Reading Indicator test for kindergarten through third-grades across the state this school year.
Jefferson educators had offered insights at events around the state about what they'd learned about the reading test, Brulotte said, and what they found success with.