TWIN FALLS — After giving students instructions for an assignment, Megan Greenwood took a brief moment to organize papers and supplies on her classroom countertop.
But the moment of calm was short-lived. During her seventh-period Earth science class Oct. 9 at Twin Falls High School, students looking for help raised their hands and called her name.
As Greenwood helped one girl, a boy came over to her to ask for help too. "Aaron, give me 30 seconds," Greenwood said. "I'll be counting," the boy replied.
Greenwood, a first-year Earth science and freshman transitions teacher, is under alternate authorization, meaning she doesn't yet have a teaching credential. She's one of many teachers in south-central Idaho working under alternate authorization, as the region has been hit the hardest by a statewide teacher shortage.
In addition to navigating her first year of teaching, Greenwood is also a full-time student in a secondary education program at Western Governors University, where she has been enrolled since 2016. She'll graduate with a bachelor's degree and teaching certification by early summer 2019.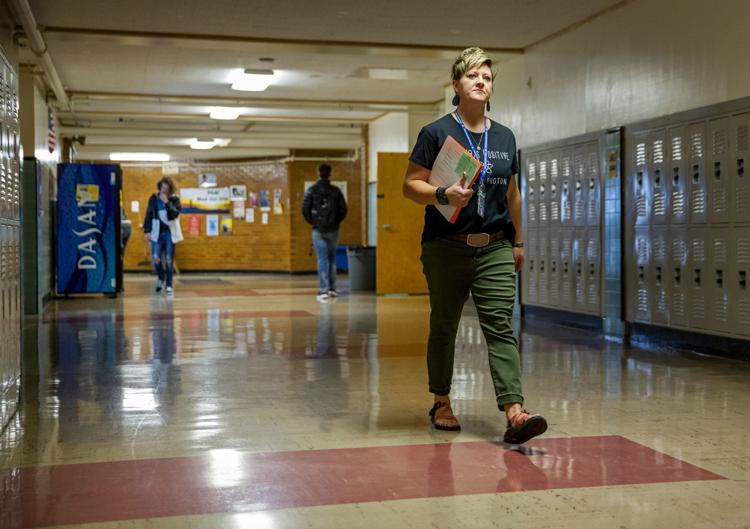 Before she decided to become a teacher, Greenwood spent 13 years as a dental assistant in Twin Falls. She installed and removed braces, and was the head assistant who trained other employees.
"I liked a lot of aspects about it," she said, especially interacting with patients — most of whom were young.
For 15 years, Greenwood also had experience helping with church youth groups. Again, she connected best with the children and teenagers. "I had a good rapport with them," she said.
One of Greenwood's friends suggested that she consider teaching, but she resisted the idea at first. She wasn't much of a fan of school when she was a child. But once she started working with students, the profession stuck.
Though she's a first-year teacher, Greenwood already had experience working in a school. Her most recent job before starting at Twin Falls High School was a site coordinator position for Idaho Digital Learning at Vera C. O'Leary Middle School for two years. The job required an associate's degree, so Greenwood met the qualifications.
She had her own classroom and seven periods of students. She helped facilitate assignments and gained hands-on classroom management experience. She was a contract employee and didn't have to spend much extra time in the classroom before or after school, and didn't have to do any grading.
When a science teaching job opened up at Twin Falls High, it felt like divine intervention, Greenwood said. "I had most of my students last year as eighth graders." She already knew names, learning styles and who shouldn't sit next to each other in class.
Now, as a high school teacher, Greenwood said her weeks go by quickly. She enjoys her job and, once a weekend comes to a close, she's excited to see her students Monday.
"I don't dread work anymore," she said. "It feels good to like your job."
Still, it's not an easy job. Greenwood often stays at school until about 6 p.m. to organize her lesson plans. At home, she grades papers and does her own college homework. She also takes teaching exams such as the Praxis.
"Honestly, being a first-year teacher is way busier than I thought it would be," Greenwood said.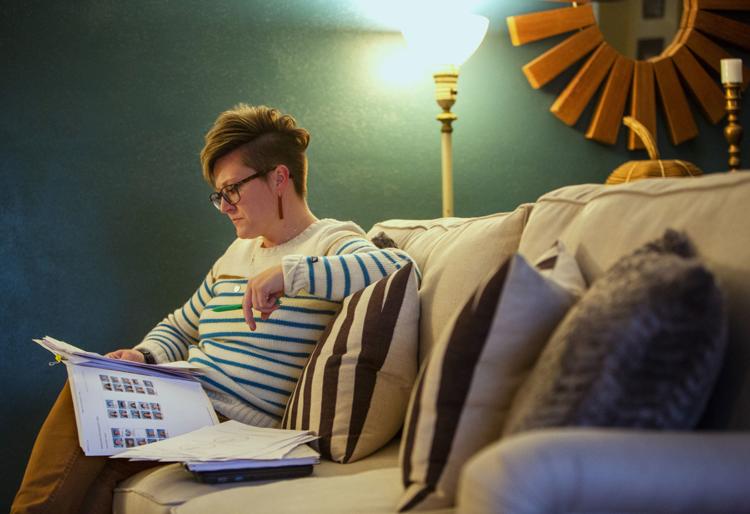 Her college classes this term focus on classroom management and how to prepare lessons — things she's already doing in her own classroom.
Next term, which starts in January, she'll begin student teaching despite already being a full-time teacher. She'll continue to teach her same classes at Twin Falls High, but will have to do additional work for college, such as writing papers about the experience.
During student teaching, her mentor through the Twin Falls School District — whom Greenwood meets with weekly — will come into her classroom more frequently to give feedback. She already receives feedback from Twin Falls High's instructional coach and school administrators who observe her classes.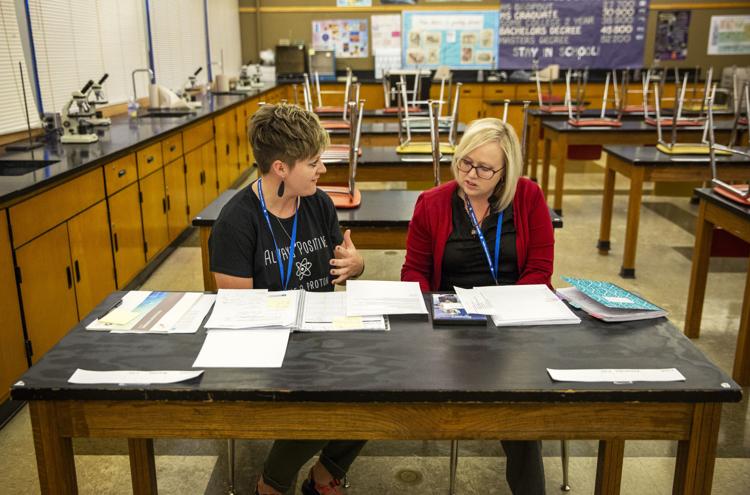 Greenwood said she wouldn't do anything differently with how she chose to pursue her teaching certification. She said she's grateful she worked at O'Leary because she was already a Twin Falls School District employee and gained classroom experience.
"Doing it the way I did, I feel like it's working," she said.
Greenwood described herself as a tactile teacher — someone who wants to offer hands-on activities for her students. She often works late because she wants to come up with new labs and activities.
Learning didn't come easily for her when she was in high school, so she tries to reach out to similar students. She also tries to explain things in different ways so all students will grasp it.
Greenwood uses a sense of humor when she's teaching, and it's common to hear students laughing in her classroom.
The Times-News shadowed Greenwood for three weeks in October. We watched as she taught classes, attended meetings with colleagues, met with parents and students, and made preparations before and after school. What follows is a glimpse of life as a first-year teacher in the Magic Valley:
Tuesday, Oct. 9
Just before the bell rang to signal the start of seventh period, 25 ninth-graders sat waiting. Greenwood reminded them to have out their Earth science notebook.
A couple of students toward the back of the classroom squealed after seeing an earwig crawling on the floor. Greenwood walked over and stomped on it.
Once the bell rang, Greenwood — who had a pencil behind her ear, like she often does — told her students: "Ladies and gentleman, I have passed out a white piece of paper. There's one per table." Students were asked to draw the Earth's layers.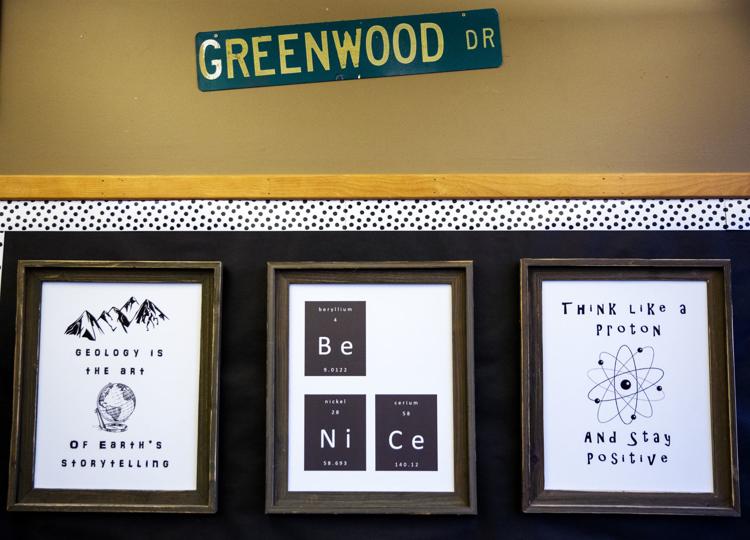 Under a section for Earth science on the classroom whiteboard, several notes were written: "You will need your science notebook & pencils out & ready. Silently write one positive thing you are doing in life now."
Greenwood gave students a reminder about the wooden meter stick on each table. You're in ninth grade, she told them, and this is high school. "These are not probing instruments."
Greenwood went through a brief presentation projected on a screen with information about the Earth's layers. As students took notes, she told them: "You do not have to write down every word, remember?"
One girl raised her hand and asked, "Is this going to be the easiest unit all year?"
Greenwood said she'll make it so fantastic and exciting it should be a breeze.
Another student asked if they were going to build volcanoes. "You cannot have a volcano unit without building a volcano," Greenwood replied.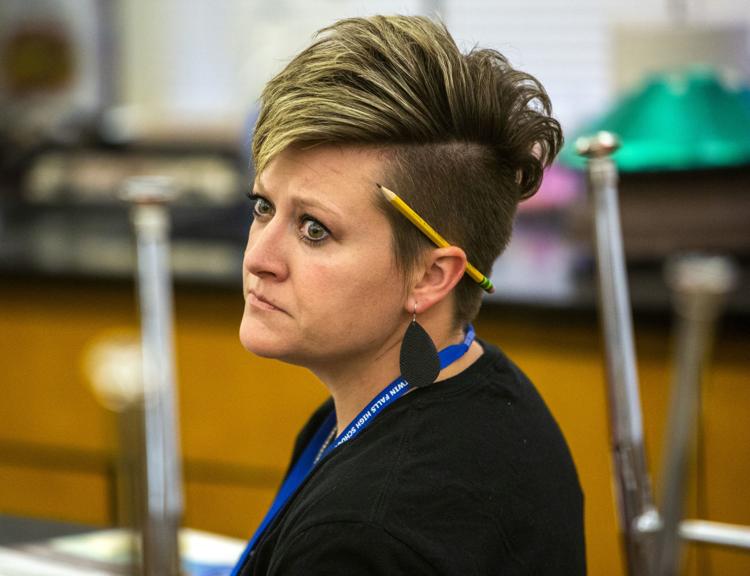 When talking about one measurement, she asked students how many paperclips equal 67 grams. Students talked about it with their lab partner. "I guessed around 200," one boy told the class. Other students also threw out guesses.
You learned this five weeks ago, Greenwood told her students. "Is that like an insane amount of time for you?"
It was. One boy told Greenwood information from that long ago has left his brain.
As students took notes, Greenwood switched to the next slide in the presentation. "Wait, wait, wait," students said as they were still writing. Greenwood told them to focus on keywords.
She waited a little longer. "How are you doing on notes?" she asked. She told students they can also draw a picture and label things. "That's a great way to take notes," she said, but with a caveat -- she would rather it be a picture of the Earth's mantle rather than a hot rod or motorcycle.
She handed a student a rolling pin with a crack in it to smooth play dough. Be careful, she advised. She had borrowed it from her mother, and "this is her favorite one."
Greenwood showed students the inside of the ball of dough, revealing the layers. "When I tell you Earth's crust is thin, I'm dead serious," she said.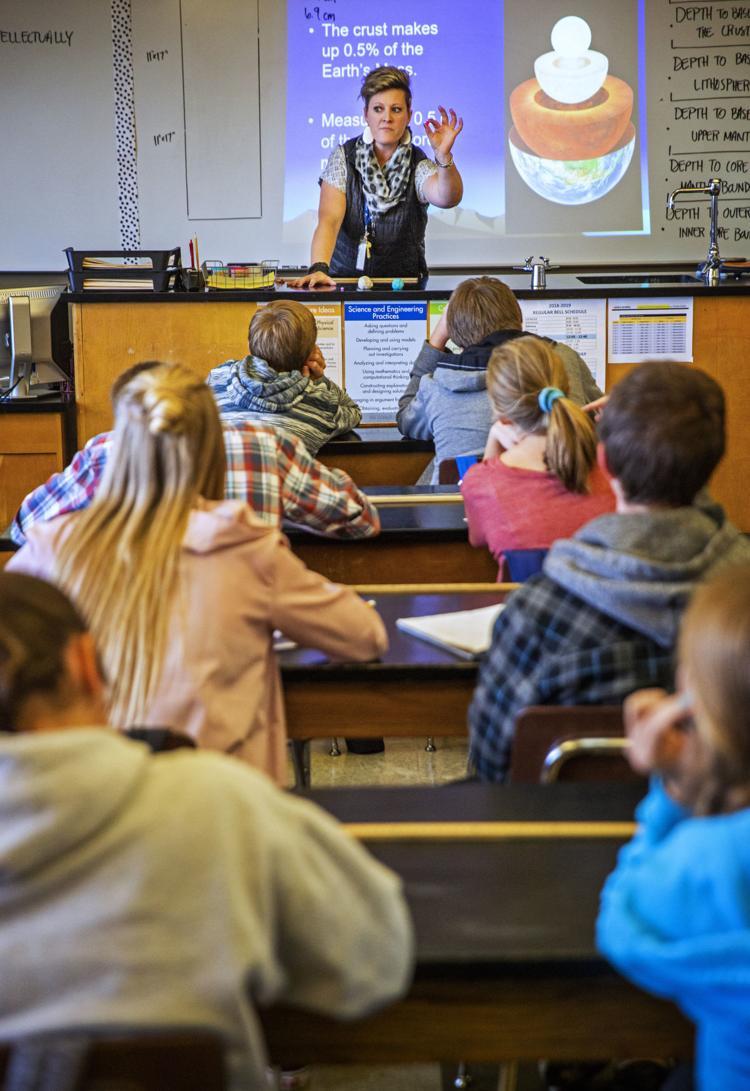 Each pair of students picked up two pieces of yellow 11" x 17" paper and taped them together. They worked on making a visual representation of the Earth's layers. Measurements were written on the whiteboard.
Greenwood told students she was going to show them something that would change their lives forever. Using a piece of string, she tied a small loop and put her whiteboard marker inside of it. She held down on the piece of string and used it to move the pen to draw a smooth circle.
As Greenwood passed out pieces of tape, she told students to take care of them. "Remember, I'm on a budget," she said. Greenwood complimented one girl on her nail polish.
When the class period was about to end, students folded their papers in half and put them away in a back cupboard. They put their chairs upside down on top of their tables and slung backpacks over their shoulders.
The final bell of the school day rang. As students filed out of the classroom, one boy said: "See you tomorrow, Miss Greenwood." Another boy was messing with items on the front countertop and Greenwood told him not to touch things that aren't his.
Two girls came up to Greenwood and one of them had a question to ask her. Another girl — one of the last to leave the classroom — told her: "Thank you, Miss Greenwood."
After a long day of teaching, Greenwood finally headed home. It was earlier than the previous night, when she stayed at school until about 8:30 p.m.
Greenwood has an eighth-grade daughter who walks home after school. Greenwood tries to gather her last bit of work and take it home with her so she can be with her daughter and let out her dog Scarlett, a 1-year-old Goldendoodle.
But it's a challenge. Students often need additional help or they need to make up labs after school, often because they missed class for school-sponsored activities such as sports.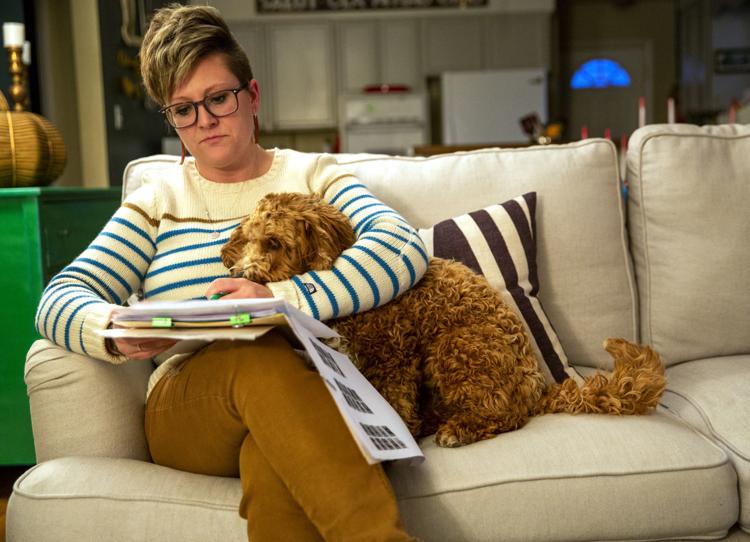 Wednesday, Oct. 10
Wednesday is a late start day at Twin Falls High. Classes start at 8:30 a.m. instead of 8:05 a.m. That allows teachers time to meet to talk about instruction and for group planning.
Greenwood was among nine people at a science department meeting in department head Patti Tucker's classroom, just a few doors down from Greenwood's room.
Tucker sat in a chair facing her colleagues. She went over announcements from a list.
"We need a representative from this department to be on the innovative practices committee," Tucker told her colleagues. One teacher was nominated but was hesitant to volunteer.
You have free articles remaining.
"So, will you accept the nomination?" Tucker asked. "Pretty, please?" The teacher asked how often the committee meets. Once a month, Tucker replied. He agreed to participate.
Greenwood sat quietly at a table, listening. Announcements covered topics like needing to figure out what's happening with a textbook adoption, potential changes coming to Twin Falls High's advisory classes next school year, and what food and utensils everyone was bringing to an event the following day.
Back in her classroom, Greenwood's door was partially cracked open as students milled around in the hallway before school started. Some students leaned up against walls, gazing at their phones. One young couple was wrapped in each other's arms.
Two boys peered into Greenwood's classroom as she was talking with a Times-News reporter.
"Can you save me?" one boy asked her. Greenwood told him she was in a meeting. The boy said he didn't have enough wood pencils for a PSAT test he was going to take that afternoon. Greenwood's demeanor changed, and she looked concerned when she realized the student was seeking her help about an actual urgent matter. She handed him pencils from a cupboard. He thanked her.
First period is for preparation. Greenwood doesn't typically use that time to grade papers; those are done before she gets to school.
Instead, she reviews lesson plans for the day and considers whether it's enough to fill the class period. She also makes preparations for each class, including writing notes on the whiteboard.
Greenwood often locks herself in her classroom for 40 minutes to eat lunch so she's not interrupted by students. For at least eight hours, lunch is the only time she has to herself.
Monday and Tuesday, Oct. 15 and 16
Greenwood was out of her classroom for two days for training on "The Write Tools" at Canyon Ridge High School.
Twin Falls middle and high schools implemented the program a few years ago. The purpose is for students to spend more time reading and writing in their classes, even in subjects such as physical education and science.
Wednesday, Oct. 17
Greenwood's seventh-period class began with a student using a clicker to get her peers' attention. She rattled off a list of announcements on behalf of the teacher.
Students flipped through pages in their notebooks and quietly wrote down information from the whiteboard about plate tectonics and continental drift. Their finished project from last week — the Earth's layers — was taped to a classroom window and bulletin board.
After giving her students time to work, Greenwood greeted them. "OK ladies and gentlemen, it's so good to see you," she said. "I missed you so bad. It's been four days."
She referenced a song with lyrics about being reunited and how it feels so good. Greenwood told students she was at a training the previous two days and now she's an expert on The Write Tools. Her students clapped for her. "I've been writing paragraphs, as well."
She told them she'd be gone again the next day for another training, but there was a slight chance she'd be back by seventh period. Some students were visibly disappointed about her possible absence.
Greenwood was pleased with the notes a substitute teacher had left about the class. They had been well-behaved. "This is such a great class period," Greenwood said.
The task for the day was for students to finish models of the ancient continent Pangaea and write a one-paragraph reflection.
"If you don't get finished this period, it's homework," Greenwood told them. She also reminded them it's their last grade of the quarter, but said she was "really pleased" with how their class was doing.
As students worked, Greenwood made her way around the classroom. One boy held up his piece of paper for the assignment, which had a tear in it.
"It's not 'your dog ate your homework,'" Greenwood said. "It's literally your backpack that ate your homework. That's gnarly."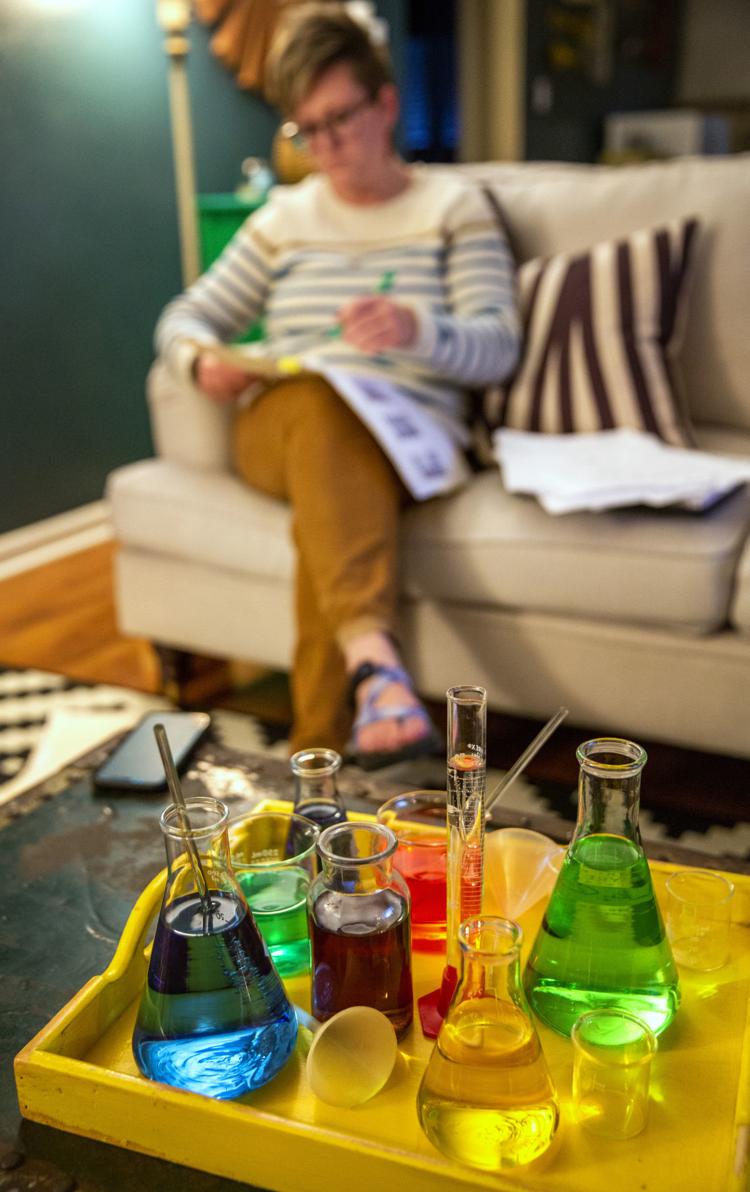 Greenwood returned to the front of the classroom and clapped to get students' attention. She asked if everyone had their materials.
"You color while I tell you this great story, OK?" she said.
Greenwood talked with students about Alfred Wegener, the classes' scientist of the month. He was from Germany, Greenwood told students and asked them which continent that is. "Europe," several students said simultaneously.
Wegener was a meteorologist, Greenwood said, and she appreciates meteorologists because she can look on her phone and know whether to put on a sweater. Wegener eventually took up geology, and he had a hypothesis called continental drift, which claimed that all of the continents used to go together like a puzzle, she said.
He traveled with colleagues to look at rocks, Greenwood said, and make notes in science journals. They discovered the same rocks on different coastlines more than 3,000 miles apart.
Wegener began spreading a rumor about the continents drifting, Greenwood said. "People were so rude," she said. They told him he was crazy and a terrible scientist. Instead of getting discouraged, she said, Wegener continued with his research.
When Wegener froze to death on a 1930 expedition, his friend gave him a proper burial in ice with skis to mark the grave. Wegener's friend didn't finish the journey, and his body was never found.
"Would he be preserved under the ice or no?" one student asked.
Years later, though he wasn't preserved to see it, plate tectonics — as well as Wegener's hypothesis — were recognized as valid.
Greenwood told students one of their next activities will be mapping where Twin Falls is now and where it will be many years in the future.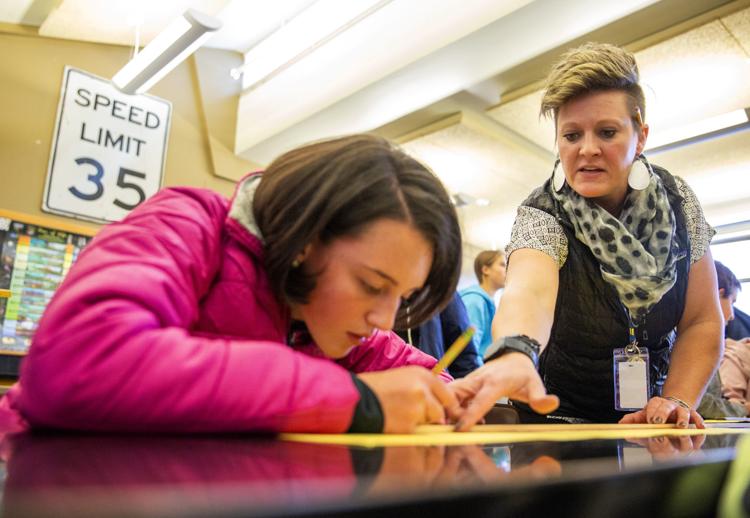 Friday, Oct. 19
It was the last day of first quarter in the Twin Falls School District. Students had the day off, but teachers — including Greenwood — were at the school for a workday.
Wednesday, Oct. 24
The whiteboard calendar on Greenwood's classroom wall showed time blocked out for student-led conferences on Tuesday and Wednesday.
In the 4:40 p.m. timeslot Wednesday, she had a conference parent Alisa Radmall, whose son Samuel has Greenwood both for advisory class and Earth science.
Before the conference started, the Radmalls waited in the hallway outside Greenwood's classroom. Greenwood had a table set up with a sign welcoming parents and students and a sign-in sheet. Radmall commented that she thinks she had biology in the same classroom when she was a student at Twin Falls High.
Greenwood came to the door and invited the Radmalls inside. Samuel introduced his mother to Greenwood and they shook hands. The interaction felt scripted because it was: Samuel's advisory class had practiced what to say when introducing their parent to their teacher.
The adults laughed, shook hands and pretended to meet each other. Greenwood and Radmall have known each other for years. Radmall handed Greenwood a bottle of Mountain Dew. She said she didn't know if Greenwood would like it, but thought she could probably use it. Greenwood thanked her and noted that it was even still cold.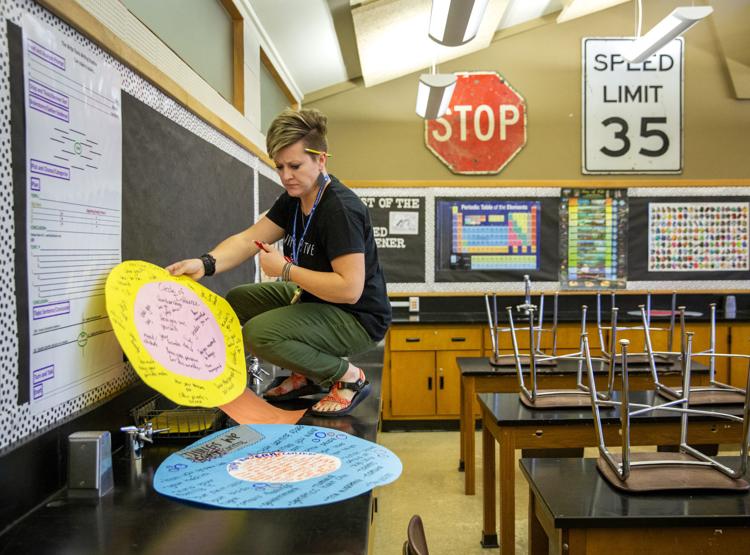 The classroom chairs were upside down on top of the tables. The atmosphere resembled a living room rather than a classroom.
Radmall, a secretary at I.B. Perrine Elementary School, sat down on a leather sofa next to her son. Greenwood sat across from them in a leather chair. Both the sofa and chair had blankets draped over the top. Classical music played quietly in the background and an image of flames was projected onto the whiteboard like a makeshift fireplace.
A bowl of candy sat on one table. A few books, "The Foolish Tortoise" and "Diary of a Wimpy Kid," were on another table for younger siblings of students.
Samuel showed his mother samples of work from each of his classes, including a story he wrote in English class. As Radmall looked at an assignment from Samuel's freshman transitions class, she commented: "Ooh, I like that score."
When Samuel was talking about being in band, Greenwood asked him what instrument he plays. Trumpet, Samuel responded, and told his teacher he has played since he was 4 years old.
"You gotta keep going with trumpet," Greenwood told him.
Samuel shared a self-assessment he filled out, where he scored himself for each class on a scale of 1 to 10. Afterward, Greenwood asked Samuel to share one good thing about his time at Twin Falls High so far and one thing not going to well, even if it's not related to academics.
Greenwood told Samuel to come up with a goal that night for the next quarter of the school year. It's something she'll check in with him about periodically.
As they wrapped up, Greenwood said: "So, that's it." She asked Radmall if she'd fill out a survey, then handed over Samuel's report card.
She asked Radmall if she'd signed up for class announcements through the "Remind" system, then helped her sign up using a Chromebook.
"Sam, snag some candy before you leave," Greenwood said. Samuel declined, saying he'd already eaten some candy earlier that afternoon.
As the Times-News reporter and photographer exited the room, Radmall said goodbye. But not before she shared one last sentiment: Greenwood is an excellent teacher, she said, who really cares about her students.