TWIN FALLS — The president of the College of Southern Idaho will step down at the end of the school year.
CSI President Jeff Fox announced plans to retire in June in a letter to faculty and staff obtained Monday by the Times-News. Fox has worked at CSI for more than 32 years and became president in 2013.
In the letter, Fox says he will continue to give the college his "full measure" and the early announcement is to provide the Board of Trustees ample time to conduct a comprehensive national search for the next president.
"You all represent the amazing heart of this college. You serve the students and the community as a dedicated team, and I am thankful and proud to have worked with you at various levels for over three decades," Fox wrote in his letter to faculty and staff. "I know, and I hope you do as well, that CSI has been and always will be the place where miracles happen, the place where we spark transformation and hope for our students and for each other."
Fox confirmed his retirement with the Times-News and said he is looking forward to handing off the baton to a new generation of school leadership.
"It just feels about time," he said. "There's no reason that's compelling me to leave other than I'm sensing now is a good time to transition to the next president."
It was an honor to work with faculty and staff to develop a school system that is responsive to the community and provides a quality education for all students, he said.
"I'm proud of the fact that we're a community college," he said. "To the degree that I'm successful is because I work with amazing people who share a vision and an energy to move things forward. It's really been my honor to be part of this institution for as long as I have."
Fox said he enjoyed coming to work every day and is grateful for the opportunity to work in "such an important place."
"It seems like I started yesterday," he said. "My presence here is a blip in time. The college is what counts, and the work the college does is what counts."
Plans for retirement are not locked down, but it will likely include spending time on a variety of hobbies, he said.
"To make an end is to make a beginning," he said, quoting TS Elliot. "The end is where we start from."
You have free articles remaining.
Moving forward
The CSI Board of Trustees began the process to find Fox's successor at a Monday meeting.
The board approved paying $35,000 to the Association of Community College Trustees to start and complete a national search for the school's fifth president.
It's important to keep the process as open and inclusive as possible, Trustee Scott McClure said.
"That selection committee has their work cut out for them," McClure said in reference to Fox's legacy.
Leading the search for the association will be Pamila Fisher, who lead the college through the transition that resulted in the appointment of Fox in 2013.
The search will begin Tuesday with faculty and staff set to receive surveys intended to gauge the qualities they want to see in the school's next president. Trustees hope to select a candidate by March.
Trustee Anna Scholes, who recently attended an Association of Community College Trustees conference, said students and staff should remain patient to make sure everybody's voice is heard.
"Honor the process," she said.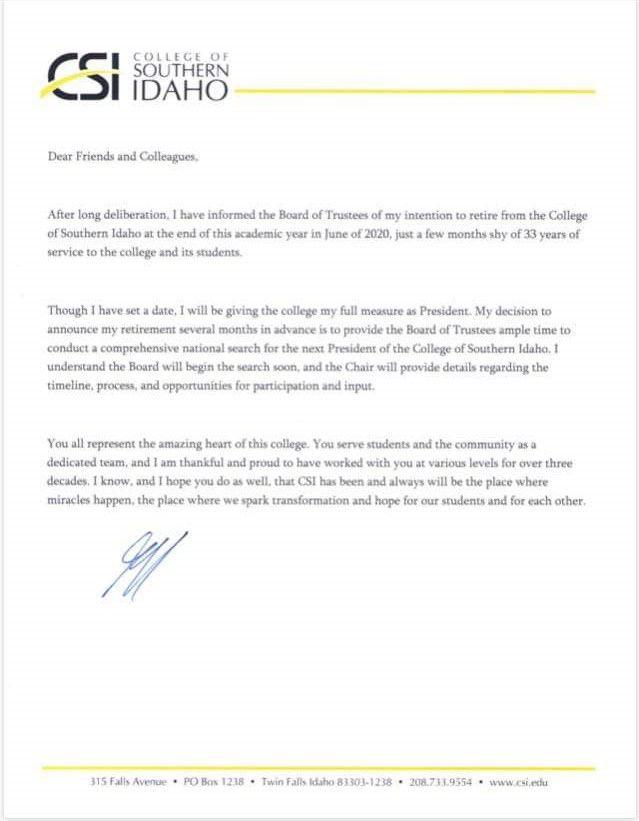 PHOTOS: President Jeff Fox at CSI
Photos of College of Southern Idaho President Jeff Fox from the past few years.