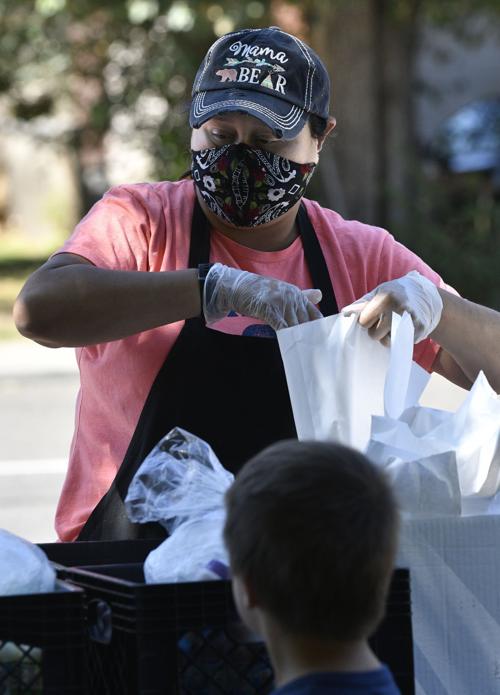 TWIN FALLS — Teachers and students will be required to wear masks when schools reopen in Twin Falls on Aug. 19, but how often they attend class in-person will depend on the severity of the area's COVID-19 outbreak.
Trustees unanimously approved Monday a plan to teach nearly 10,000 students in Twin Falls School District during the 2020-21 school year.
Superintendent Brady Dickinson said the goal of the plan is to get students back into classrooms as safely as possible.
"We want schools to be open and to be healthy," he said.
The plan outlines four levels of district operation based on the presence of COVID-19 in the area, from mostly normal school days to fully remote instruction. It requires all staff and students to wear masks in school buildings when there is community spread. It also defines how schools will deal with confirmed cases, cleaning procedures, food service precautions, and ways to mitigate situations where schools would need to close for extended periods of time.
Levels of operation
The four-levels of operation are color-coded and based on the severity of the COVID-19 outbreak:
Green — no community spread
Yellow — minimal community spread
Orange —moderate community spread
Red — substantial community spread
In the green and yellow levels, the district will observe a semi-traditional, in-person schedule with varying degrees of restrictions meant to promote social distancing and other health protocols. In orange, the district will shift to a hybrid schedule. Students will be split into groups and alternate between in-person and remote instruction in an attempt to limit contact. In red, the district will move to fully remote learning and all extracurricular events will be canceled.
"The designation will be determined by the level of community spread utilizing metrics created by South Central Public Health District (SCPHD)," the plan says. "Any change in level will be determined in conjunction with SCPHD and announced with as much preparation time for parents, students, and staff as is possible with safety being the highest priority."
Health district director Melody Bowyer said at a press conference last week the criteria used to determine the appropriate level of operation are still being developed and could be released soon.
When asked what level the school district should open in, Bowyer said it's still unclear.
"We're definitely not in the lowest tiers as we have seen a surge in the number of new cases in our community," Bowyer said. "That's why we are urging everybody to take precaution … so that we can have our schools open safely."
Idaho Department of Health and Welfare reports 18,694 confirmed and probable cases of COVID-19 as of Monday evening, including 517 new cases. Many of those cases are in the Magic Valley, and Gov. Brad Little last week referred to the area as a hot spot during a visit to Twin Falls.
Face coverings required
All students and staff will be required to wear masks or face shields in school buildings when there is community spread. A previous draft of the plan only recommended masks. The district adopted the change after receiving strong support for the measure from patrons and in consultation with South Central Public Health District.
Logan Hudson, public health division director for the health district, told the board that masks are the most effective way to keep students and staff safe, and without them, the only option would be to stay home.
"We have very few tools to fight this thing and masks is one of them," Hudson said.
Trustee Heidi Casdorph said she doesn't like masks and questioned their efficacy, but said they should try anything to keep students safe.
Chairman Bryan Matsuoka said safety is always the district's top priority.
"It's very difficult, if not impossible, to have students of any age at a capacity where they can learn if they don't feel safe," Matsuoka said. "I think if and when we are going to err, we are going to err on the side of safety."
Exceptions to the mask requirement include while eating breakfast or lunch, during recess, and when otherwise designated by school administrators. Breaks will be given every hour for students to take off their masks while staying 6 feet apart. Masks will be available for all staff and students, and face shields may be available upon request.
Dickinson acknowledged that the mask requirement won't have 100% compliance, especially early on. He said staff will continue to educate students on the importance of masks throughout the year.
"We're not there to be the gotcha police," Dickinson said.
Feedback
The plan was developed by the district's Healthy Education and Learning (HEAL) Task Force, which included board members, administrators, teachers, parents and health officials.
The district received 1,042 comments on the protocols from parents, teachers and students. The most common comment, about 140 in total, was related to a desire for a face mask requirement; 46 comments were against a face mask requirement.
There were 113 comments asking the district to open in the green or yellow tiers, 86 for orange, and 73 for red.
Dickinson said the plan is flexible and will likely change throughout the year. District administrators will make minor changes and present them to the board, but trustees will have to sign off anything major.