TWIN FALLS — Security aides will continue to be a visible presence in area schools, but uncertain spending priorities reflect the hesitance for statewide adoption.
Twin Falls School District will continue to have an unarmed security aide in most of its school buildings, but whether it will again draw from the supply budget to pay for the positions is undetermined, district spokeswoman Eva Craner said.
"We put in a lot of money for school security because it's important," Craner said. "The pie is only so big, it just depends on where it gets cut."
Last year, trustees approved spending $375,000 annually to add 15 full-time security aides. The positions were partially paid for through federal and state grants, but the district also cut its school supply budget by 5%, about $232,000, to help cover the cost.
The positions are budgeted for the upcoming school year, but how the district pays for them is largely dependent on whether the district qualifies for an emergency levy, Craner said.
Restoring the school supply money is a priority, but so is maintaining safety for everybody in district buildings, Operations Director Ryan Bowman said.
"We are trying to make every building in our district as secure as possible," Bowman said. "When people feel at ease in their surroundings, they do tend to do better and perform better."
The district received plenty of positive feedback from teachers, Bowman said, and it relayed some of that feedback to the Department of Education during the last legislative session in support of a proposal that would have placed security aides in every school in the state.
The initiative, called Keep Idaho Students Safe and backed by Superintendent of Public Instruction Sherri Ybarra, failed in part due to a $21 million price tag.
Some of the ideas from that proposal are still being pursued, but specifics have not been determined, Department of Education spokeswoman Kris Rodine wrote in a statement to the Times-News.
"School safety and student wellbeing will remain a key priority in the coming year and beyond," Ybarra said in the statement. "This past legislative session laid the groundwork and jump-started a discussion that is still going strong and will help determine our next moves."
Future initiatives could be informed by a school safety symposium later this fall and Gov. Brad Little's education task force, which has a subcommittee focused on safety and security.
No specific recommendations have come from the task force yet, but their goal is to determine what the state should do versus what should be decided locally, said Brian Armes, program manager of the Idaho Office of School Safety and Security.
Often a holistic approach is preferable to singular mitigation steps, but having more qualified adults, like security aides, to work directly with students is great for districts that can afford it, Armes said.
"I don't know that one size ever fits all," he said. Smaller communities in Twin Falls County might not "have the student population or the conditions to warrant an additional person in that way."
Security personnel have a variety of duties in the district. They work closely with school resource officers to check badges and monitor doorways. They provide an extra set of eyes to ensure adults in the building are supposed to be there.
But mostly, they interact with students to help them feel comfortable at school, said Officer Matt Triner, an school resource officer at O'Leary Middle School.
You have free articles remaining.
"We are responsible for the safety and well-being for the students, staff, and any parents that may be in the building," Triner said. "To make sure they feel safe to come to school and make sure the school is a safe place for them to be."
Security personnel like Triner will monitor newly renovated entrances at the district's six elementary schools next year.
Many older schools were built when security wasn't the priority it is now. For instance, Morningside Elementary's main entrance previously opened into a hallway, and visitors could wander undetected.
The new construction is designed to change that, with exit only doors and a buzzer system that requires a front desk worker let visitors into the building.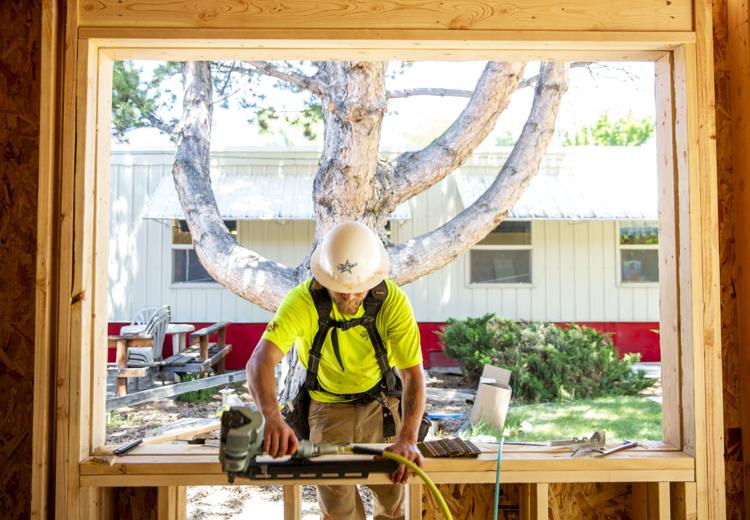 The construction is part of recommendations received from Armes and his office, which performs audits of each school building in the state.
One part of the audit involved unidentified state safety officials stopping a teacher in the hallway and asking them to divulge the school's security procedures, Bowman said.
"They said the teacher was very friendly and kind, but told them exactly what they wanted to know and didn't ask who the guy was," he said.
Everybody who enters a building must now wear a badge and have their driver's license verified against national sex offender registries by an automated system.
The measures have provided teachers and students with peace of mind, Bowman said.
"Our goal is not create an environment in a way that kids feel it's a prison," he said. "We're trying to create an environment that's safe and secure for students and staff, but still puts kids at ease."
Entrance renovations at the elementary schools cost $1.3 million, paid for through a voter-approved plant facilities levy that provides the district with $4.75 million per year for 10 years for construction projects. The district could renovate entrances at Robert Stuart Middle School, O'Leary Middle School and Canyon Ridge High School next year.
The six resource officer positions cost $280,000 annually, split between the district and the city. Safety training for district teachers and staff costs $35,000 every three years. Other line items, such as the automated background check system and badges, add up to more than $20,000 annually.
Provisions are meant to deter, but nothing eliminates the absolute possibility of a threat, said Rep. Lance Clow, R-Twin Falls, who chairs the House Committee on Education.
"All of these things are helpful and preventative and may or may not stop a shooting."
Editors note: The story was updated to clarify the plant facilities levy.