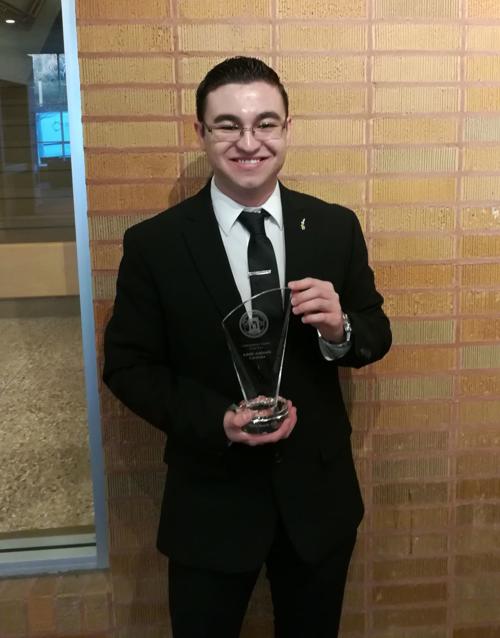 CAREY — Ten years ago, Adolfo Andazola arrived in Carey as a sixth-grader with few English language skills.
But he quickly found his footing. In 2015, he graduated from Carey School in Blaine County as salutatorian and student body president. Now, he just wrapped up his junior year at Idaho State University and wants to become a physician.
The 20-year-old was named ISU's "Undergraduate Student of the Year" during a ceremony April 23, part of the university's "Benny Award," named after the school's mascot.
"I want to use those two to form a solid foundation in my medical profession, basically," he said Thursday. He plans to apply to medical schools next year.
After medical school, he wants to return to Idaho to become a family physician, primarily serving the Latino community by providing "medical services in their language and understanding their background," he said.
He has dreamed of being a physician for years. "That has been my goal since I can remember, actually," he said.
ISU pre-health adviser Jacque Baergen nominated Andazola for the award, which she described as "very selective."
"The call for nominations came in my email and I immediately thought of him," she said. "He's a self-starter. He looks for opportunities and seeks them out. It's what med schools are looking for."
'One of the toughest stages in my life'
In 2008, when was 11 years old, Andazola's family moved to the United States from Chihuahua, Mexico. His father — a ranch hand — was already working in Carey, and Andazola and his mother had the opportunity to join him.
Adjusting to a new country as a sixth-grader with no English language skills wasn't smooth sailing.
"That was probably one of the toughest stages in my life," Andazola said. "I had to start from zero. I had to learn to read, write and speak all over again. But I think, thanks to that challenge, that made me the person I am now."
Initially, he didn't think going to college was possible. He was focused on learning the English language.
"He spoke very little English, but was an example of how to work," Carey School Principal John Peck said Friday.
Carey social studies teacher Lane Kirkland wrote in an email to the Times-News: "Adolfo was about perfection in all he did. His inquisitive mind, attention to detail and exactness assisted him in fully comprehending every bit of instruction he received in school."
Andazola was Carey School's first Latino student body president, winning as a write-in candidate. He said he's proud of accomplishing that and wanted to overcome stereotypes on behalf of his Latino classmates by serving in an elected role. "I wanted to show them it is possible."
By the time Andazola graduated from high school, he was salutatorian, meaning he had the second-highest GPA in his class. He had a 4.0, but the valedictorian — Peck's son — had a few more dual credits from college-level classes.
Peck said one of the things he remembers about Andazola's graduation speech was "he said he's definitely not one of the smartest students here, but I learned to work hard."
Andazola was considering going to medical school in Mexico due to the lower cost. But thanks to scholarships he received, he decided to stay in the United States, and was accepted to Boise State University and Idaho State University. He chose ISU.
College life
For spring break this year, he organized a group of five volunteers from ISU to help with reconstruction efforts in Puerto Rico following Hurricane Maria. They focused on reforestation — trying to restore native vegetation.
Andazola said he hopes to continue with the project for years to come. He has already received emails from people who are interested in participating next year, and he hopes to have a group of 10-15 people on the trip.
He wrapped up his spring classes Thursday at ISU and is home in Carey for a break. On May 19, he heads to the University of Texas at El Paso to do neuroscience research for 11 weeks. The summer program accepts only about 10 students from across the nation.
Andazola said his goal is to attend medical school in Texas, and the research opportunity will be a way to get to know people and open doors. "I'm excited about the opportunity."
Andazola is the ideal pre-med student, Baergen said, but he shows impressive humility. "He doesn't brag about these opportunities he finds. If all my students were like Adolfo, I'd be out of a job."