TWIN FALLS — As Amy Sadler filled out a worksheet about a story called "The Perfect Gift," Oregon Trail Elementary School special education teacher Jenni Holcomb knelt down next to her desk.
"So, can you read this part for me?" Holcomb asked Amy during class on Dec. 20. After Amy finished reading, a fellow fourth-grader Daemon Jones told Holcomb he finished an assignment.
"Maybe this is something you can help Amy with," Holcomb told him.
The Twin Falls School District special education officials want children who have special needs to have as much interaction with their peers in general education classrooms as possible, while still receiving the interventions they need. Educators say it helps boost students' confidence and academic performance and provides social benefits.
Instead of pulling students out of class frequently to receive special education services, the school district keeps students — including Amy — in their general education classroom by "pushing in" special education teachers and paraeducators to help them.
"We just try to integrate kids into general education classrooms as much as possible," said Mike Gemar, support services director for the school district.
The special education "push-in" model is a big change for Twin Falls' elementary schools, but that kind of integration was already happening in middle and high schools. The new emphasis at elementary schools started last school year, but a couple of schools are just now transitioning. It's a model some other south-central Idaho school districts are already using.
The model opens up opportunities for children in the "least restrictive environment," Holcomb said. "It's a lot about them as a human being. We just see a whole different student."
The school district hopes the method will improve test scores.
Special education teachers help if modifications need to be made, such as with classwork or tests. If a fifth-grader is reading at a second-grade level, for instance, a special education teacher may adapt the materials to their level, but the student is still listening to grade-level content.
"We are all about exposure," Holcomb said.
The push-in model isn't used with students who have severe needs and spend their entire day in an extended resource classroom. But some go to elective classes.
"If they can be included in another classroom, we do that," Gemar said.
The Twin Falls School District typically scores at or slightly above state average among subgroups of students on standardized tests, school district spokeswoman Eva Craner said. But scores tend to be below state average among special education students, she said, adding the school district wants to bring up that achievement level.
Gemar said he's anxiously awaiting test results to see how the initiative is working. He hopes to see a steady increase but doesn't expect a drastic jump right away.
"We know it won't happen just like that," he said.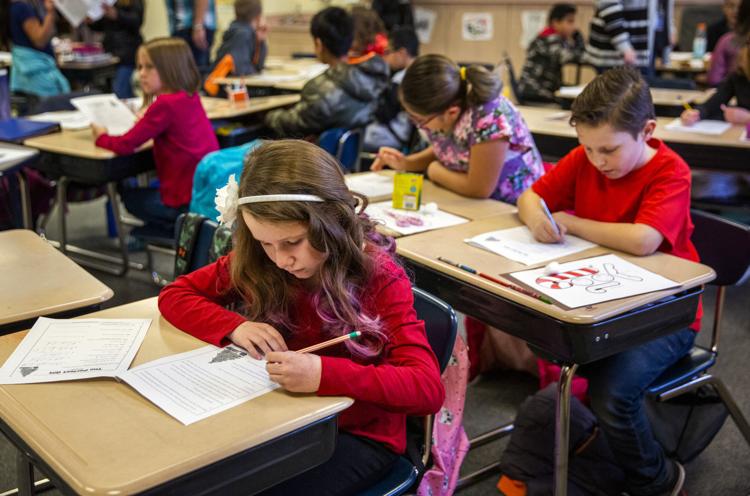 Gemar said he loves the push-in model. The biggest challenge, though, is scheduling. Plus, there's a shortage of special education teachers and paraprofessionals. It's one of the toughest school jobs to fill — particularly in the midst of a statewide teacher shortage.
"Honestly, we could use a lot more staff," Gemar said. And some Twin Falls elementary schools have only one special education teacher.
Another challenge is communication, including figuring out which teacher is responsible for grading a student's assignments and ensuring a set schedule in general education classrooms each day so special education employees know when to come in.
At Oregon Trail Elementary, there are two special education teachers — Kristen Russell for kindergarten through second grades and Holcomb for third through fifth grades — due to a large number of students who qualify for services.
It's the second year Oregon Trail has used the push-in format and it's the unofficial model school for the initiative in the Twin Falls School District.
Before, "we literally had kids here all day long," Russell said after school Dec. 19 in her special education classroom. She has 25 students on her caseload. "It was super chaotic and we didn't really see a lot of growth, per se."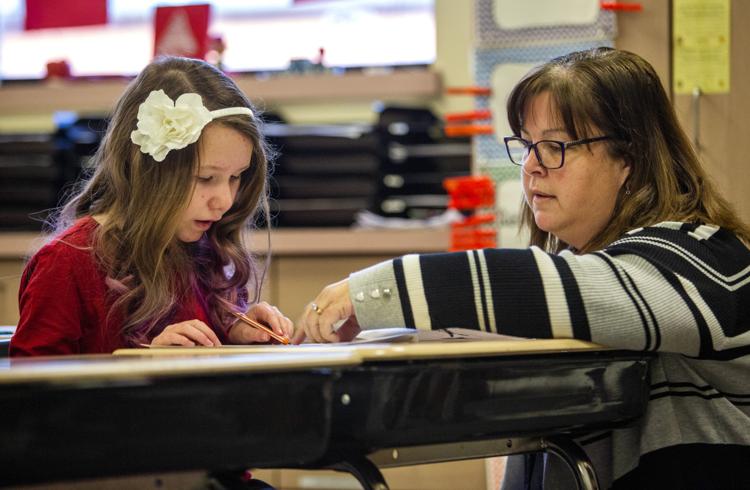 Students were missing out on grade-level instruction in subjects like English and math. And they were missing out on learning skills like making class presentations and reading out loud in front of their peers.
And if a child ended up no longer qualifying for special education services, they were sent to a general education classroom — an environment they'd never been exposed to, Russell said. "It was a huge shock to them."
That prompted educators at Oregon Trail to sit down and make a change, she said.
"Special education is a support, not a place," Russell said.
Holcomb has 29 students on her caseload and all of them participate in the push-in model.
It's more of a team approach to educating students, Gemar said. For general education teachers, "they're enjoying the interaction with our kids in their classes."
Gemar said the initiative is also helping general education teachers learn how to better work with students who have special needs. Those strategies, he said, can be adapted to help other students who are struggling, but aren't on an Individualized Education Program or 504 Plan.
Based on teacher feedback, "the biggest plus they're seeing is the confidence level of the SPED kids is coming up," Gemar said. And, "their peers in the classroom are really wanting to help."