TWIN FALLS — When someone sacrifices everything for you, you have to do something with that, the founder of Latinos in Action told Jerome and Gooding high schoolers Thursday.
"You have to be proud of being Latino," José Enriquez told the students. "You have to be proud of who you are."
His talk was part of team-building activities at the College of Southern Idaho's Outdoor Challenge Course for teenagers participating in a new CSI program.
This school year, CSI launched a general education dual credit class for Latinos in Action students at Jerome and Gooding high schools, allowing them to earn high school and college credits simultaneously. The college's offering is the first of its kind for Latinos in Action.
"They're pioneers," Enriquez told the Times-News, adding he's ecstatic about the offering and hopes to see it expand. "This is why this is so exciting — nobody has ever done this."
Latinos in Action, a Utah-based national organization that launched in 2000, helps promote academic achievement and leadership among Latino students. There are chapters in more than 160 schools in seven states, including Idaho.
It provides a support system and family-like environment for students from a young age, Enriquez said, and aims to reach a wide variety of students who have different levels of involvement and success in school.
"When you capture them as a cohort," Enriquez said, "you can't go wrong."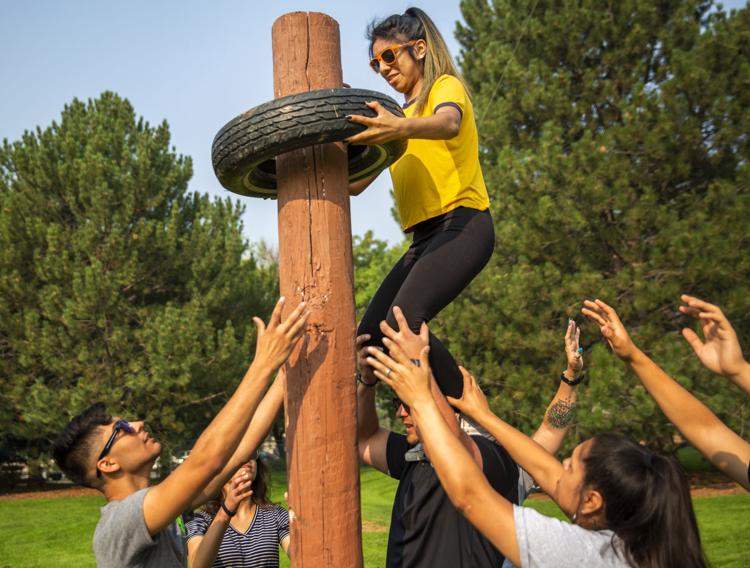 CSI's dual credit class is helping students become aware of other college-level opportunities, said Cesar Perez, director of CSI's Jerome and Gooding centers, and Hispanic community liaison. "I think that's providing that access to higher education."
The year-long class began earlier this week. Each high school has 25 students participating, most of whom are juniors and seniors.
Some Latinos in Action participants, though, decided not to take the dual credit class. Students were interviewed to determine if the class would be a good fit for them.
It's the first year Gooding High has a Latinos in Action chapter, thanks to grant funding to help with start-up costs. Jerome's program has been running for about eight years.
Perez is the lead instructor for the new class, but he's working with local high school teachers. They met over the past year to develop content and assessments.
Once a week, high schoolers will come to CSI's Jerome and Gooding Centers to receive instruction, and the rest will be delivered at their high schools.
Perez said he started to gain interest in Latinos in Action in Jerome about a year ago. "That curriculum has a lot of value to it," he said, and he saw the potential to pair it into CSI's general education 101 class.
The CSI class aims to explore the value of general education, understand ways of knowing, learn about academic integrity and expectations in college, and to become an engaged learner — principles that fit well into Latinos in Action's philosophy, he said.
Community service is also a big part of Latinos in Action, Perez said, and students go into elementary schools twice a week to provide reading assistance to students who are learning English.
Latinos in Action also provides leadership opportunities within the organization. Plus, students learn about their cultural background, such as exploring their family tree.
Many of the students in the Latinos in Action dual credit program had never been on a college campus and didn't know CSI had off-campus centers in their communities, Perez said.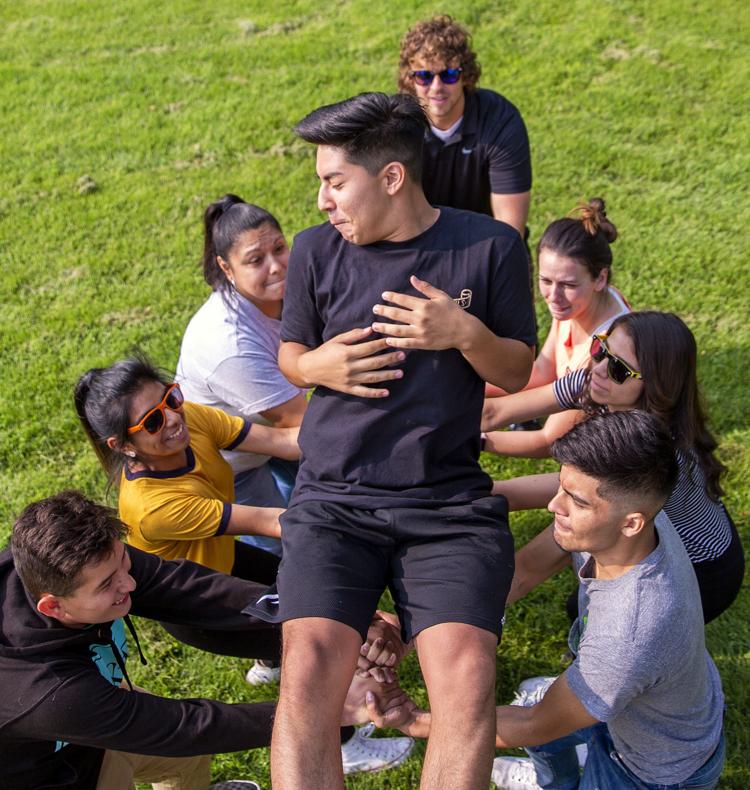 While giving a lunchtime address to students Thursday, Enriquez occasionally switched to using Spanish words and phrases. He interspersed stories from his childhood with advice and motivation for students.
Enriquez — who's originally from El Salvador and grew up in Los Angeles — received a wrestling scholarship to Brigham Young University in Provo, Utah. He earned a bachelor's degree in education and Spanish, and master's and doctoral degrees in educational leadership.
He told students they "can't toss this opportunity away" in their dual credit class. "Don't just coast through this class. Take advantage of it."
Enriquez has been in the Magic Valley since Sunday. He talked with teachers and school administrators in Kimberly, which plans to start Latinos in Action chapters. He also spoke with students in Wendell, which has a new chapter this year, and toured several local workplaces, including a dairy.
On Thursday at the CSI Outdoor Challenge Course, several groups of students completed challenges while Jerome and Gooding school administrators watched.
Gooding High School senior Alondra Hernandez, 17, is one of the students in the dual credit class.
When she heard Gooding High was starting a Latinos in Action chapter this school year, "I was really excited," she said. "Having that option in Gooding was like 'oh yay, finally.'" She already had friends in Jerome's chapter.
Now, she's the president of Gooding's group. She said she doesn't know exactly what to expect this first year, but with Perez's help, they're on a good path.
Jose Lugo, 16, a junior at Jerome High School, is president of his school's chapter, and he's taking the dual credit class.
Jerome was the first school in Idaho to get involved with Latinos in Action, Lugo said, adding he's feeling "ambitious and hungry" to get the program rolling this school year. The goal this year, he said, is to try to stress unity.
"Honestly, the class feels like a second home to a lot of the kids," he said.
As for the outdoor challenge course, Lugo said it was an opportunity for students to get out of their comfort zone — something that could be a metaphor for life, he said.
Alondra said she wasn't expecting the challenges to be so intense, but it was a good way to bond with her peers and get to know more of them.
Whitney Smith-Schuler, CSI's department chair of general and liberal studies, talked with the teens about a few questions students often ask when they start college. One of them is: "Can I do it?"
"I hope you learn today that you can," Smith-Schuler said. "That's what today is all about."
Perez introduced a few other CSI employees and students, including those affiliated with the college's Latinos in Action chapter and Student Senate.
"Remember, it doesn't stop here," he told the high schoolers. "It continues on."
CSI President Jeff Fox shared his story with students. He's a first-generation college student whose parents dropped out of college.
Fox started at a community college and after parking on campus the first day, he thought, "What am I doing here?" he told students. He went on to earn bachelor's, master's and doctoral degrees.
During his address, Enriquez told students he's originally from El Salvador and discussed his mother's impact on his life.
"Somebody along the line gave up everything for you so you could sit pretty where you are," he told the students. "We forget that sometimes."
Growing up, he found an "A" student in each of his classes and sat next to them. He watched what they were doing and if they were taking notes, he did too.
As a child in L.A., Enriquez had to make a choice: to be with a gang or academic friends, he said. Decisions you make now, he told the teenagers, are critical to what you do in life. "Make sure that these years count."