PAUL — West Minico Middle School students witnessed a 100 mph drone racing demonstration Friday at the culmination of a drone camp held at the school.
The camp marked the end of the school's first Discover Drones class made available through a grant from the Idaho STEM Action Center, teacher Brandi Milliron said.
Milliron was one of 22 teachers across the state to get the grant for the program, which had its curriculum developed by PCS Edventures, of Boise.
"The class turned out to be more than what I expected," 14-year-old student Tegan Garrett said.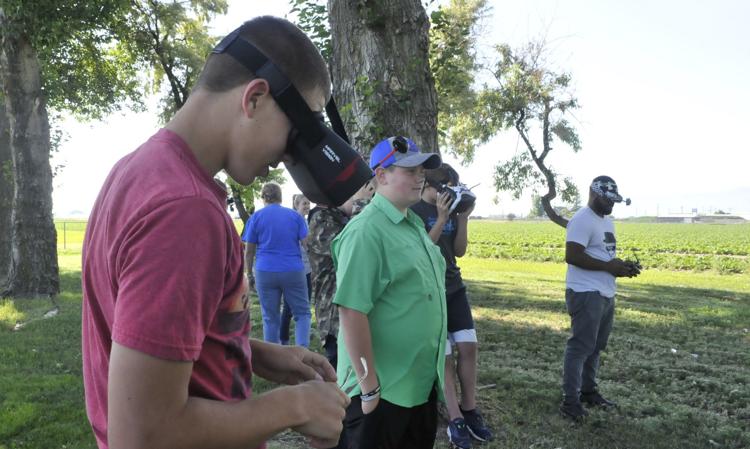 He may keep drone flying in mind later on when he decides on a career, he said.
The class, which had 16 students, teaches them basic terminology and acronyms pertinent to the industry, drone history, which dates back to the 1800s, and flight dynamics.
"Some of the students have really taken off with it and are exploring careers in drones," Milliron said.
Students assembled a Rubi-Q drone kit during the class and connected it to a computer to configure it to make sure it would respond to the radio controller. They used a flight simulator to hone their piloting skills. Students were required to obtain their youth AMA registration before they could pilot one.
A big component of learning about drones is ethics, Milliron said.
"Drones have a bad rap in society," she said. "You have to respect the rules and regulations."
The group had to contact the Burley airport before flying because they flew within a 5-mile radius of the airport.
Drone pilots are highly sought by the military, which gives big bonuses to drone pilots and there are many other drone careers available, including in engineering and agriculture, Milliron said.
"There are lots of drone ag uses," Milliron said. Agriculture uses include monitoring water patterns, chemical application and managing pests.
Idaho State University now offers a bachelor's degree in drone flying, said Tyler Downey with PCS Edventures.
"It's really exciting to come out and see one of the first implementations of the program and see how far the kids got in a year," said Michelle Fisher with PCS Edventures.
Conrad Miller, a professional drone racer, said the drone and equipment that he was flying cost about $1,000.
"With the cost to fun ratio, it's not too bad, especially when you compare it to power or shooting sports," Miller said.
Miller "stumbled across" drone racing.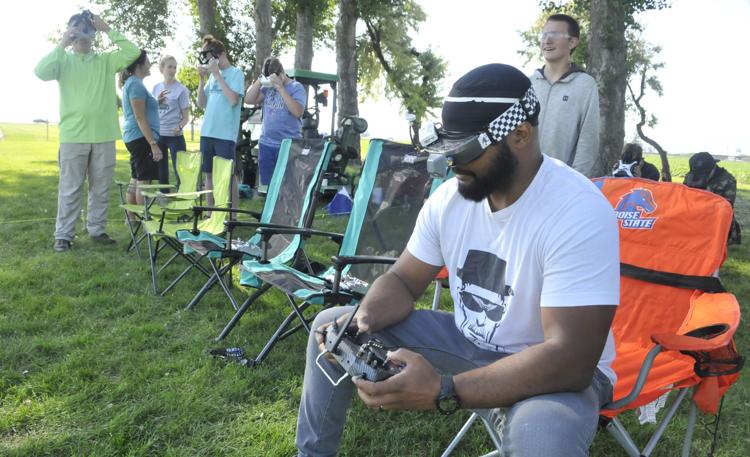 "I just like everything that goes fast," he said.
Students donned special goggles that are worn to control the drones giving them a view from the drone while it was flown.
Miller flew the drone through an obstacle course, performed tricks and flew it through a closely spaced double row of trees.
Due to the fast speed and aerobatics performed, students were encouraged to sit down while watching to keep from becoming disoriented.
"I want to become a drone pilot," Malachi Marlow, 14, said. "It is really entertaining to fly them. I get an adrenalin rush from it that I don't get from anything else."
A drone that he helped build during the class, which is offered in beginner and intermediate levels, flew at about 50 mph.
"The flight ended in a crash that damaged the antenna, props and camera mount," he said.