TWIN FALLS — The Magic Valley could receive help from a statewide nonprofit with launching affordable preschool programs.
The Idaho Association for the Education of Young Children kicked off a two-year statewide project Wednesday called "Preschool the Idaho Way." It's funded by a $500,000 grant from the W.K. Kellogg Foundation.
Within the next year, Idaho AEYC will identify 10 to 13 communities across Idaho that would like technical assistance in putting together a local preschool collaborative — a partnership among groups such as Head Start, child care providers, faith-based groups and school districts.
"It's really important to us that we hit all corners of the state," Idaho AEYC executive director Beth Oppenheimer said Thursday.
Communities haven't been identified yet, but "Magic Valley is one of our target areas," Oppenheimer said. She also plans to give a presentation Monday night in Ketchum about the project.
Idaho is among five U.S. states that don't have publicly-funded preschool. School districts often provide preschool for children who have disabilities, but not all students. There are some exceptions, such as Murtaugh, which offers preschool for all of its 4-year-olds. The College of Southern Idaho's Head Start program offers preschool for families living in poverty, but there's a waiting list.
The price tag of a private preschool education is out of reach for some families. Advocates say the lack of state-funded preschool is holding children back. But opponents say it's the responsibility of parents, not the government, to prepare children for school.
"Research shows that the more states invest in preschool-age children, the more they give back later in life," Idaho AEYC said in a statement Wednesday. "Children who have access to quality preschool are more likely to graduate from high school, continue with higher education and have higher earning ability. They are less likely to engage in criminal activity and therefore less likely to be a cost to the state correctional system later in life."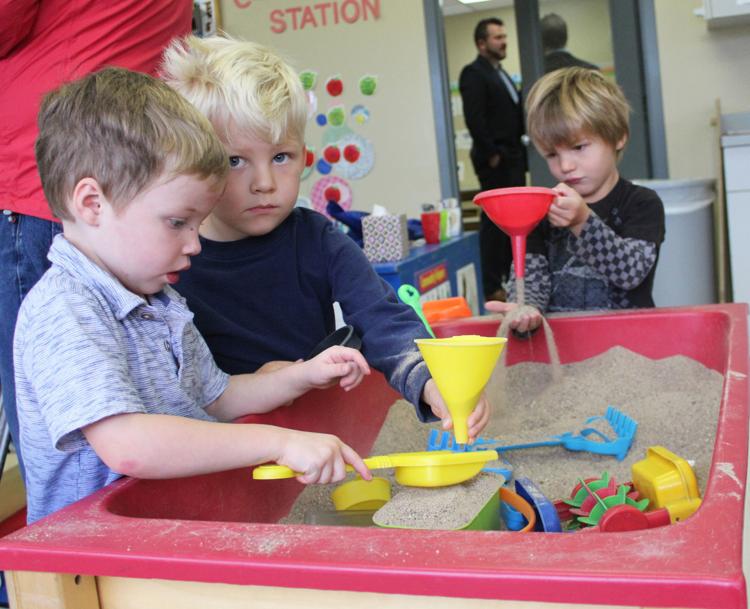 Every $1 invested in early childhood education saves taxpayers from $7 to $13 later in public education costs, according to the nonprofit, due to a reduction in repeated grades or requiring special education services.
In the second year of Idaho AEYC's new project, communities selected will receive an implementation grant — essentially seed money to start a preschool collaborative. The nonprofit is aiming to raise $600,000 over the next two years for seed money.
Over the next couple of months, the nonprofit plans to reach out to communities "to get a pulse of the want and need," Oppenheimer said.
There's no one-size-fits-all approach for a preschool collaborative, she added. "Our goal is to be a support system for that community."
Ideally, the goal is to have new preschool options that are free for participating families.
"We know right now that cost is such a barrier," Oppenheimer said. "Some of our communities don't even have any options whatsoever."
Idaho AEYC is collaborating on the "Preschool the Idaho Way" project with Idaho Business for Education, Idaho Head Start Association, Idaho Voices for Children, Lee Pesky Learning Center and United Way of Southeastern Idaho.
Another part of the project: a toolkit launched Wednesday for how groups can partner and seek funding to start a local collaborative preschool.
So how did this all come about? A couple of years ago, Idaho AEYC received a grant and hired a research firm to conduct a 2017 poll of voters and parents with children ages 0-5. The purpose: "to take a deep dive into what are the perceptions of investment in preschool," Oppenheimer said.
Questions covered topics such as access to preschool and what people know about a child's brain development.
The biggest question: Should Idaho invest in preschool opportunities for children ages 3 to 5? Oppenheimer said. Of those surveyed, 76 percent of voters and 80 percent of parents supported the concept of state investment in preschool.
"We shared this with policymakers and community leaders and said 'This is what Idahoans want,'" Oppenheimer said.
In terms of advocating for state funding for preschool, "we recognize that we're in it for a long haul here," she said, but added the dial has shifted a little. "I think we still have a long way to go with our policymakers."
In past years, state legislators have expressed concerns about not wanting to tell parents what to do, the large price tag of implementing a preschool program, and the impact on school facilities and already existing teacher shortage.
Some communities — including Boise and Caldwell — are already trying to tackle the issue on their own through preschool collaboratives, Oppenheimer said.
She said she hears from school district superintendents about funding constraints to offering preschool and a lack of space.
"It doesn't have to be at a school," she said, adding it could be at an existing child care program or empty storefront. The toolkit, she said, helps groups think outside the box.