TWIN FALLS — Video games occupied the computer screens of students throughout Twin Falls this week. But students weren't playing the games — they were making them.
Sixth-grade students at O'Leary Middle School spent a full class period on Thursday learning fundamental computer science skills through hands-on tutorials. The Hour of Code event was part of National Computer Science Education Week.
"This is their world," teacher Annette McFarlin said. "We're giving them the coding behind what's going on with the game that they're playing. They get to see the script of what's behind that and how you make it up and make them operate."
Students customized dancing characters and choreography with Blockly code, an intuitive code editor that visually represents coding concepts through interlocking blocks.
Eighth-graders in McFarlin's Media Tech class presented the tutorials and helped their younger peers through the demonstration.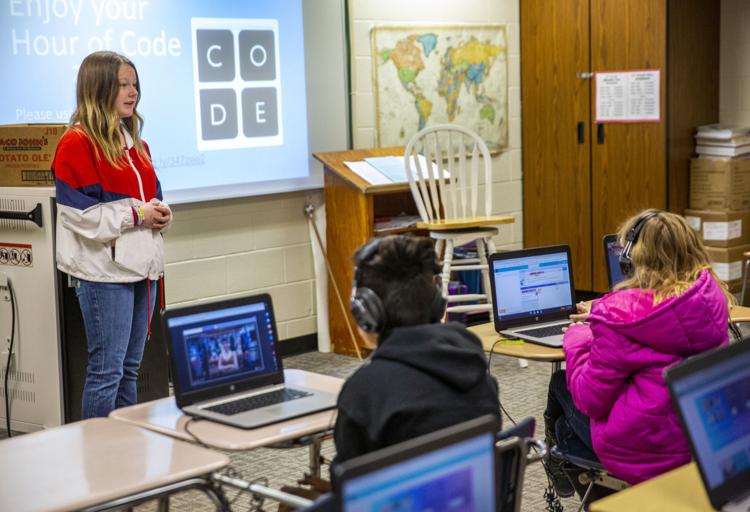 It's a simple program, but a great starting point to get students interested in the field, student Anella Kemp said.
"If we just straight put them into something that's too hard for them, they're not going to want to get into it," Kemp said. "They're going to think that its too difficult and nobody likes doing something that they can't do."
The district's computer science initiative goes well beyond a single week of focus.
McFarlin's elective course for eight-graders teaches things like JavaScript and HTML throughout the year, providing students with basic skills to build apps, websites and video games. They can take those skills onto high school, with a variety of classes and clubs offering more advanced training on things like artificial intelligence and cybersecurity.
But computer science begins all the way down to elementary school, where students learn the very basics of coding.
You have free articles remaining.
That exposure is important for encouraging students to consider it as a future career, McFarlin said, especially for girls and disadvantaged kids who might not otherwise get the opportunity.
Coding can help in all fields, student Ben Rands said.
"Coding really is working its way into everything at this point," Rands said. "No matter what major career you choose, it'll eventually be getting there."
Computer science jobs account for more than half of all projected job growth in STEM fields, Idaho STEM Action Center's Executive Director Angela Hemingway said in a statement.
"In education circles, coding is increasingly being referred to 'the fourth R' — reading, writing, arithmetic, and algorithms — because computers and technology are such an integral part of everyday life," Hemingway said. "Computer science is one of the most in-demand college degrees, computing is used throughout many careers, and CS careers are the number-one source of all new wages in the country."
Idaho Department of Labor predicts upwards of 100,000 STEM jobs will exist in Idaho by 2024, and Hemingway estimated those jobs will represent $6.5 billion in personal income and $350 in tax revenue if Idaho can fill those jobs. But the state is currently struggling to fill those jobs, and 8,800 STEM jobs were unfilled in October.
In an effort to get students interested in the field, Gov. Brad Little proclaimed the week Computer Science Education week in Idaho and visited classrooms in Boise to code alongside students.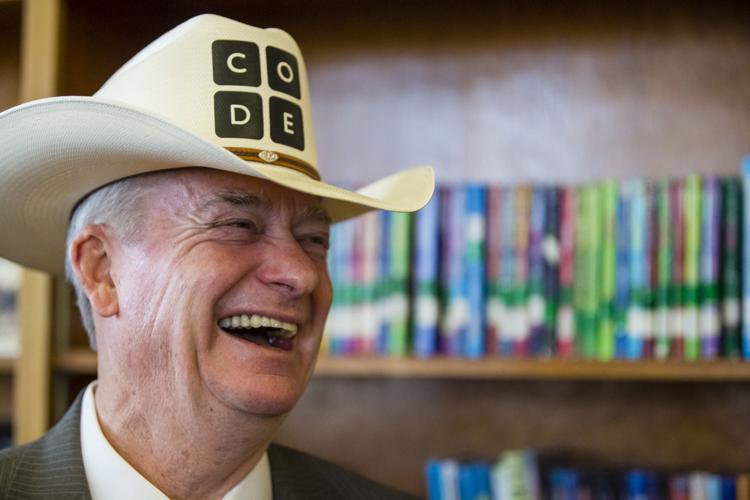 "Job opportunities in computer science will continue to grow, and introducing our students to computer science early on will expose them to real-world experiences and strengthen critical thinking skills that will serve them throughout their lives," Little said.