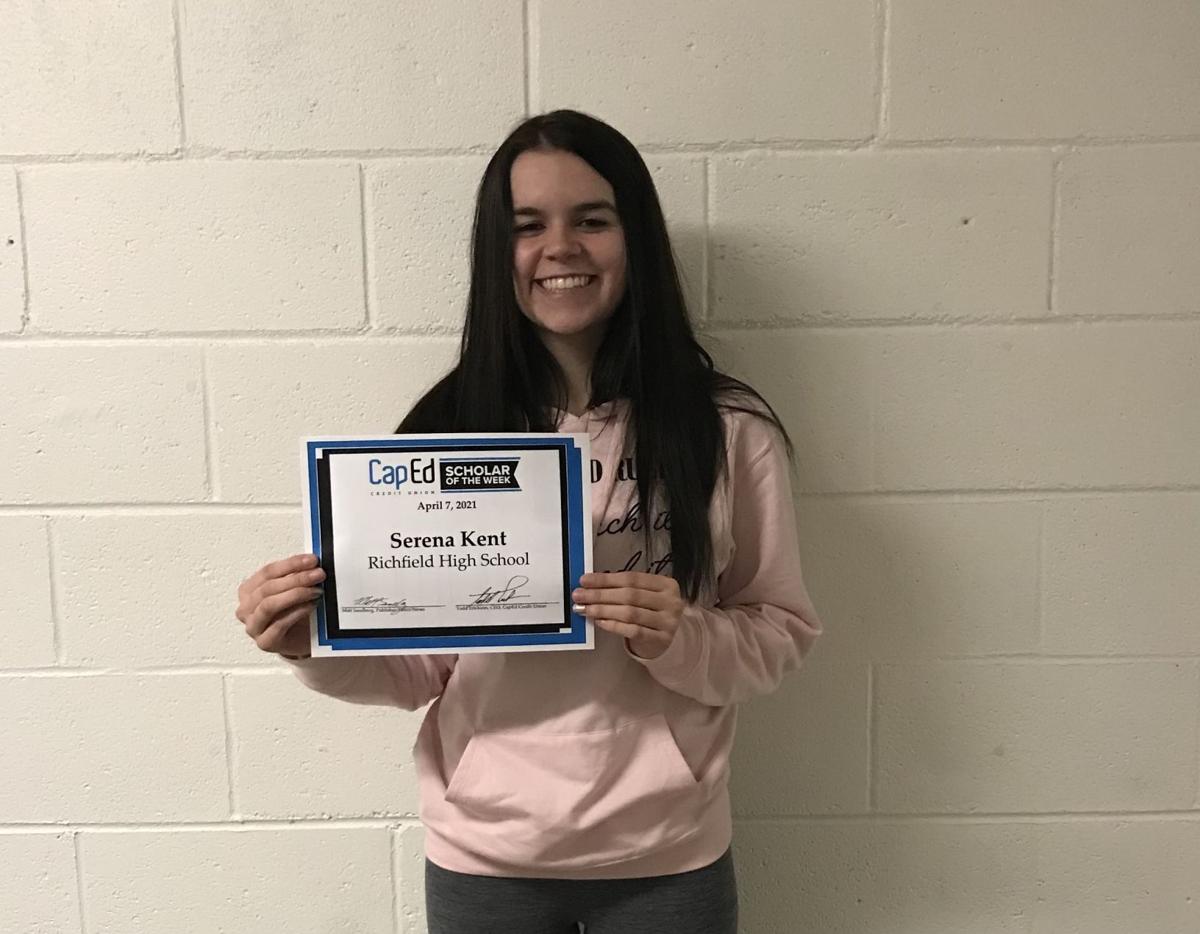 Nomination from Counselor Katrina McHan
It is my honor to nominate Serena Kent for the CapEd Credit Union Scholar of the Week. Serena is a hardworking and respectful student. As such, Serena has taken courses qualifying her for the Science Technology Engineering and Mathematics (STEM) Diploma. She chose her coursework to assist her to become a dental hygienist.
Serena has learned the life skill of balancing academic achievement along with sports and school-related activities while maintaining a 3.8 GPA. Serena has participated in four years of high school basketball. This year she was the Richfield girls basketball team captain, in which she and her teammates competed at the IA Division 2 girls basketball championships. Furthermore, Serena was selected for Girl's all-star basketball team, which she was ranked as first team all-conference. Along with basketball, Serena has participated in three years of track, volleyball and two years of cheerleading. Serena is an active member of the Richfield High School FFA and has participated all four years of high school.
Serena has held leadership positions throughout her high school career. As a freshman, she held the position of class president, and then during her sophomore year, she was the class vice president. During her junior year, she was the cheer captain. Currently, she is the student body vice president and the Richfield FFA chapter secretary. Not only is Serena involved in school-related activities, but also community service projects through the school and her church youth group. Serena also works part-time at the Little Wood Vision Clinic. In this position, she works directly with patients by conducting pretests and screening as part of the annual eye exam. We are happy to have Serena as a student at Richfield High School and wish her success in college and throughout her life.
More on Serena from Richfield Girls Basketball Coach and Co-Athletic Director Buck Hendren
I have known Serena and her family for roughly 15 years and have had the privilege of coaching Serena in basketball for the last four. Serena was a manager for a couple of years for me while she was in junior high, so she learned the expectations of my program. Once she got into high school, she was able to exceed those expectations and show her teammates what was expected. One thing I stress with my basketball teams is the importance of communication. Serena served as a team captain for the last three years and has been a valuable asset in helping me maintain open communication with my team. Her teammates know that if they have something they do not feel comfortable talking about with me, they could go to her and she could convey the message.
Serena's senior year, I switched her position from point guard to shooting guard. Serena's role on our team changed. She was asked to change her style of play, which resulted in her getting fewer scoring opportunities on offense. Most high school basketball players, if put in the same situation, would complain, or be upset because they were not getting to score as much. Serena just did what I asked of her, and what her team needed her to do, and it resulted in our first trip to state in the last five years. Was she happy with her new role? Probably not, but to be honest with you I do not know. She kept her head down, her mouth closed and set an outstanding example for her teammates to follow.