TWIN FALLS — Twin Falls High School senior Brandon Rasmussen is known as the "chemistry person" on his school's Quiz Bowl team.
The 17-year-old is taking a college organic chemistry class. And he already has a plan mapped out for his future, with the goal of attending the University of Oregon, and eventually earning a Ph.D. in chemistry and going into process chemistry as a career.
Rasmussen got involved in Twin Falls High's Quiz Bowl team his freshman year after his math teacher encouraged him to join. Now, he's in his fourth and final year as a team member, and he's preparing for his second time participating in a national competition.
"I hope by going to nationals to develop a better understanding of the scientific community as a whole," he said.
But beyond academic goals, Quiz Bowl has a deeper meaning for Rasmussen.
"The most important aspect of it is the teammates and the friendships I built," he said.
Two Twin Falls School District Quiz Bowl teams — Twin Falls High School and Vera C. O'Leary Middle School — won regional tournaments in March and are heading to the finals for the National Science Bowl, sponsored by the U.S. Department of Energy, April 25 to 29 in Washington, D.C.
It's an all-expenses-paid trip through the U.S. Department of Energy and students will also have a chance to do sightseeing and to attend science activities and seminars.
To prepare for competitions, the Twin Falls teams started practicing in January and typically meet once a week. From January through March, 111 regional tournaments for middle and high school teams were held across the country. Winners advance to the National Science Bowl.
Both Twin Falls teams have qualified for nationals before — three of the last four years for Twin Falls High and once two years ago for O'Leary.
O'Leary Quiz Bowl team member Zach Mayes, a 14-year-old eighth-grader, competed in nationals with O'Leary when he was in sixth-grade. The competition is both fun and stressful, he said. "It's fun to hang out in D.C."
Zach got involved with Quiz Bowl after his friend's mother started a team. He said he doesn't have a specific area of expertise he brings to the table.
"I know random tidbits of knowledge that can help me in other things."
During rounds at the National Science Bowl, teams will compete against each other, answering questions encompassing subjects such as math, chemistry, biology and physics.
A player pushes a buzzer when they know the answer to a multiple choice question and they're allowed to buzz in as a question is being read. Students aren't allowed to consult with their teammates before answering a question unless it's a bonus round.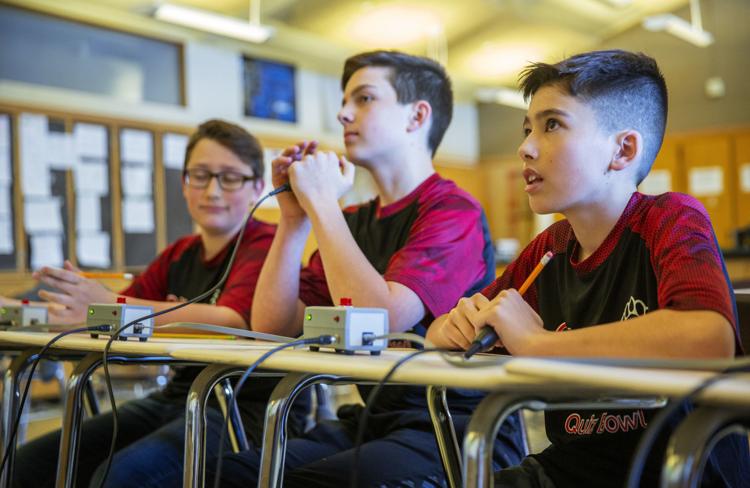 On Thursday evening, the halls at Twin Falls High were deserted, with the exception of custodians cleaning. Inside a science classroom, the two Quiz Bowl teams — with five students from Twin Falls High and four from O'Leary — were having a joint practice session.
Students wore matching team T-shirts and sat at desks with a buzzer system set up. Boxes of pizza sat on the front classroom countertop. Each student had a piece of paper and a pencil they could use to work out answers to questions.
Middle and high school Quiz Bowl coach Jo Marie Connor, a chemistry teacher at Twin Falls High, alternated between reading out middle and high school level questions. Middle school Quiz Bowl coach Candace Wright, a physics teacher at Twin Falls High, kept track of the score.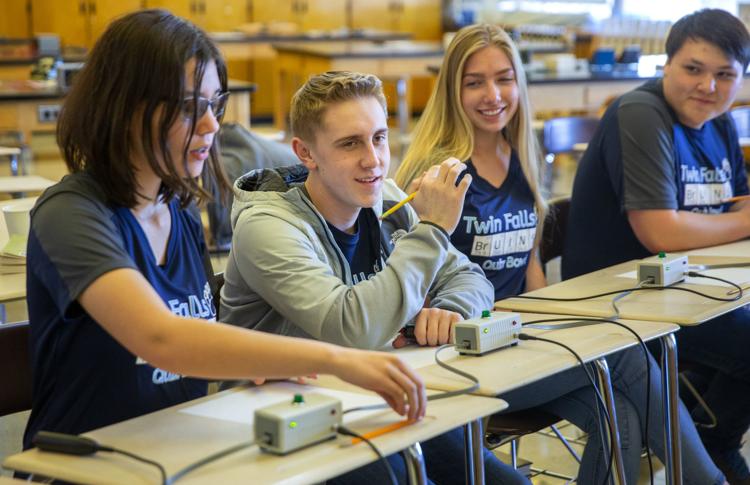 During the practice, students talked amongst themselves to figure out the answers, but they won't be allowed to do that during the national competition.
"It's hard to have a quiet practice," Wright said.
Questions covered topics such as how the blood classification system is determined by the type of molecule on red blood cells, which letter is represented by three dots and a dash in Morse Code (V) and what rem stands for in radiation exposure (roentgen equivalent man).
Both teams guessed incorrectly about the No. 1 preventable cause of death in America: smoking. Team members threw out two ideas: heart disease and obesity.
They won't encounter these exact questions during the national championship, but they're preparing to demonstrate their knowledge on similar topics when they compete later this month against peers from across the country.