TWIN FALLS — Dr. Steven Kohtz's office has received phone calls lately from parents who've chosen not to vaccinate their children asking how to protect them from measles.
Kohtz, a family medicine physician and primary care leader at St. Luke's Magic Valley Medical Center, said he loves that they're calling and are concerned about their children. But he said there's nothing else he can offer for measles prevention beyond the vaccine.
"The way they can protect their children is through vaccination," he told the Times-News. "There really isn't any other way."
Kohtz said he wants to implore parents who are on the fence about their children receiving the measles, mumps and rubella (MMR) vaccine to get it done now.
There haven't been any recent cases of the measles reported here in Idaho, but outbreaks are happening this winter in the Pacific Northwest and other parts of the country.
Recent data compiled by Idaho health officials show about 3,800 school-aged children in the state likely are not fully immunized against the measles, The Associated Press reported Feb. 4.
Children are required to receive certain immunizations in order to enroll in school. But parents can fill out a state exemption form if they choose not to immunize their child. They must cite a reason for their decision, such as a philosophical, medical or religious objection.
St. Luke's is educating medical providers about the symptoms of measles, Kohtz said, and encouraging them to have a patient tested if there's a suspected case.
"A case could be coming any day right now," he said.
Measles is a vaccine-preventable disease many people — even doctors — have never seen, Kohtz said, since the vaccine is so effective.
Since the public hasn't seen cases in such a long time, some people don't understand the suffering it causes.
Measles was declared eliminated in the United States in 2000, according to the U.S. Centers for Disease Control and Prevention. But due to pockets of the population that haven't received the vaccine, some areas of the country have seen outbreaks in recent years.
Health officials in southern Washington state say they have confirmed 53 cases of measles — 51 of which are in children ages 18 and younger, The Associated Press reported Wednesday. Officials say 47 of the 53 confirmed cases are people who were not immunized.
About the measles
Measles is spread through the air by breathing, sneezing and coughing, according to the CDC. Symptoms can include a rash, runny nose, cough, fever up to 104 degrees and red watery eyes. Complications can include pneumonia, convulsions, encephalitis (inflammation of the brain that can cause lifelong disability) and death.
Humans are the only host of measles, Kohtz said, and it's highly contagious.
About 90 percent of close contacts to someone who has the measles who aren't protected against the disease will get infected, Kohtz said, and the virus can live in the air for two hours. "It stays alive in the air much longer than the average virus."
Those who have the measles are infectious from about four days before they start having symptoms all the way through four days after symptoms improve, Kohtz said, calling the disease "highly infectious" and that's why large outbreaks can happen over a short period of time.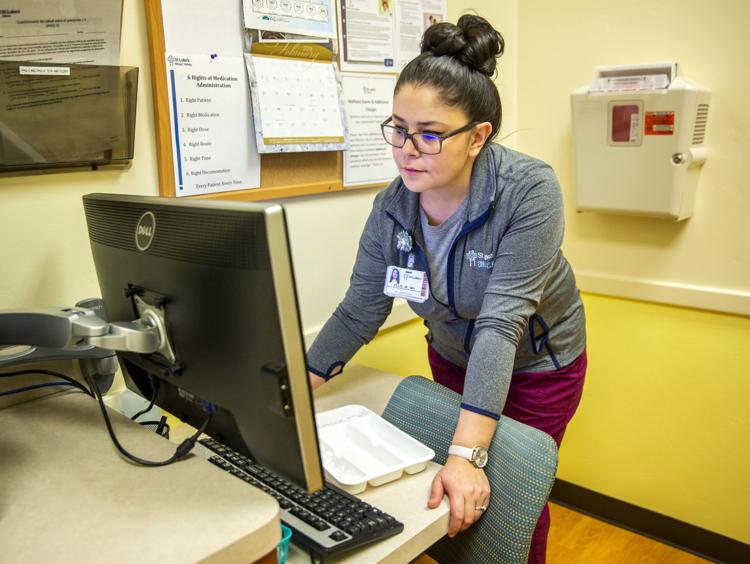 How the Twin Falls School District is preparing
The Twin Falls School District has received guidance from South Central Public Health District and the Idaho Department of Health and Welfare about how to prepare if measles cases do occur locally. The school district has shared information with school principals.
A health district epidemiologist wasn't available to talk with the Times-News.
If there's a measles outbreak "geographically close to Twin Falls" — such as southern Idaho, central Idaho or northern Utah — the school district will notify parents, Twin Falls School District Superintendent Brady Dickinson said, and particularly, parents whose children aren't vaccinated.
School district policy says if there's an outbreak of a disease like measles, a decision could be made to prohibit children who aren't vaccinated from coming to school until the outbreak passes.
"We wouldn't immediately just do that," Dickinson said, but there would be conversations about whether it would be appropriate. The school district would partner with health professionals, such as St. Luke's and the health district, to make those decisions, he said.
Over the last couple of years, a handful of south-central Idaho schools have seen whooping cough cases, but not the measles.
School immunization rates
The Idaho Department of Health and Welfare tracks school immunization rates, available in a map format on its website. The most recent data is from the 2017-18 school year.
In the Twin Falls School District, immunization rates vary a little, but not significantly, by campus.
Some examples from the 2017-18 school year: At Oregon Trail Elementary School, 94.1 percent of kindergarten and first-graders were up-to-date for the MMR vaccine and 3.9 percent of students had at least one vaccination exemption on file. Pillar Falls Elementary School had a 91.1 percent rate of kindergarten and first-graders up-to-date with the MMR vaccine and 5 percent had at least one exemption on file.
Depending on the school, the overall immunization rates are generally between 90 and 95 percent, Dickinson said.
Outliers in the Magic Valley include Hagerman Elementary School, which had only 67.3 percent of its students adequately immunized during the 2016-17 school year and 18.2 percent of students had exemptions on file, according to state data.
But numbers from the 2016-17 school year were most likely incomplete, Hagerman School District Superintendent Mark Kress wrote in an email to the Times-News, adding Hagerman Elementary School now has a new front office secretary.
For the 2017-18 school year, 76.8 percent of Hagerman Elementary students were up to date on immunizations and 78.6 percent were up to date for the MMR vaccine, state records show.
For this school year — as of a Nov. 1 early reporting deadline — 100 percent of students were accounted for, Kress said. Numbers are different now, though, due to families who've moved in and out, especially from out of state.
As of November, three of 19 kindergartners (15.8 percent) opted out of vaccinations and two of 26 first-graders (7.7 percent), Kress said.
Misinformation about vaccines
There's a very small risk of side effects from vaccines, but in terms of the myth that the MMR vaccine is worse than getting the measles, "nothing is further from the truth," Kohtz said.
In 1998, British physician Andrew Wakefield published a study in a medical journal "The Lancet" that suggested the MMR vaccine causes autism. Wakefield's claim was scientifically discredited and The Lancet retracted the paper, but his study continues to influence some parents' decision not to vaccinate their children.
"It shows how damaging things like this can be," Kohtz said. And since then, misinformation about vaccinations has circulated via social media and websites, too. "Communication is going out that simply isn't true. It becomes so, so hard to change."
Many medical studies involving millions of children have proven the MMR vaccine is not associated with autism, Kohtz said. But for parents who believe there is a link, "we have found there's no chance of changing their mind."
Both parents and physicians have the same goal of children growing up to be healthy, happy and successful, Kohtz said, but there can be different perceptions on how to accomplish that.