TWIN FALLS — Hunter Swensen loves getting up in the morning to go to school.
That may be a rarity for teenagers, but the 19-year-old — who has ataxic cerebral palsy and a visual impairment — enjoys socializing with his classmates and having a set schedule.
"We've been blessed and fortunate," said his mother, Terri Swensen, citing Hunter's teacher and paraprofessionals at Canyon Ridge High School in Twin Falls. "A lot has been having that certain someone to guide him through."
But it hasn't always been smooth sailing.
Earlier in his school years, Hunter was having "significant behaviors," Swensen said, but he didn't have a one-on-one behavioral aide to help him. Swensen dreaded going to Individualized Education Program meetings because they weren't as proactive and positive as she wanted.
Navigating the special education system can be a struggle for parents. And for schools, taking care of students, providing services and stretching limited money comes with heavy responsibility.
South-central Idaho faces a multitude of challenges with educating students who have special needs. The region has seen Idaho's largest increase in the number of students who require special education services, and more children are coming in with severe needs or behavioral issues. With a shortage of federal funding, school districts are dipping more into their general fund to pay for services they're required by law to provide. Plus, a severe teacher shortage makes it especially tough to find teachers and other support professionals, such as occupational and speech therapists.
There's no shortage of theories for why local schools are seeing more special education students – and particularly, those with severe needs and behavioral issues. But educators don't have a firm answer for the cause of those trends.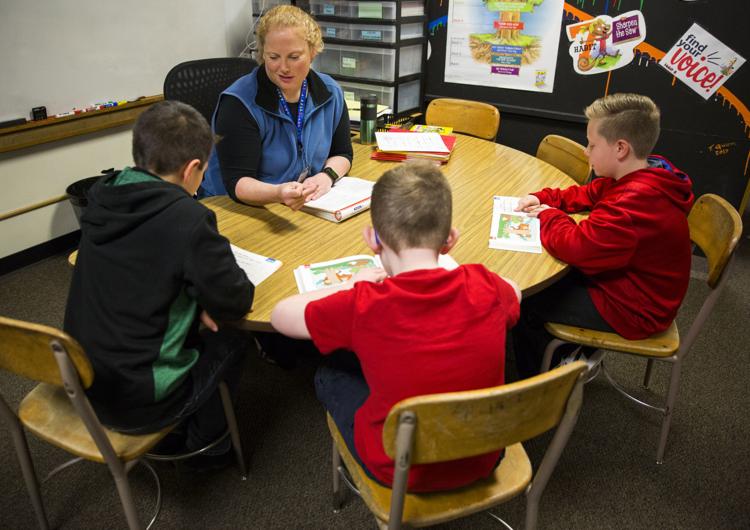 In Twin Falls, as the school district continues to grow — with 9,400 students in total — the number of special education students is increasing, too. The number of special education students in the district is approaching 1,000, about 10 percent of the student body. That's up from 753 students about six years ago.
Jerome had 394 special education students — about 9.8 percent of the student body — in 2017. That's up nearly 90 students compared with 2013, when they made up 8 percent of the total population.
Those increases may seem vast, but several factors are contributing to the uptick.
"We were also underidentifying a few kids, at least statistically," said Kindel Mason, special services director for the Jerome School District. "For us, it was probably that we caught up with the state average."
With more students, there's a greater need for specialized services like occupational, physical and speech therapy, and interpretive services too. Some of those providers are on the payroll as school district employees, while some are contracted.
"We're struggling to find all the therapists we need to provide those services," said Mike Gemar, support services director for the Twin Falls School District.
'The survival rate wasn't there'
Several south-central Idaho schools — including in Twin Falls, Jerome and Cassia County — are seeing a growing number of special education students, and more of those students have severe needs or behavioral issues. Though they make up a small fraction of the total number of students who need special education services, the number is increasing.
That's a trend being felt across Idaho and nationwide.
There are many theories about why that's the case, said Charlie Silva, special education director for the Idaho State Department of Education. One possible explanation is improved medical services for children, including premature babies, which allows the children to live longer and reach school age.
"As a society, as we have become more sophisticated with technology and medical procedures, we have kids who are now coming to us who could have significant medical needs that maybe 10, 20, 30 years ago, the survival rate wasn't there."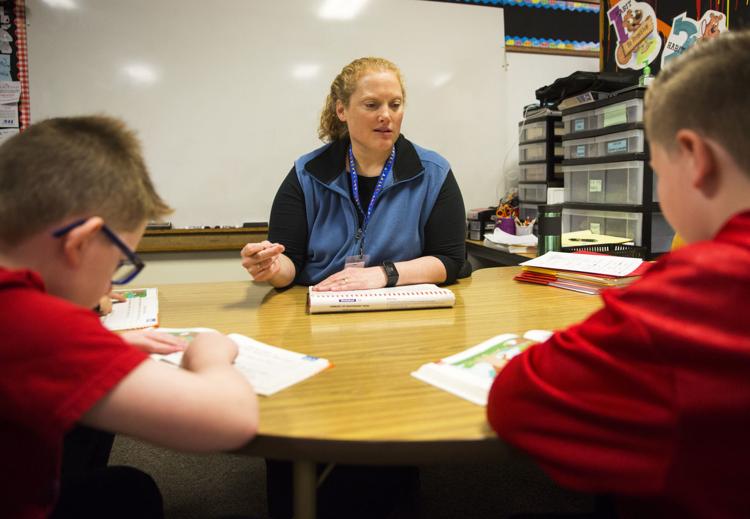 At Canyon Ridge High, one of the classrooms serving students who have severe or profound disabilities is jam-packed. As it fills up, special education teacher Sasha Anderson — who typically has students with less severe disabilities – has taken on a couple of the students.
Anderson, who's in her third year of teaching, has 14 students in her class.
"My classroom is kind of the middle ground," she said. Students need more help than a lower intervention classroom can provide, but they're able to work on academic skills.
At Canyon Ridge, some special education students are allowed to stay until they turn 21 — even after they've graduated from high school — to get help with daily living and vocational skills. They also run a café at the school.
"Our numbers are building and getting higher here than they may at elementary and middle school because they stay longer," Anderson said.
At Harrison Elementary School in Twin Falls, special education teacher Amy Kenyon has seen her caseload double in the past 17 years. She used to have student numbers hovering in the mid-20s. Now, she has more than 50 students.
Harrison Elementary used to have a second special education teacher, but Kenyon is now the only one. She has three instructional paraprofessionals and one behavior paraprofessional who help in her classroom.
Despite the large number of students, most spend only part of the day in Kenyon's classroom. Some spend as little as the occasional 30-minute intervention for behavior support.
"Most of my kids go into the general education classrooms for most of the day," she said. "My caseload is not really severe." She estimates only about 20 percent of her students have severe needs.
When Kenyon first started as a special education teacher, she often had many students with learning disabilities. But over the years, she has noticed more severe needs among her students — particularly, with behavioral issues, attention deficit disorders and sensory issues.
"I wish I knew why," she said.
Ludean Henderson, special services director for the Cassia County School District, has been on the job for 18 months, but has spent a total of about 20 years in the profession. Before moving to Cassia County, she worked in Wyoming and Oregon.
Cassia County had 540 students eligible for special education services, including speech therapy, in November 2016. A year later, it had gained 42 students — a combination of children moving into the area and new referrals.
Over the years, Henderson has noticed more students who have an autism spectrum disorder — particularly in those entering preschool.
There are earlier diagnoses now, she said, and better awareness. The school district now has 48 students who have an autism spectrum disorder who are eligible for special education services. "In my career, those numbers have grown dramatically."
Across south-central Idaho, schools are also seeing more students who have behavioral issues that fall under the umbrella of special education.
There is much speculation about why there's a greater need for behavioral services, but factors could include home life situations, disabilities or a greater pressure placed on children at school.
"There's a lot of factors that contribute to that," Gemar said. "Our biggest challenge is to be able to provide services for those kids that meet their needs, as well as ensuring the educational process for the rest of the kids in classrooms aren't disrupted."
An 'unfunded mandate'
Under federal law, school districts are required to provide services for children in need.
"It's the school district's responsibility to figure out how to fund those," Gemar said, adding special education is essentially an "unfunded mandate."
Across south-central Idaho, figuring out how to cover growing costs comes up frequently during school district budget discussions and has intensified over the last couple of years.
This school year, the Twin Falls School District estimates it will receive $1.8 million in federal funding for special education and $1.1 million in Medicaid reimbursements. But it plans to spend $5.5 million from its general fund, largely on salaries and benefits for special education employees.
Nationwide, the Individuals with Disabilities Education Act — which guarantees a free, public education where students with disabilities can thrive in a non-restrictive environment – has never been fully funded since Congress enacted it in 1975, Gemar said.
Originally, it was slated to fund 40 percent of what it would cost a school district to educate a child receiving special education services, which costs more than educating a child who is not. But at Jerome School District, Mason said they're still at only 16 percent funding.
"One of the most expensive things you can do for a school district is put (children) in special education," Mason said.
It also requires hours of additional work for employees writing Individualized Education Programs — documents outlining what students need and what services they'll receive at school — as well as progress monitoring, finding curriculum and undergoing training.
Idaho receives about 25 percent of its special education funding from the Individuals with Disabilities Education Act and 15 percent from school-based Medicaid reimbursements, Silva said. The rest comes from state and local funds.
Silva, who has been in the special education profession for more than 30 years, often discusses budget issues with school districts.
Idaho funding appropriations for special education are determined by the public education funding formula, which is under review for a possible overhaul. Silva says the formula, which has been in place since the 1990s, underrepresents how many students are identified as needing special education services.
In addition to federal and state money, school districts receive reimbursements through Medicaid for some of their students who qualify based on federal poverty guidelines. In Jerome, for example, the school district bills Medicaid for 37 percent of its special education students.
"Funding is always a challenge for special education, without question," Silva said.
'Making it work with what we have'
South-central Idaho is being hit the hardest of any region in the state by a teacher shortage, according to the Idaho's Educator Landscape report.
Some school districts — especially, in rural areas — are struggling to find even elementary school teachers and are relying more on unlicensed educators. For years, finding special education teachers has been problematic. Now, it's a monumental challenge.
"We recognize the challenge and we really are trying to be responsive," Silva said of the Idaho State Department of Education. "No one has the solution. We try to respond the best we can."
The special education personnel shortage is a nationwide challenge, she said, and it's not just teachers. It's also a struggle to find support professionals like speech language pathologists, occupational and physical therapists, and audiologists.
"It's much broader in our field than just teachers," she said.
From a parent's perspective, Swensen hasn't felt the effects of the teacher shortage in Hunter's class. She has heard about it, though, and said she doesn't take his teacher or paraprofessionals for granted.
From an educator's perspective, Anderson said she has noticed the impact of the teacher shortage at Canyon Ridge High. She was hired before she even received her teaching certification and bachelor's degree in special education through Idaho State University's Twin Falls program.
Students who have severe and profound disabilities have just one teacher at the school. The other position is vacant.
For Kenyon, the teacher shortage means more paperwork, which is time consuming. She said it's not unmanageable, but she does often take paperwork home with her.
When there aren't enough teachers though, groups of students get larger in classrooms and children don't receive as much individualized instruction, Kenyon said. "It's much more productive work with a group of three, versus nine."
The two areas with the most intense shortages in Idaho are for school psychologists and speech language pathologists.
"Oftentimes, it's the rural areas that really struggle to find those folks," Silva said, while areas like Boise tend to have a much easier time.
The Idaho State Department of Education has taken steps — such as recruiting nationwide at job fairs for school psychologists and providing extensive training for special education teachers — but they're not long-term solutions, Silva said.
During Mason's 25 years working in special education, finding special education teachers has always been a problem. In Jerome, about half the special education employees now took a non-traditional route to certification, meaning they didn't go through a university teaching program.
The school district hasn't had any applicants recently for special education jobs who've graduated with a special education degree from an Idaho college or university, Mason said. "You don't see those people."
Sometimes interested candidates call to inquire about jobs, Mason said, but don't end up coming. He thinks they're opting to live in the Boise area.
The Jerome School District's pay for special education teachers is competitive in the Magic Valley, he said, but not close to large school districts in Boise and Meridian.
The Magic Valley is a beautiful area with abundant outdoor recreation opportunities, Mason said, but "I just don't think there's enough people wanting to go to rural areas." And for those who have a lot of student loan debt, he added, they may not be able to justify it.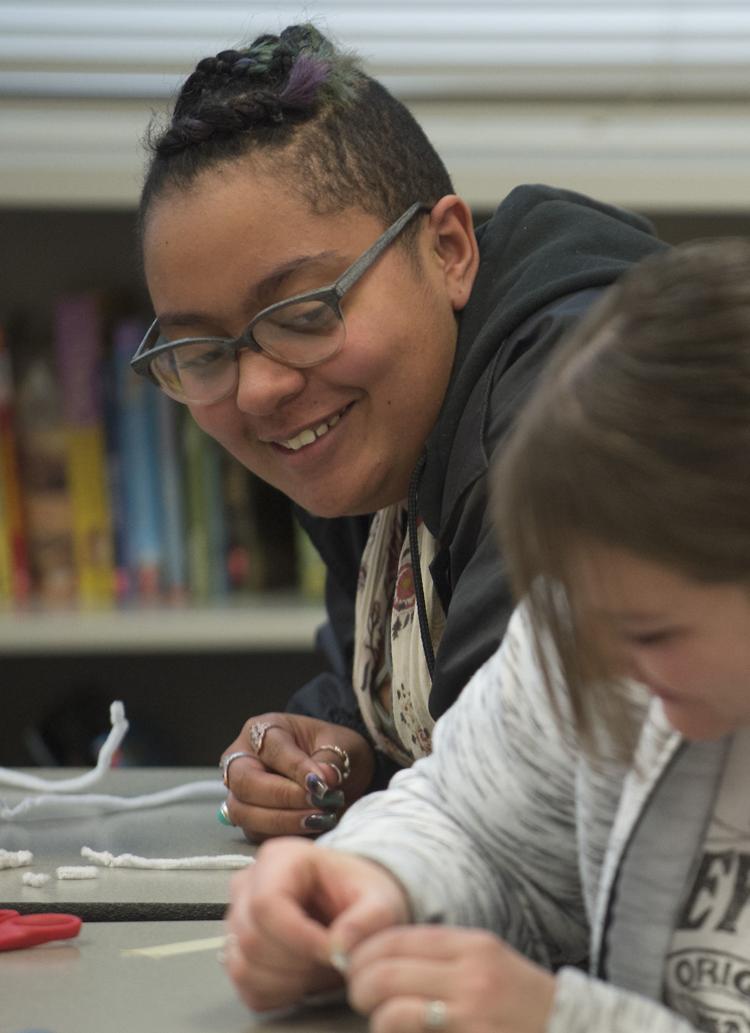 The other end of the employee shortage – professionals who work with special education students – is also affecting local schools. A Jerome School District speech therapist retired a year ago and the position still hasn't been filled. Instead, the district is contracting with a provider to come into schools.
"I would anticipate down the road we'll be contracting for special education teachers through those same companies," Mason said.
Twin Falls has a growing number of students, but a shortage of federal funding and teachers. That makes for a difficult balance.
"What we're trying to do is just…" Gemar's voice trailed off and he laughed. "Well, our caseload numbers for our teachers are increasing because we can't add additional staff right now."
As of early March, Twin Falls School District had several job openings for special education teachers posted on its website. One of those positions has been vacant for two years.
A couple of factors are at play, Gemar said. "The job responsibility for special education teachers is different than other teachers. The amount of paperwork they're required to complete is substantially higher. It's a very specialized job. We're just making it work with what we have, unfortunately."
The Twin Falls School District works closely with universities that have special education teaching programs to recruit teachers.
"I'm constantly begging for their graduates who need to do fieldwork," Gemar said, and he's been able to hire a few afterward. "They do a really nice job for us."
In Cassia County, the school district has been able to fill its recent special education teaching job openings. Some teachers, however, were unlicensed and are on an alternate route to certification.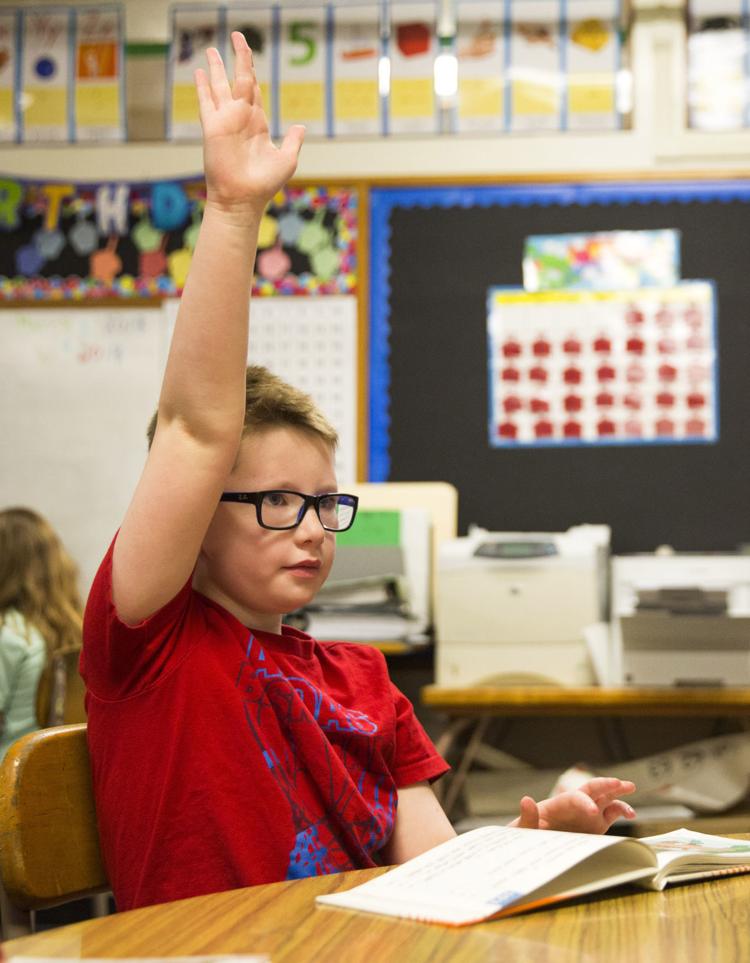 Cassia County also has a longtime speech therapist and school psychologist, both of whom have been at the district for many years. As they prepare to retire, "it would take two people to replace one," Henderson said.
What's going to have to change to attract teachers and professionals to work with special education students? Offering just bonuses isn't enough, Mason said. "I guess something has to change and, in my mind, it's money."
Mason said his concern is "special education is the most litigated part of schools today. We spend a vast amount of money on legal training." He said he wonders when that money will be invested into "human capital" rather than fighting lawsuits.
In the private industry, if there's a need for employees, businesses raise wages in order to compete, he said. "As schools, we don't have that luxury."
'The hardest job there is'
Special education funding is no new task for Gemar. Earlier in his career, he was a special education teacher.
"I think teaching special ed is the hardest job there is," he said. "It's very, very difficult."
Anderson used to be a substitute teacher in another school district. Her mother-in-law was a special education paraprofessional who was student teaching and often out of the classroom, so Anderson filled in.
"I just fell in love with everything about it," she said. "I decided that's what I wanted to do."
Now, as a special education teacher, Anderson doesn't have a preparation period. Her students are in class from 7 a.m.-2 p.m.
"Luckily, we have some amazing (paraeducators) who know the students and aren't afraid to ask questions and are always learning how to work with students, as far as helping them with their academics and behavior," she said. "Having paras is crucial."
If she needs 10 minutes to work on paperwork, for example, the paraprofessionals can step in.
Kenyon said she loves her job. Her father was an educator and she wanted to follow in the footsteps of her second-grade teacher, who she admired.
When she was a student at the University of Idaho, Kenyon's father suggested she take an introduction to special education class because she'd probably encounter children in her general education classroom who'd have disabilities. She loved it.
Now, as a special education teacher, "I really enjoy teaching small groups of kids," Kenyon said, and the excitement of when a child finally understands a concept they've been struggling with.
It's a great job, Kenyon said, but noted many people outside the education world don't recognize that. She'd like to see more high school and college students take an interest in becoming a special education teacher.
"I love working with the population I work with," she said. "I wish more people understood how fun it is."