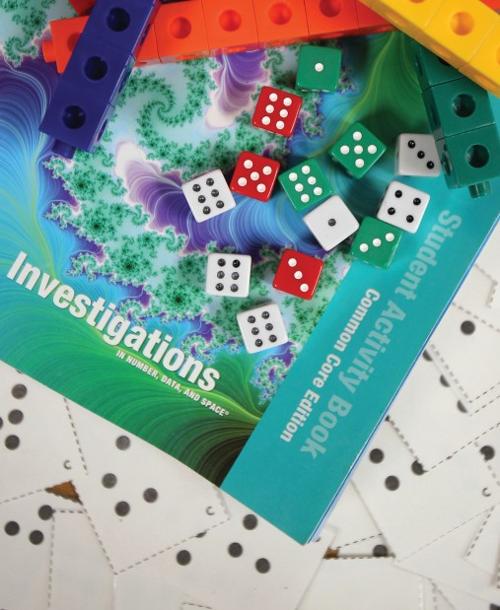 HAILEY • When her son came home from elementary school one day with only one word problem for math homework, Ellen Mandeville was concerned.
Mandeville lives in Hailey and has two children enrolled in the Blaine County School District. This summer, the district's school board voted to spend about $207,000 on a new math textbook series for kindergarten through fifth-grade students.
It looks a little different than in the past.
"Investigations in Number, Data and Space" follows national math trends by focusing more on problem-solving and concepts than strictly on algorithms — the set of instructions to solve a problem.
"The teaching is so completely different than it was before," Mandeville said.
She said she'd like to see a balanced, complete math curriculum emphasizing what students "need to know in the real world."
Blaine County School District Superintendent Lonnie Barber said the textbook series aligns with Common Core Standards, which will be in Idaho classrooms and in 44 other states by the 2013-14 school year.
The Blaine County School District isn't alone in its approach to math. The Twin Falls School District also adopted the "Investigations" math program and it's being used in all elementary school classrooms for the first time this year.
Ted Popplewell, elementary programs director for the Twin Falls School District, said the problem-solving focus in the new curriculum will help students be prepared for new standardized tests.
As a result of the Common Core Standards, Idaho will ditch its current Idaho Standards Achievement Test and replace it with a new test starting in the 2014-15 school year.
About 60 percent of the test will be based on problem-solving activities, Popplewell said.
He said overall, teachers are happy with the new math series and he hasn't heard any complaints from parents.
"We're still teaching math the same way everyone's used to," he said.
But Kathy Baker, a Hailey parent, said she researched the new textbook series and it's "very different than anything I'd ever seen."
Her oldest son Alex, a fourth-grader, is in a fifth-grade math program and Baker said she wanted to understand the curriculum better.
Baker said she came across testimony online from some math experts stating "Investigations" isn't a complete math curriculum, as well as stories of school districts that adopted the textbook series and later decided to drop it.
"I became very alarmed," she said.
Concerned parents in her district created a website, blaineparents.org, to communicate information about the math changes with other parents.
The group of parents also alleges that the Blaine County School District violated its policies by not including parents, community members and students on the textbook adoption committee for the math series.
Barber said the school district has received two legal opinions — one from the Idaho School Board Association's attorney and one from the school district's attorney — and both conclude state law wasn't violated.
"We didn't break the law at all," Barber said.
However, he said the committee didn't include community members, like school district policy requires.
"I wish we would have," he said, adding that he'll make sure parents are included when the district adopts new science curriculum later in the year.
Michael Banning, a Hailey resident who worked for two major textbook companies over a 30-year period, was asked by the group of Blaine County parents to evaluate the textbook selection process. He said the school district's initial response doesn't hold up.
The adoption didn't follow school district policy, he said, which is informed by Idaho Code.
Mandeville said there wasn't good communication with parents about the changes to the math program and now, "students are thrown into the deep end."
"It appears to me that our district administrators haven't acted in the best interest of our students," she said.
Barber said there was a chance for people to review the textbook series before it was adopted. About 140 people attended public meetings on the topic.
"The majority were very positive about it," he said.