TWIN FALLS — A student laid in the grass outside Twin Falls High School. His peers kept watch as another student wrapped a tourniquet around his leg and cinched it tight.
There was no actual blood or injury, but they were ready for the possibility.
The students were practicing combat lifesaver scenarios Tuesday to learn about treating gunshot wounds in the field. The activity was part of the new Art and Science in the Military class offered at Twin Falls High School, effectively a junior ROTC program that allows students to explore the military as a potential career choice.
Caleb Perreira enrolled in the course as an opportunity to learn about his future in the military and get ahead on his post-secondary plans.
"It's giving me a pathway to what I already know what I want to do," Perreira said. "It also helps students who maybe don't have an idea of what they want to do after high school and they're still trying to figure it out."
The class helps students learn if the military is right for them, and starts recruits out at a higher rank when they join basic training or a college ROTC program, said Irene Briseno, a senior at Twin Falls High who completed basic training for the Army Reserve over the summer.
"The class they're offering here is really great for students who are actually determined to go through the military," she said. "We are giving students an opportunity to be more competitive when they go through basic and AIT (Advanced Individual Training)."
You have free articles remaining.
In May, school board members unanimously approved adopting the program after stakeholders spent years developing a plan and collaborating with community partners. Hosting the class ultimately cost the district nothing — the Idaho National Guard paid for the entirety of the program.
About 25 students are enrolled for the semester-long class, and another 25 are expected to enroll in the spring. Stakeholders hope to expand the program district-wide, and even hope to offer college credit through the state's fast forward program. The State Board of Education separately announced progress Wednesday on an initiative to get students credit for military training.
The program is crucial as the state attempts to increase the number of its students going on to college and other careers after high school, said Mariah Edwards, a Twin Falls High college and career advisor. Most students don't know they can receive college-level education for free at the military's Advanced Individual Training programs, she said.
"Just giving them the information is huge," Edwards said. "A lot of kids have no idea what the military is or what the educational benefits are."
The class is even beneficial for students who don't plan on going into the military, and can instill important values like personal courage and selflessness, said Sgt. David Pak, a recruiting and retention noncommissioned officer for the Idaho National Guard.
"Things like leadership, integrity — that's going to go a long way in the workforce on the civilian side as well," Pak said. "And even if they don't choose to go into the military ... it's going to help them be one step ahead of everybody else."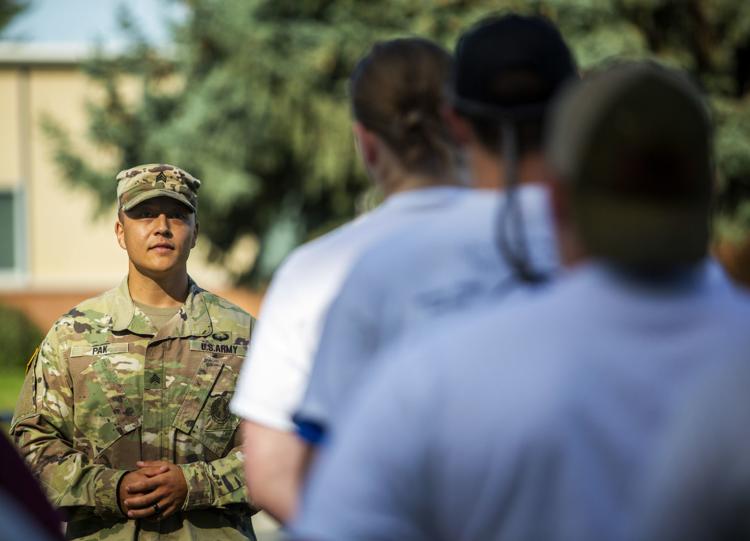 Every student will get something different out of the program, and it will help them explore the endless possibilities for post-secondary education, teacher Matt Coleman said.
"You don't know what's going to click with the child or get them connected in," he said. "It might convince them to go to college because they have that confidence now."