FILER — More students want to go into Filer High School's career-technical programs, but there's not enough building space or teachers.
The Filer School District wants to see that change. It's taking a $9.9 million bond request to voters in March to pay for facility projects, including building a second career-technical building at the high school.
Offerings such as welding, small engine repair or horticulture could allow students to gain the skills they need to get a good-paying job right out of high school and allow them to pay for furthering their education, said Julie Koyle, a parent who's co-chairwoman of the Filer School District's facilities planning committee.
"We're an agriculture community out here," she said. "We have kids who could benefit a lot from a bigger tech program."
The Filer School District is among nine Magic Valley school districts bringing a total of about $103 million in funding requests to voters during the March 12 election.
Idaho school districts have four election dates to choose from each year. A supplemental levy, which requires a simple majority vote to pass, is used to pay for basic school district operating expenses. A bond is for facility projects and requires a two-thirds supermajority vote.
Filer School District
If voters approve the Filer School District's bond, it would pay for building a second career-technical education building at Filer High School, adding eight classrooms at Filer Intermediate School, improving the parking area and traffic flow at Filer Elementary School, replacing seats and lighting at Filer Middle School's auditorium, and future land purchases to prepare for more enrollment growth.
At Filer Elementary School, one of the biggest issues is the drop-off and pick-up situation, Koyle said. When the school was built decades ago, "everyone was bused. Nobody was dropped off." It's a headache for parents to navigate, she said.
The auditorium at Filer Middle School has sufficient space for accommodating programs and community events, but needs to be more functional for today's needs, Koyle said. "We just need to refurbish it a bit."
Filer has more than 1,600 students. Over the last decade, it has averaged about 3 percent growth each year.
If the bond is approved, property owners can expect their overall tax rate to remain about the same. That's because the amount owed on the bond for Filer Intermediate School — which opened more than 10 years ago — has been paid down.
A community meeting about the bond is 5:30 p.m. Feb. 8 at Filer High School's library.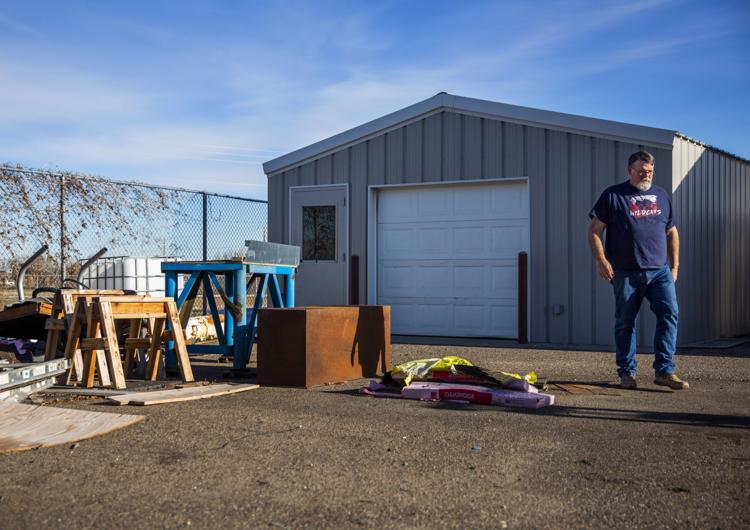 Cassia County School District
The Cassia County School District is bringing a $56.7 million bond to voters to address needs related to enrollment growth, deferred maintenance and unfinished projects from a 2015 bond.
After three failed attempts, voters approved a $36.95 million bond in 2015 to build new schools and complete other projects across the district, which has schools in five communities.
But the district found out later that it was short $15 million to complete all the projects because of bad costs estimates by the architect.
The district went back and asked voters to pass a bond for $14.9 million, which was rejected. A citizen's committee was organized in August 2017 to tour all the buildings and create a list of needs in the district.
If approved by voters, the bond will provide more classrooms at Burley High School, Burley Junior High School, Dworshak Elementary School and Oakley High School; complete the new Declo Elementary School and demolish the old building; upgrade heating and air conditioning throughout the district; build new gyms at Burley Junior High School and Declo High School; add a new gym floor and connection at Oakley High School; upgrade and expand Cassia Regional Technical Center; build new multipurpose rooms at Dworshak and Albion Elementary; fix foundation cracks at both Raft River schools; provide roof, parking lot and window repairs; furniture and equipment for new classrooms; to purchase land and build a new agriculture science building at Declo High School; landscaping, irrigation and exterior upgrades at some schools; a drop-off at Dworshak; and carpet, paint, restrooms, football bleachers, a practice track and field upgrades at Oakley High School.
The estimated average cost for taxpayers is $201 per $100,000 of assessed property value.
Minidoka County School District
The Minidoka County School District is seeking a $21 million bond to add classrooms at some schools, build a new agriculture building at the high school and make improvements at schools throughout the district.
If approved, property owners would pay $98 per $100,000 of assessed property value.
Bond money would be used for security upgrades across the school district; to construct and equip six classrooms each at Heyburn and Paul elementary schools and West Minico Middle School; build a second gym at Heyburn Elementary; upgrade or replace heating and air conditioning systems at Paul and Rupert elementary schools and Mt. Harrison Jr./Sr. High School; buy land; build and equip an agriculture education building; install a new gym floor and concessions and restrooms at the softball and tennis facilities; and upgrade existing spaces for career and technical education at Minico High School.
Community meetings about the bond are 6:30-8 p.m. Tuesday at East Minico Middle School and 6:30-8 p.m. Feb. 26 at West Minico Middle School.
Twin Falls School District
The Twin Falls School District will seek renewal of a supplemental levy but will ask voters for more money. The school district will pursue a two-year, $5 million annual measure to help pay for basic operating expenses.
You have free articles remaining.
Currently, the school district has a two-year, $4.25 million annual supplemental levy that expires in June. An approximately 20-member budget advisory committee, which includes parents and community members, recommended seeking more money.
If voters approve a new supplemental levy, the additional $750,000 annually would be used to address a few major areas: school security, curriculum needs and an increase to the general fund balance.
Based on a conservative 2 percent increase in market value, property owners would pay $15.82 more per year for every $100,000 in taxable value. But if property values continue to increase, the impact could be less than that.
If market growth is similar to years past, the Twin Falls School District would be able to garner additional funds while "folks may actually see a slight decrease in their taxes," Superintendent Brady Dickinson said Wednesday during a presentation to the school board. The Twin Falls School District has had a supplemental levy since 2012, which makes up about 10 percent of the district's operating budget.
"The supplemental levy really supports all programs in the district," Dickinson said.
Twin Falls School District officials are planning about 40 presentations about the levy at schools and community groups over the next six weeks. A community meeting is 7 p.m. Feb. 25 in Vera C. O'Leary Middle School's auditorium.
"We recognize this is an important community decision," Dickinson said.
During his presentation to the school board, he showed a graph outlining the amount of fund balance in recent years.
"As you can see here, we've been trending down in our fund balance," he said. "Obviously, that's a concern."
The school district's auditor has recommended trying to build that level back up, Dickinson said, and he's concerned about what would happen if there's another economic downtown.
During the last economic recession about a decade ago, the Twin Falls School District relied on fund balance to weather the storm, he said.
Another priority for the school district is to be more aggressive with updating curriculum — something that's necessary with the change in state standards, Dickinson said.
The district needs to upgrade science curriculum — which is about 12 years old — for kindergarten through 12th grades, he said, as well as high school math.
Upgrading textbooks is costly, Dickinson said. For example, it would cost $78,904 for new science textbooks just for sixth-grade alone.
During his presentation, Dickinson addressed another area of focus in the school district: school security. It costs the school district more than $500,000 annually to employ six school resource officers and 15 security aides.
"This is a tremendous investment that has been made in the district," he said.
Jerome School District
The Jerome School District is seeking renewal of its supplemental levy but is seeking more money — a two-year, $800,000 annual measure. For the last 14 years, it has relied on a two-year, $650,000 annual levy.
Even though the amount of the supplemental levy hasn't changed in years, enrollment has increased significantly — from about 3,000 students in 2004 to 4,100 this year, Superintendent Dale Layne said. School officials are anticipating 50-100 more students next school year.
If approved by voters, property owners could expect to pay $12 more annually per $100,000 in taxable value. That's based on the current market value.
Murtaugh School District
The Murtaugh School District is planning a $2 million bond for an athletic complex, including a synthetic track, new football field, and upgrades such as new bleachers and lighting.
If approved by voters, it would cost $245.82 yearly per $100,000 in taxable value.
The bond's lifespan would only be five years, Superintendent Michele Capps said. Murtaugh's bonding capacity is so low, she said, adding school officials want to pay for the track project quickly. That would also allow the school district to pursue a bond for a new high school after that if it's necessary, she said.
About 80 students are involved in track, but the school only has a gravel track right now, Capps said. Students go to other places to practice and the school can't host track meets on site.
The school board will have a discussion about the bond during the first 30 minutes of its meeting at 7 p.m. Feb. 11. Other upcoming community meetings will be announced soon.
Hansen, Gooding and Camas County school districts
The Hansen School District is seeking renewal of a two-year, $290,000 annual supplemental levy. The Gooding School District is seeking renewal of a two-year, $650,000 annual supplemental levy. Camas County School District in Fairfield will seek renewal of its two-year, $300,000 supplemental levy.
For all three measures, it's the same amount currently in place and tax rates will remain the same.
*Note: This story was edited Jan. 30 to add information about the Camas County School District's supplemental levy. Details weren't available by the print deadline.