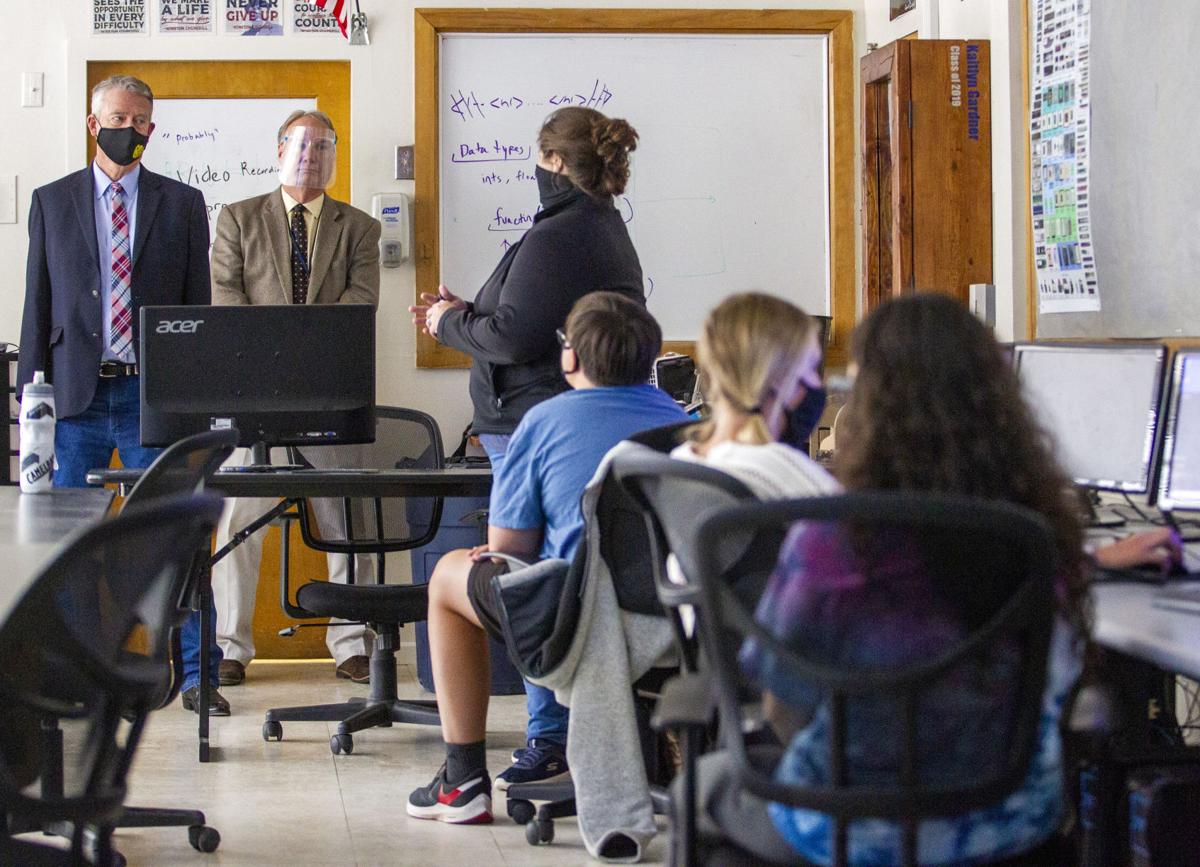 TWIN FALLS — A pair of reports show Idaho and much of the Magic Valley as high risk for the spread of COVID-19, which could mean changes for area schools.
South Central Public Health District released its biweekly risk level assessment report Thursday afternoon. It classifies Twin Falls, Jerome, Cassia, Minidoka, Gooding and Camas County in the high-risk level for COVID-19. Lincoln County is classified as moderate risk.
The health district report is used as the basis of school districts' COVID plans, and the change in risk level could impact whether students learn in the classroom or online.
"Each school district already has a plan to respond to the risk categories we announced in the assessment," health districts spokesperson Brianna Bodily said in a statement. "They should be following those plans."
In Twin Falls School District, the high-risk designation correlates with a hybrid schedule, where students alternate being in class with online learning to reduce the number of people in school buildings. Board members are holding a special meeting Friday morning at 7:30 a.m. where they could approve switching to the hybrid schedule. On the agenda are "COVID Protocol Schedule Designation" and "Modification to Athletic Protocol."
A separate report written this week by the White House Coronavirus Taskforce points to several counties where cases are rapidly increasing among 12-17 year olds, including Twin Falls and Gooding. This "suggests outbreaks in those counties may be related to school openings," the report says.
As of Wednesday evening, South Central Public Health District reported 224 total positive cases between staff and students in the Magic Valley, including 61 in Twin Falls School District.
Positive cases in Magic Valley schools as of Oct. 7
| District | Positive cases |
| --- | --- |
| Twin Falls | 61 |
| Buhl | 11 |
| Jerome | 20 |
| Kimberly | 16 |
| Camas | 19 |
| Minidoka | 22 |
| Cassia | 20 |
| Gooding | 12 |
| Wendell | 10 |
| Murtaugh | 9 |
| Valley | 10 |
| Blaine | 14 |
Among the variety of White House recommendations include "change to online K-12 classes in counties and metro areas with elevated test positivity and incidence among school-age children and increasing hospital utilization." The report also recommends requiring face masks in all indoor settings outside the home for high-spread areas.
The White House report, obtained by The Center for Public Integrity, shows Idaho as having the country's third-highest positive test rate for COVID-19 (12.8%) and the eighth-most new cases per 100,000 residents (195).
The reports reflect a COVID-19 surge in the Magic Valley. The area set a high mark for new cases for the second week in a row with 634 new cases last week, an increase of 227% from four weeks ago when the area had 194 cases.
Increased COVID-19 cases are impacting hospitals. The health district report showed six Magic Valley counties where COVID-19 is having a high impact on hospital capacity. St. Luke's Magic Valley Medical Center had 21 COVID-19 admissions as of Tuesday, making up 15% of the facility's hospitalizations.
Positive cases in Magic Valley schools as of Oct. 7