GOODING — Tyler Harris has been welding for three years at the Idaho School for the Deaf and the Blind, but now he's refining his skills using augmented reality. The 17-year-old from Caldwell, who's hard of hearing, demonstrated an advanced lesson Thursday for a small group of visitors during a grant presentation.
The Gooding school received a $25,000 America's Farmers Grow Rural Education grant to buy an augmented reality welding system. Students have been using it for about a month. While wearing an augmented reality helmet and with a tool in hand, students can see a visual representation of their welding project as they work — including sparks and the piece of metal — but without using real equipment. Once they're done with a lesson, they receive a post-welding feedback report right away, with scores for specific skills.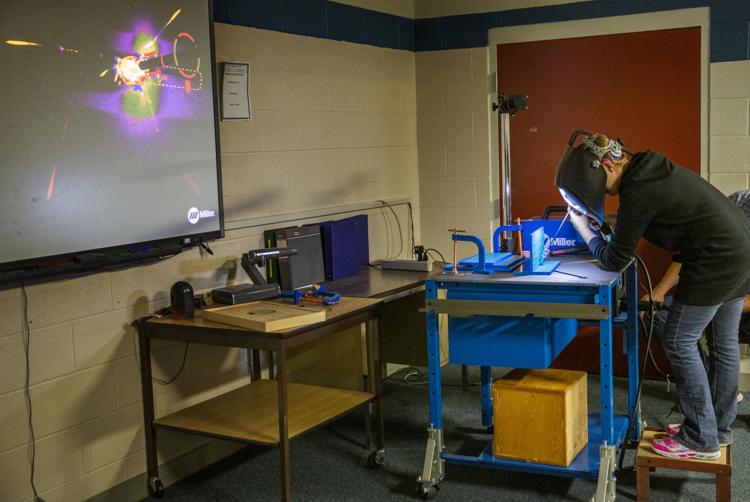 The new system is "pretty fun and interesting," Tyler told the Times-News with the assistance of an American Sign Language interpreter.
"It's really cool because they have all these different positions and such."
Tyler, who has been enrolled at ISDB for five years, said using the new system has been a cool adventure.
America's Farmers Grow Rural Education is sponsored by the Monsanto Fund, a philanthropic affiliate of Bayer. In total, it has awarded nearly $2.3 million for science, technology, engineering and math (STEM) programs to rural schools nominated by local farmers.
At ISDB, the augmented reality welding system saves the school a lot of money and less metal is wasted, career and technical education teacher Ken Anderson — who is deaf — told visitors through an ASL interpreter. "Once (students are) done with training here, they have a chance to do the real thing."
The augmented reality system allows students to get their first hands-on practice. "It's really exciting to have this equipment for our students," Anderson said.
There are beginning, intermediate and advanced levels students can work on. The system will speed up the process of teaching students about welding, Anderson said, and allow them to get to real life welding sooner. ISDB has welding equipment available for students to use.
Norco sold the Miller augmented welding system and provided training for the school on how to use it. It's designed to give students practice and gain muscle memory, Norco outside sales representative Wade Rast said during the grant presentation.
Equipment is placed on a rolling cart. On Thursday, three students demonstrated how the system works, as their work was displayed in real time on a classroom projector.
Rast said: "This is a picture of what the weld would actually look like."