TWIN FALLS — Wearing Peruvian attire, 17-year-old Corban Ward worked with his classmates to complete activities Nov. 27 during a world trade simulation.
The Twin Falls High School student was on a team representing Peru during the International Economic Summit, held at the College of Southern Idaho's Herrett Center for Arts and Science.
"It can be a little hectic trying to get everything done," Corban said during the trade and banking session. But the simulation, he said, is a chance to figure out how this all works in the real world.
Twin Falls High student Jessica Ly, 18, said she learned so much about the country she represented — Ethiopia — and the summit was a chance to put into practice what she's learning in her macroeconomics class. At her country's table, pieces of traditional Ethiopian bread were set out for people to sample.
About 100 students from Twin Falls High School and Jerome High School participated in activities Tuesday during the International Economic Summit. CSI's business and economics education department worked with Boise State University to host the event. The goal was to help train the next generation of global leaders.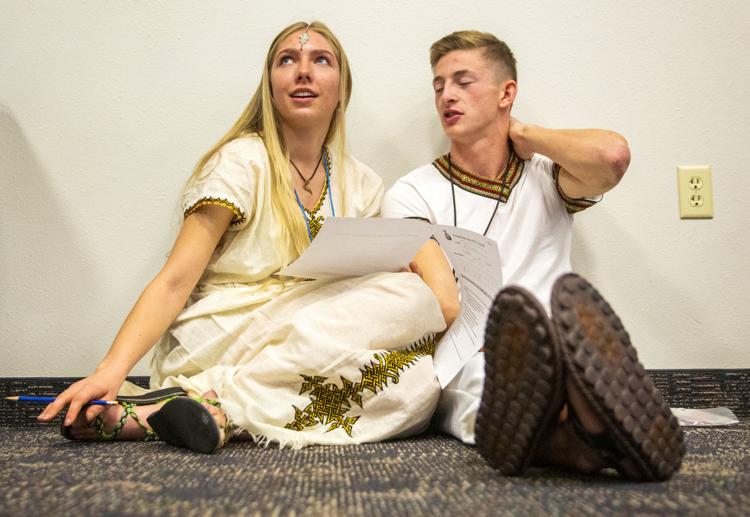 "There's the element of learning about another country, another culture (and) trade," said summit founder Kali Kurdy, who's now an educational consultant and executive director of the nonprofit TeachIdaho.
There's also the element of competition. "I'm hoping kids leave here having a good time, learning about another country and themselves," Kurdy said.
The summit also helps students develop "soft skills" businesses are looking for, she said, such as communication, responsibility and leadership.
Teachers brought their students to the event from classes such as economics, personal finance, business and technology.
"It fits for anybody who can find a way to fit it into their curriculum," Kurdy said.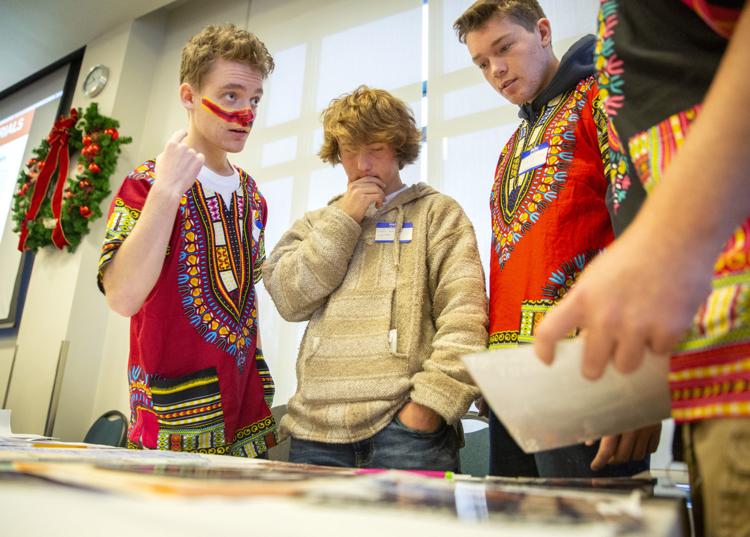 Activities during the summit included a global geography quiz, forming trade alliances, judging table displays each team created, a trade and banking session, global economics challenge exam, costume judging and a debate.
Teams earned points for their performance in different activities and the day ended with an awards ceremony.
Each team of students represented a country. They had a decorated poster board with photos and information, and wore costumes representative of their country. Nearly 30 countries — including the United States, Canada, Peru, Honduras, Vietnam, China, Sierra Leone, Russia and Saudi Arabia — were represented.
Students prepared for the summit at their school. Each team identified a global issue, how it affects the economy, the solution and how it would be implemented, the benefits of the project, and why others should support their proposal.
Topics included how to address issues such as pollution, high-interest rates due to inflation, urbanization, child mortality, the energy crisis, unemployment rates, poverty and health care.
Just before the trading and banking session Tuesday, Kurdy told students it was the activity with the largest potential to earn points in the competition. "Doing well in this next event could possibly get you over the top."
There's no penalty for using all of your money during the activity, Kurdy told students, but there was only a reward for teams that ended up with more currency value than they started with.
If countries decided to take out a bank loan, they had coupons they used to serve as collateral.
During the trade and banking session, activities included trying to meet import product goals, the possibility of taking out a bank loan, long-term development projects, seeking or giving out foreign aid, and optional quizzes about current events or personal finances.
"You have 40 minutes, approximately, to do all this stuff," Kurdy told students.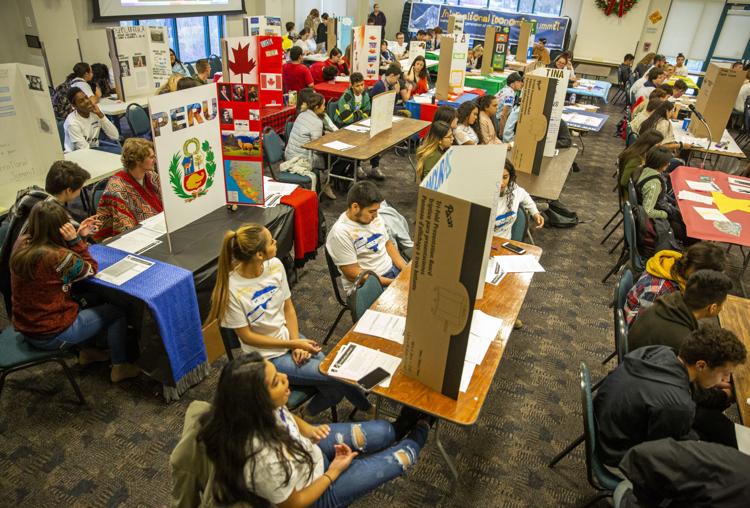 As for foreign aid, "if you're a high-income country," she told students, listing off several countries such as the U.S., Germany, Canada and Australia, "you're probably going to have to give out some aid." She described it as a "moral requirement." If high-income countries don't turn in the required number of receipts after giving out aid, they received a penalty.
Adults sat at tables at the front of the room, serving as scorekeepers for the event.
When she was a teacher, Kurdy created the summit in 1990 at Borah High School in Boise, and it has grown and evolved since then.
Years ago, she had the opportunity to go overseas to see how Russia's school system works. Kurdy said she found students in Russia knew so much more about geography, history and current events.
Back at home, Kurdy looked at curriculum she was using and decided there wasn't a lot about global history. She had high school seniors study a country for the whole school year, and their studies culminated with a summit and Model United Nations.
The International Economic Summit lives on. In 2000, the Idaho Council on Economic Education — housed at Boise State University — took over. Summits expanded from the Boise area to across Idaho and then nationwide.
A summit was held in the Magic Valley years ago, but the event Tuesday was the first in recent years.
In total, about 10,000 students participate each year. The summits are geared toward high school students, but middle schoolers participate in some events.
For Ly, from Twin Falls High, the summit was fun and intensive. "It's kind of a really interesting learning environment," she said.
"We've learned a lot about teamwork," she said later.