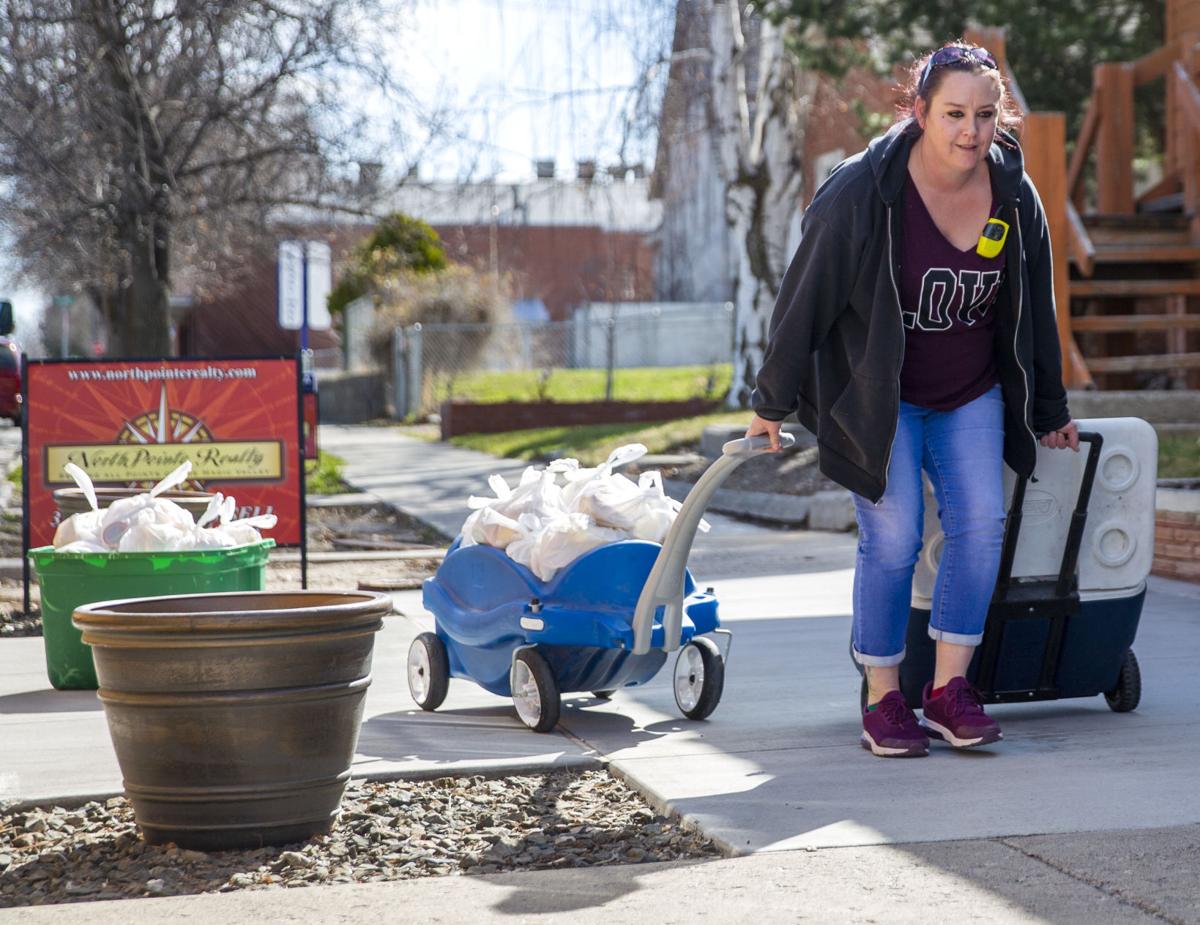 BOISE — When schools closed their classroom doors in March, a result of the coronavirus pandemic's initial roll through the U.S., officials looked for ways to provide lunches to students who rely on school for daily meals.
The U.S. Department of Agriculture approved the Pandemic EBT (P-EBT) program that same month in order to provide families with extra money for food, and 49 states and the District of Columbia have signed on to that program so that people can receive so-called meal replacement benefits.
The lone state not to join? Idaho.
According to the USDA, the program was part of the Families First Coronavirus Response Act of 2020 and allowed states to help families have funds for food on all the days children were out of school because of the pandemic. All kids who were receiving free or reduced-price meals under the Richard B. Russell National School Lunch Act became eligible.
More than 35 states were part of the program by mid-May, and applications to join have been granted as recently as July 9, when Utah came on board.
"To ensure that children continue to have access to nutritious meals when schools are unexpectedly closed, Congress provided and USDA is making available funds to states for the implementation of P-EBT," the USDA explains on its FAQ page. "State participation in P-EBT is optional; however, it is a significant opportunity to ensure children continue to have access to nutritious meals despite this national emergency. "
Niki Forbing-Orr, spokesperson for the Idaho Department of Health and Welfare — the agency responsible for filing the state's P-EBT application — said Idaho is still reviewing the program and has not made a final decision. She said the department should know more this week — months into the pandemic, and just days before a new school year is set to begin, in whatever form the fall semester takes.
State Superintendent of Public Instruction Sherri Ybarra and the State Department of Education's child nutrition program staff have been working with Health and Welfare since mid-April to try to ensure that Idaho families have access to the P-EBT benefit, according to a statement provided by the Department of Education.
"Given the rise in food insecurities we have seen in Idaho as a result of the public health crisis, we are committed to supporting our colleagues at DHW to implement this program and are working with our school districts to ensure families are aware of the program and have the opportunity to participate," the statement said.
"Superintendent Ybarra has been supportive of the program from the beginning of the process. Nutrition is so important — a basic childhood need."
The Department of Education recorded that 43% of students enrolled in a public school in Idaho were eligible for the free or reduced-price lunch program during the 2019-20 school year.
Each child in Idaho who qualifies under the P-EBT program would be eligible for $114 for every four weeks of school days missed, or $5.70 per day. Most of Idaho's schools shut down the week of March 15, so just on back pay for the spring semester, the total per child would be in the neighborhood of $300, depending on end dates.
Marisela Pesina, administrative assistant at the Caldwell Housing Authority, said she has been helping to deliver information on the pandemic to tenants who are largely low-income and farmworking families.
Seventy-four percent of students within the Caldwell School District qualify for free or reduced lunches. With the last 10-11 weeks of the in-school year lost in March, April and May, Pesina said she remains concerned that children did not always have access to nutritional food, despite community and school programs.
Of the Nampa School District's more than 14,000 students, about 57% are enrolled in the school lunch program. According to Kathleen Tuck, the district's spokesperson, Nampa had provided 184,627 breakfasts and 194,945 lunches for children during the unanticipated springtime closure and as part of summertime food programs.
Considering that roughly 8,000 students are part of the program, the district ordinarily would have reached 200,000 lunches in just 25 school days. Instead, it did not hit that number even over 50-plus in-school days missed.
"If you're hungry, you get sick a lot more. Especially with a pandemic, if a child is hungry, you need to have nutritional food to have a strong immune system, and if they don't have food, it starts an avalanche," Caldwell's Pesina said. "I see it in the kids that are out there and it breaks my heart."
Pesina said she is very grateful for donated food boxes that have come to neighborhoods such as Farmway Village, but she said it's important for families to be able to choose what foods they have. That would be a benefit of the P-EBT money.
The program assumes that even if states and individual schools provided drive-thru or other programs to try to provide meals during the closures — as Nampa, Boise and other Treasure Valley districts did — there was no way to guarantee that all the students could access that food, meaning families had to spend extra money. P-EBT was meant to offset that.
Almost 284,000 Idaho residents were projected to experience food insecurity during the pandemic, according to a June report from Feeding America that examined the virus' impact. As previously reported, that's a 49% increase over the nearly 190,000 who needed help before the pandemic. Feeding America estimated that Idaho would also see a 75% increase in its child food insecurity rate.
Still, the Gem State remains the only one in the nation not to have taken advantage of a program that would aid children and families that rely on the school-lunch program — something that Pesina said saddens her. She hopes Idahoans can benefit from P-EBT soon.
"Especially our most vulnerable populations. Let's right this and make sure we get this applied for to get money for these families," Pesina said. "It's out there for a reason."
Concerned about COVID-19?
Sign up now to get the most recent coronavirus headlines and other important local and national news sent to your email inbox daily.