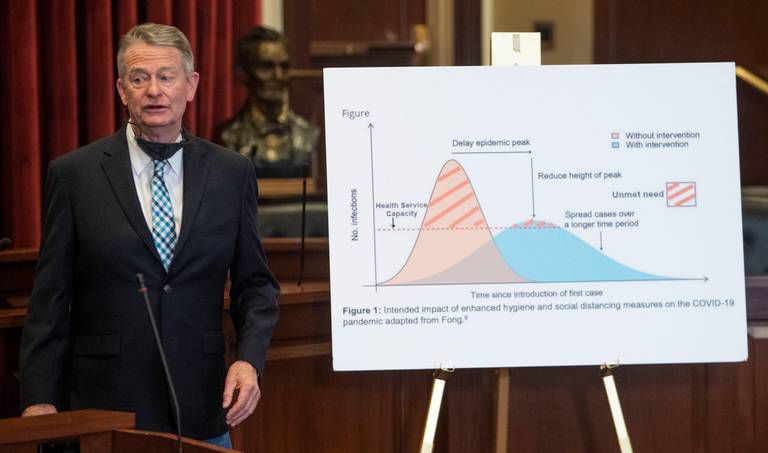 BOISE — Idaho's governor has remained quiet on the fate of public schools, continuing to defer to the State Board of Education for school closures and plans to reopen school buildings.
But Gov. Brad Little made his strongest statement yet on the future for schools March 28, declaring he's set a goal for all of them to reopen in the fall.
Little revealed that goal during a press conference Thursday afternoon when he announced Idaho would move into Stage 3 of its reopening plan. He detailed a conversation with career counselors and the presidents of Idaho's public colleges earlier in the day.
"I kind of gave them a pep talk of, 'We're going to open up colleges and universities,'" Little said. "And my goal is to have all the K-12 schools open."
All four of Idaho's public colleges have declared plans to reopen in the fall with a variety of safety protocols to combat the spread of the coronavirus. But local public school districts have yet to make similar proclamations.
Local school districts must follow guidelines set by the State Board of Education. The State Board set criteria to reopen schools this spring but hinted those criteria could change by the fall based on the latest public health guidance.
Little also said should Idaho see a resurgence of the coronavirus in the fall, the state's reaction could be regional instead of statewide.
Ramping up testing for the coronavirus remains a key part of Idaho's plan to reopen. Little released a plan last week detailing priority groups to receive the molecular testing, which includes the traditional nasal swabs.
Teachers without symptoms remain one of lowest priority groups, listed fourth out of five. Idaho would need a testing capacity of 85,900 tests per week to start testing teachers in Priority 4.
The state had a capacity of 18,000 to 23,000 tests per week last week.
But Little floated a different test for teachers before returning to the classroom.
"I would love before we went back to school to have a saliva test for, at a minimum, every school teacher," Little said.
The Food and Drug Administration approved at-home spit tests under an emergency authorization May 7. But like many emergency tests approved during the global pandemic, its accuracy has come into question.
Alan Wells, the medical director for the University of Pittsburgh Medical Center clinical laboratories, told NBC this week saliva tests could miss up to 50 percent of the people carrying the virus with no symptoms.
"The reason for the pharyngeal swabs is the virus preferentially infects and replicates starting way back in the inner cavities of the nose and not out in front," where it would come into contact with saliva, he told NBC.
Little acknowledged the moving target and all the unknowns in testing. But he said schools have many older teachers or teachers with underlying health conditions, and the state needs to be prepared for the fall.
"I just want to be on top of it to where if something comes around, we are able to expand our testing capability to whatever population needs to be done," Little said. "And obviously input from educators is going to be critical."
Concerned about COVID-19?
Sign up now to get the most recent coronavirus headlines and other important local and national news sent to your email inbox daily.