HAGERMAN — Earlier in her childhood, Makenzy Whittekiend watched her parents go through a divorce, after which she could no longer live with her biological mother.
Last year, her mother died due to an opioid overdose.
Despite those challenges, Whittekiend — an 18-year-old student at Hagerman Junior/Senior High School — has excelled in school. She'll graduate as valedictorian this spring with a 3.97 grade point average. She's a member of FFA and National Honor Society and does community service.
"I didn't let my circumstances define me," Whittekiend said Tuesday.
Whittekiend is among 106 recipients nationwide — and the only one in Idaho — of the prestigious 2019 Horatio Alger National Scholarship. It's awarded by the nonprofit Horatio Alger Association of Distinguished Americans.
"These annual scholarships recognize outstanding students, who, in the face of great personal adversity, have exhibited an unwavering commitment to pursue their dreams through higher education," the association said in a Jan. 24 statement.
More than 25,000 students have received $159 million in scholarships since the program's inception in 1984, according to the statement. This year, the association is awarding $2.6 million.
A handful of other south-central Idaho teens have received a Horatio Alger award over the years, but it's extremely rare. Zackary Wood from Richfield School received a $21,000 national scholarship in 2014 and after earning a bachelor's degree, he's now an aerospace engineer. Angel Martinez from Filer High School received a $10,000 state scholarship in 2018 and she's now a student at Brigham Young University-Idaho.
This year's national scholars are from households with an average yearly income of $14,692. They average a 3.75 GPA.
Each recipient will receive $25,000 to apply toward educational costs at a college or university. They'll also receive resources through the association, including counseling and referral services, internship opportunities and the opportunity to connect with a network of alumni.
Each scholar will travel to Washington, D.C., in April to attend a national Horatio Alger conference, which includes sessions on topics such as college preparedness.
Whittekiend lives with her father and stepmother in Wendell. She transferred schools from Wendell to Hagerman her junior year of high school specifically to focus on studying agriculture.
"Hagerman has a really strong agriculture program," she said.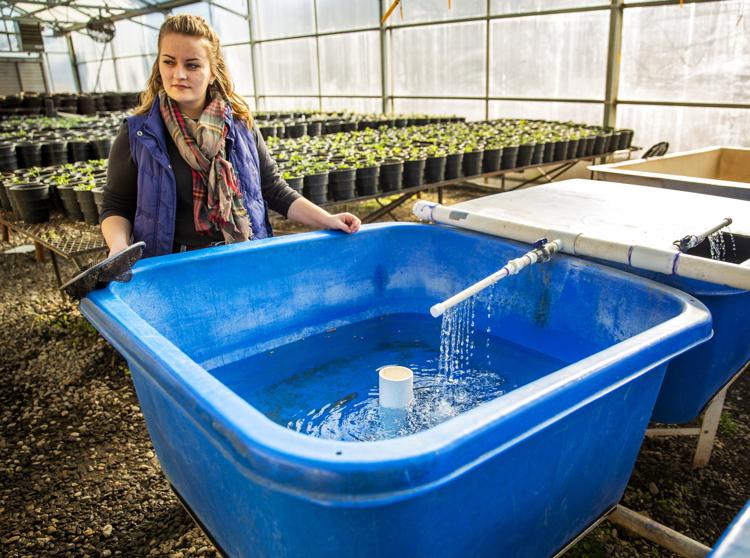 Whittekiend was on the hunt earlier this school year for college scholarships and turned in many applications. As for the Horatio Alger scholarship — which she saw on a list compiled by school counselor Ray Hoffmann — "this is just one of them that has come back," she said.
The Horatio Alger application was extensive and included writing four essays. "This one was pretty rigorous," she said.
Whittekiend is proactive in looking for scholarships, and has completed a number of dual credit classes to earn high school and college credits simultaneously, Hoffmann said Tuesday. It's rewarding, he said, to watch a student put in that kind of effort.
Whittekiend's GPA is impressive — especially, considering the rigor of the classes she takes, Hoffmann said.
Whittekiend found out she'd received the Horatio Alger National Scholarship during Christmas break.
She listened to a voice message and found out it was someone from the Horatio Alger Association of Distinguished Americans and thought, "OK, this is either really good or really bad," she said.
After calling back and finding out she received the scholarship, the emotions started bubbling up.
"I started crying because my parents can't afford to send me to college," Whittekiend said, and it was overwhelming before that figuring out how she'd pay for it herself.
The scholarship is a blessing and it relieves a huge burden, she said. "I felt like it was an answer to my prayers."
Now, Whittekiend knows at least part of her college education will be paid for. She'll receive $5,000 annually for her first three years of college and $10,000 for the fourth year.
Whittekiend plans to earn an associate degree in natural resources management from the College of Southern Idaho. After that, she plans to serve a mission for The Church of Jesus Christ of Latter-day Saints and then pursue a bachelor's degree in wildlife ecology and management from Utah State University.
Whittekiend discovered a lot about herself, leadership and her future career path through FFA. She's in leadership positions in Hagerman's chapter and for the FFA's North Magic Valley District.
In FFA, she has competed regionally, statewide and nationally, focusing on public speaking.
Whittekiend has a strong focus on her goals, Hoffmann said. "She has the vision, I think, for what she wants to be and how to get there."