In order to meet its top educational goal, Idaho will need to reinvent itself. And rethink success.
State leaders want more high school graduates to continue their education — to prepare young adults for a changing labor market, and to help Idaho compete economically. This ambitious aim runs headway into hard realities.
Preparing for an evolving economy requires a transformation. In public policy, dramatic change is seldom quick or cheap.
A few weeks before his election as governor, Lt. Gov. Brad Little acknowledged the enormity of a goal he has embraced since 2010. "You can't just snap your fingers and have all these kids going on to college."
If Idaho has learned anything about itself over the past eight years, it's that.
Where Idaho stands
Often cited — and nearly as often misinterpreted — the "60 percent goal" has worked its way into Idaho's political shorthand.
Idaho wants 60 percent of its 25- to 34-year-olds to complete some education beyond high school. This isn't only a college graduation goal, although two- and four-year degrees count toward the bottom line. One-year professional certificates also count.
Regardless, Idaho isn't anywhere close.
When the State Board of Education unveiled the 60 percent goal in 2010, Idaho's postsecondary completion rate sat at 37 percent. The current number is 42 percent, according to the U.S. Census Bureau, but that hasn't budged since 2015.
Considering Idaho's history, 2025 is still ambitious. Considering the national perspective, 2025 borders on quixotic.
"At the present pace of adult population growth and growth in degree attainment of 25- to 34-year-olds, 2041 is the projected year by which the nation can be expected to reach the federal government's 60 percent attainment target," the Princeton, N.J.-based Educational Testing Service wrote in 2017.
A national struggle
The Indianapolis-based Lumina Foundation has made postsecondary completion a cottage industry of sorts. The feds have a 60 percent goal, and most states have adopted some variation on a Lumina-like goal.
In 2016, nearly 47 percent of American adults held a degree or certificate, up from 38 percent in 2008. "That's progress, but it's not enough to reach 60 percent by 2025," the foundation wrote in a February report. "Dramatic action is needed to meet the nation's need for talent."
Idaho officials correctly note that most states are struggling; no state has crossed the 60 percent Lumina line. But using Lumina math, Idaho is ahead of only five states.
Idaho's challenges aren't unique, but they are deep-seated. And myriad.
Geographic barriers
As Manuel Garcia completed his senior year at Twin Falls' Canyon Ridge High School in 2017, he considered enrolling in Boise State University. But he didn't have a solid plan, and his school adviser encouraged him to attend college close to home.
Garcia is in his second year at the College of Southern Idaho, about 15 minutes from his family's home. He plans to transfer — perhaps to Boise State, the University of Idaho or the University of Washington — and pursue an MBA. "Eventually, I am going to leave."
Garcia had the option of living at home and beginning his college education. But across wide swaths of Idaho, that isn't feasible — despite the emergence of new community colleges in Idaho Falls and the Treasure Valley. In June, the Penn Graduate School of Education ranked Idaho No. 43 in terms of college access and proximity.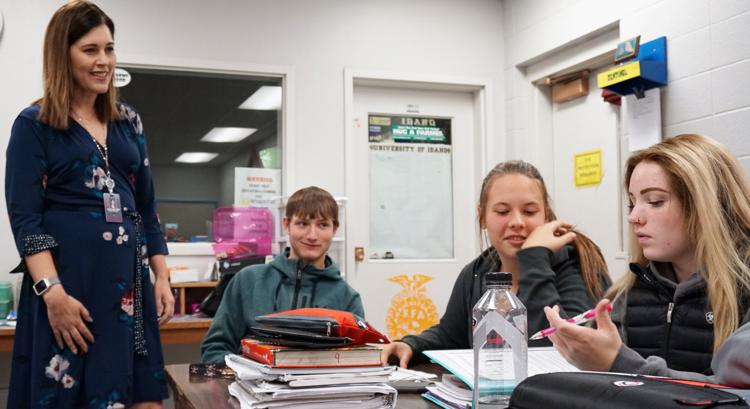 Chronic poverty
Marci Holcomb is the high school vice principal in her hometown of Payette, a farming community near the Idaho-Oregon border. She knows the economic realities in a town with some of the state's highest poverty rates. She embraces the district's decision to emphasize career-technical education as a low-cost alternative to college.
"For our kids, it's a reality," she said. "The finances of college is an everyday reality."
Marci Holcomb talks with students at Payette High School about career-technical classes.
It's a reality across Idaho. The State Board tracked college "go-on" rates against eligibility for free or reduced-price lunch, a metric commonly used to measure poverty.
For students who do not qualify for lunch subsidies, the "go-on rate" is 50 percent.
For students who qualify for subsidies, based on household income, the rate falls to 39 percent.
Poverty isn't restricted to rural Idaho. In Nampa, Idaho's third-largest school district, 64 percent of students qualify for lunch subsidies. The issues that come with poverty are not lost on Scott Parker, Nampa's executive director for secondary education.
In his third year in the district, he is taking a holistic view of Nampa's demographic challenges, adopting ideas from his old job in Vancouver, Wash. Vancouver's community-based strategy attempts to fill a series of voids: providing early reading help; encouraging parental involvement; addressing basic needs such as food security, and more. It's systemic. It's also focused on a long view.
Still, Parker says he has no problem with the 60 percent goal, and its emphasis on immediate results. "It's OK to put some pressure on folks like me."
A boom-and-bust economy
Idaho is by no means a wealthy state. In 2015, its median household income ranked No. 41 nationally.
Yet Idaho is a growing state — and across much of Idaho, jobs are relatively easy to find. In October, the state's jobless rate was an all-but microscopic 2.7 percent. The boom bridges Idaho's urban-rural divide; the unemployment rate is under 3 percent in 25 of Idaho's 44 counties.
Unemployment rates rise and fall, of course. But when these rates fall, high school graduates are more likely to enter a robust labor market. College enrollment drops — as is the case this year, at two of Idaho's three universities.
This isn't an Idaho-specific trend, but it is a strong trend.
This contributes to another nagging pattern: a gender gap. Male high school graduates are less likely to enroll in college. In good times, they are more apt to fall prey to what Byron Yankey of the State Board calls "the F-150 syndrome."
A new truck, and not a college degree, is the investment of choice.
Demographic gaps
At nearly every mile marker in the educational process, from K-3 reading tests to the SAT, Hispanic and Native American student test scores lag behind state averages.
It all culminates in high-school GPA. Idaho's high-achieving high school students tend to go to college, regardless of ethnicity, said Cathleen McHugh, the State Board's chief research officer. Unfortunately, while 30 percent of white students record a GPA of 3.5 or higher, those numbers drop to 16 percent for Hispanic students and 10 percent for Native American students.
Given all of this, Idaho's Lumina numbers aren't surprising. But they are alarming.
Only a fifth of Idaho's Native American adults have a postsecondary education, ranking No. 42 nationally.
For Hispanic adults, the numbers are even lower. Only 13 percent have a college degree or professional certificate, ranking last in the nation.
Since Hispanic students make up by far the state's largest ethnic minority, at 18 percent of overall enrollment, their success is interwoven with Idaho's success. It will be virtually impossible for Idaho to reach its 60 percent goal without making major inroads in the Hispanic community.
The low Lumina numbers come as no surprise to Juan J. Saldana of the Idaho Commission on Hispanic Affairs. They are a sign of work to do. But in order to change the numbers, Saldana says, Idaho needs to change the school culture.
The state has some outstanding Hispanic teachers, just too few of them. Idaho also sorely needs Hispanic school counselors. Hispanic educators tend to stay in the classroom out of a sense of dedication to the community. "The pay is definitely not the incentive for teachers to stay here," Saldana said.
Tracking the graduates
For many high school graduates, the path to a continued education is not linear. It often involves a gap year, earning money in the workplace, or military service.
Missionary service has one clear effect on numbers. Immediate college go-on rates skew lower in predominately Mormon communities.
What happens from there is harder to track.
The State Board can try to reach conclusions by looking at long-range college enrollment trends and demographic data on religious affiliations. But the state cannot collect student data on religious affiliation, McHugh said.
In Madison County, and the heart of eastern Idaho's Mormon country, Superintendent Geoffrey Thomas is a firm believer in the value of missions. Before he pursued college and a career in education, he left Logan, Utah, to serve his church in Italy, and learning about another country's arts and culture.
The Madison district doesn't have the resources to track graduates after they leave Rexburg, for missions or any other life path. Thomas doesn't want to do it, anyway. "We need to be careful not to move the machinery of the state toward greater surveillance."
A $133 million gamble
If Idaho fails to hit the 60 percent threshold, it won't be for lack of spending.
Since 2013-14, the state has put at least $133 million into various initiatives designed to keep high school graduates in school. High school students can earn college credits for free. They take the SAT for free. The state is putting more college and career advisers into the K-12 system. More college students than ever receive state-funded scholarships.
But it will be years before the state will know if these programs will help with the 60 percent goal. It will be years, and past 2025, before today's high school freshmen and sophomores reach that 25- to 34-year-old demographic.
Amidst this uncertainty, there is one certainty. Idaho's obstacles — of economics, geography and culture — were in place long before the 60 percent goal entered Idaho's lexicon.