KIMBERLY — Kimberly Middle School sixth-grader Mariah Matsen used markers and crayons Feb. 5 to decorate a gift bag to give to at-risk teenagers.
The 12-year-old was working on a service project after school through the "Girl Talk" weekly program.
When Mariah joined Girl Talk this fall, she expected it would address topics like "middle school and gossip," she said, but she discovered it's more than that. "It's more about community service."
Her favorite Girl Talk activities this school year have been watching the movie "Tangled" and putting together bags for cancer patients.
Nikki Matthews, a seventh-grade English/language arts teacher at Kimberly Middle School, is being recognized for leading the club.
Matthews was recently nominated for the 2018-2019 national LifeChanger of the Year award. She's the only nominee from Idaho.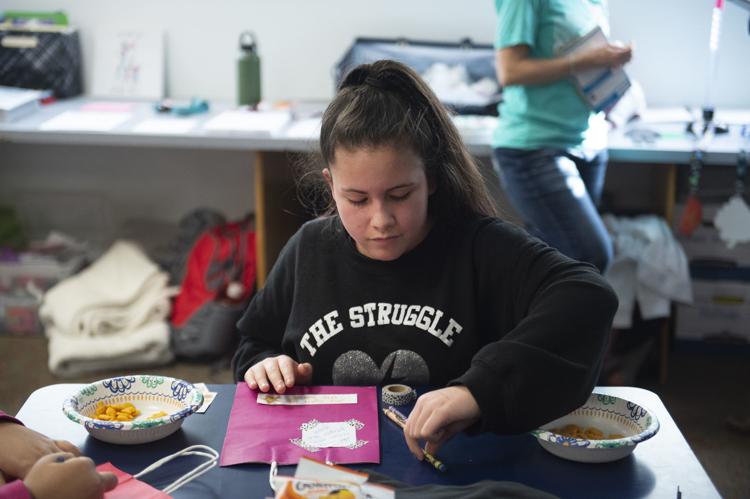 The awards — sponsored by the National Life Group Foundation — recognize outstanding kindergarten through 12th grade educators "who are making a difference in the lives of students by exemplifying excellence, positive influence and leadership," the awards program said in a statement Jan. 29.
The program receives hundreds of nominations each school year from across the country. Of 832 nominees this year, it will give awards to 17 educators.
Matthews — who has been teaching at Kimberly Middle School for 19 years — was nominated by her friend, Lysa Beltz.
"I have known Nikki for nearly seven years, and in that time, I have grown to not only love her, but hold her in very high regard and respect," Beltz wrote in the nomination.
"Nikki is an outstanding example of what a great person does and lives by example. I think she's a LifeChanger because of her commitment, determination, and focus on growing her kids into adults who are the future of Idaho."
For six years, Matthews has led the Girl Talk program at Kimberly Middle School. It's a local chapter of a worldwide organization, which focuses on middle and high school leadership development. It was created by a Georgia teen and there are now 485 chapters.
Matthews heard about Girl Talk and decided to start a Kimberly chapter. It focuses on community service, leadership skills and building self-confidence.
The Kimberly club meets each Tuesday and about 20-25 girls show up.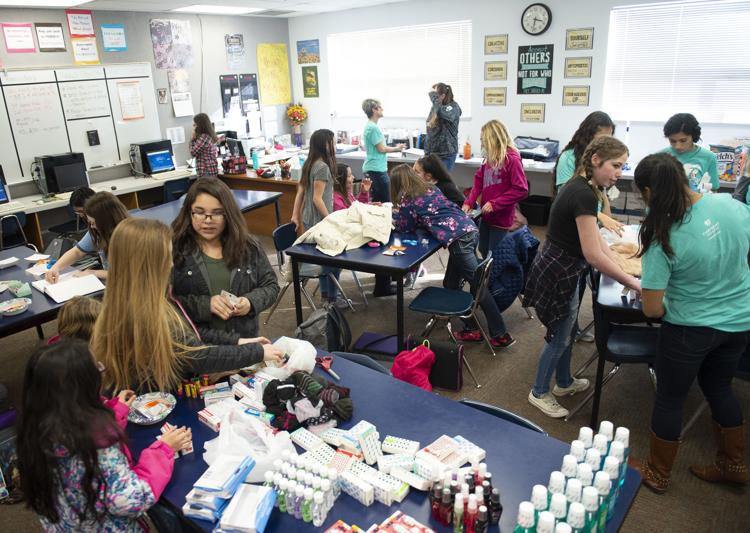 Most of the participants are sixth-graders, Matthews said. Seventh and eighth-graders tend to be busier because they can play school sports, she said.
Girl Talk activities this school year have covered topics such as "frenemies," the importance of not gossiping, not to compare oneself with others and cyberbullying.
"Once a month, we try to do a community service project," Matthews said.
Girl Talk members will soon do a service project for first responders and a random acts of kindness project this month.
Matthews also spearheaded an initiative called "We Rise By Lifting Others." It's a schoolwide theme this year at Kimberly Middle School.
Students colored paper feathers in their advisory class and Girl Talk put them together to form wings, which are now displayed just inside the school's front entrance. It's a popular place for students to take photos together.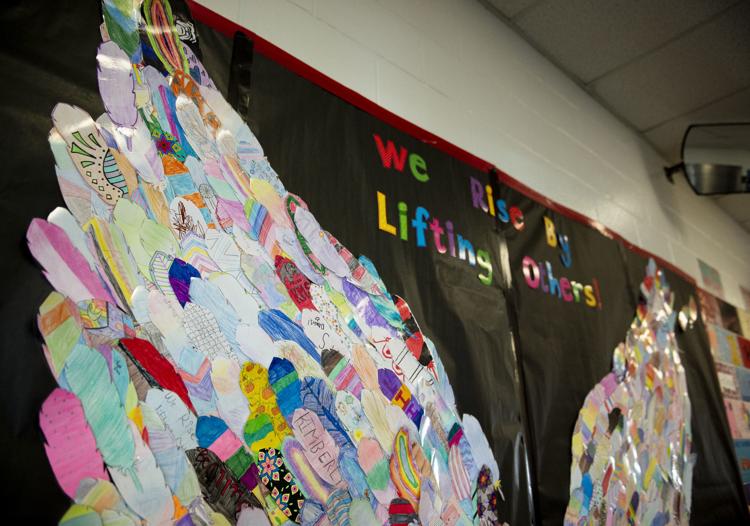 Kimberly High School senior Emma Wirtz, 18, is among a few high school girls who are Girl Talk leaders. Wirtz wasn't involved with Girl Talk when she was in middle school, but had Matthews as a sixth-grade teacher and knew she was running the program.
"When I got to high school, I realized I wanted to impact my community," Wirtz said.
Wirtz said Matthews is extremely nice and a teacher she has always remembered. As for Girl Talk, Wirtz hopes the takeaways for participating middle schoolers are: "be kind to everyone" and to be themselves, she said.
After school on Tuesday, Matthews turned off blaring music in her classroom once teens got settled and finished eating goldfish crackers out of paper bowls. Matthews told middle schoolers about their project that day: decorating and putting together gift bags for youth living at The Safe House.
It's the third year Girl Talk has helped The Safe House, a group home for at risk children — ages 11-17 — who are in crisis.
"We do the service project to give them some extra things to help them," Wirtz told Girl Talk members.
Teens decorated 20 paper gift bags — using crayons, markers, washi tape and cutouts with inspirational quotes — and filled them with their choice of 20 items such as pocket packs of tissues, hand sanitizer, toothpaste, shampoo and conditioner, and Clif Bars.
Matthews and the high school leaders will later deliver the bags to The Safe House. For the youth living at the house, Matthews told Girl Talk members, "the main thing is to encourage them."