HOLLISTER — Every Wednesday afternoon, Hollister Elementary School principal and fourth-grade teacher Jennifer Jacobson puts aside her administrative duties and picks up her fiddle.
She plays her instrument for students during dance practices and teaches group fiddle lessons.
Students participate in a contra dancing session once a week. Plus, about 80 percent of the student body is opting to take group instrumental music lessons, which began in February thanks to a $20,000 grant the school received a few months ago from the nonprofit Twin Falls Health Initiatives Trust.
Hollister Elementary, which has 48 students, has an active parent booster club and they had tried to secure grant funding. They suggested Jacobson — who is in her first year as the school's principal — should apply for a grant and she did.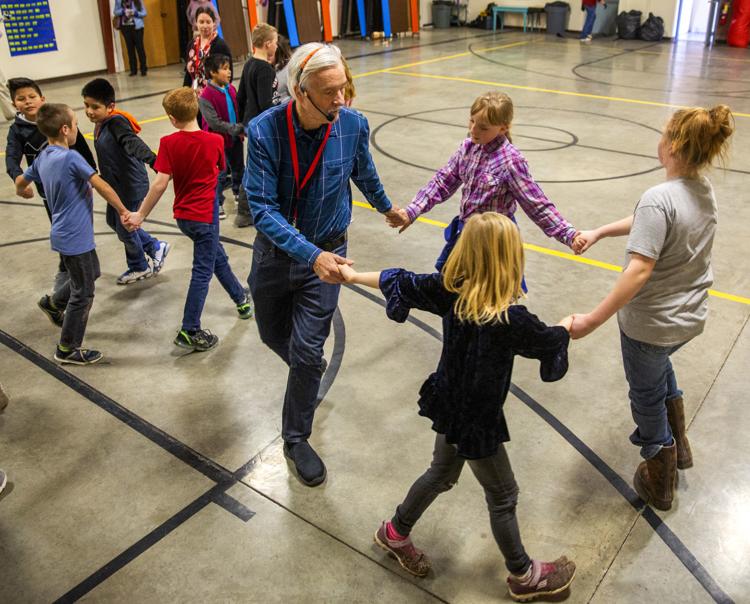 "I incorporated dance and music into it because that's where my background is," Jacobson said.
Research shows that student exposure to music instruction has a positive impact on academic performance, she said.
The historic brick elementary school, which is more than 100 years old, is tucked away in the small town of Hollister just off U.S. 93 in Twin Falls County. The school, which has 48 students, is part of the Filer School District.
The Twin Falls Health Initiatives Trust is administered by an all-volunteer board. The trust was created when the Twin Falls County-owned hospital Magic Valley Regional Medical Center was sold in 2006 to the St. Luke's Health System.
County commissioners put some money into a trust and proceeds are used to award grants each year.
Hollister Elementary students are putting their dance skills to use at monthly community contra dances at the school, which began in January. Those dances will continue every month school is in session, and bands from Boise will travel to Hollister.
"The tradition is live music is played for it," Jacobson said. She hopes students will become proficient on their instruments in order to perform at the dances.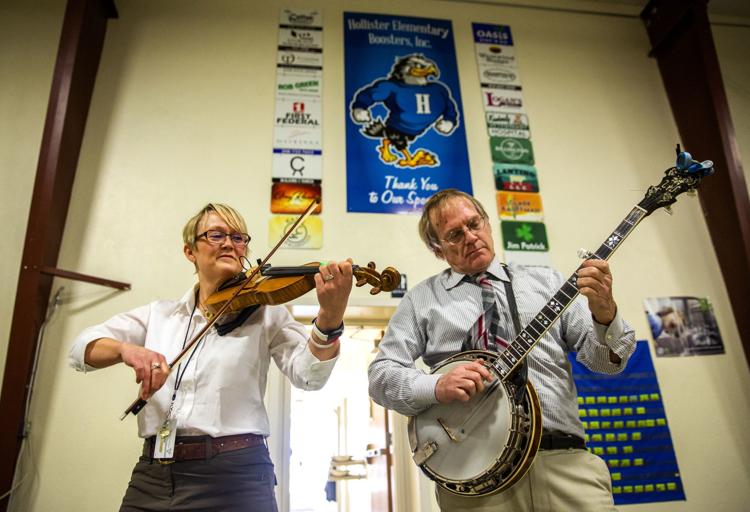 Contra dancing's roots are in 1700s New England. The style of dance is similar to square dancing, but with dance pairs in lines instead of in a square. It's a family-based activity, Jacobson said.
Nine-year-old Hollister Elementary student Abraham Espino said contra dancing is fun and tiring. He's also learning how to play the violin at school.
"It's been really hard," he said.
Students chose from instruments traditionally used in live contra dance bands: guitar, fiddle and string bass, as well as soprano ukuleles for the younger children.
The school offers a stipend through the grant to instructors who help with dance and music lessons. Grant money was also used to purchase some of the instruments. Some other instruments are being lent to the school by community members. Jacobson brought in fiddles she had, as well as some on loan from friends.
At Hollister Elementary, a music teacher from Filer comes to the school part-time. Fourth-graders learn how to play recorders and fifth-graders participate in band once a week.
During dance lessons, David Quinley serves as the "caller," leading students through a series of instructions as the dance is underway, and he also leads string bass lessons.
During a session Wednesday, he was wearing a wireless headset microphone and his voice was amplified over a speaker system. Mike McCarthy, who leads music lessons at the school, was playing banjo. Second- through fifth-graders followed along with Quinley as Jacobson and McCarthy performed music. Occasionally, a child would get confused about what they were supposed to do and a classmate helped them get back on track.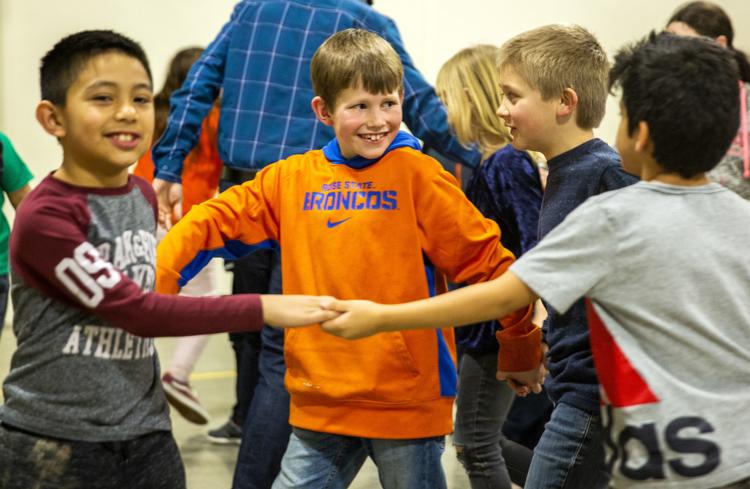 Despite collisions, falls or losing shoes, students smiled and laughed while their teachers helped or joined in the dancing.
During one dance, students were beginning to fall behind. "Hurry, hurry," Quinley told them. As one song wrapped up, Quinley said: "And bow to your partner." Students did and the live music came to an end. "Nice job."
The next community dance is March 16, where students and community members alike can show off their best contra dancing moves.