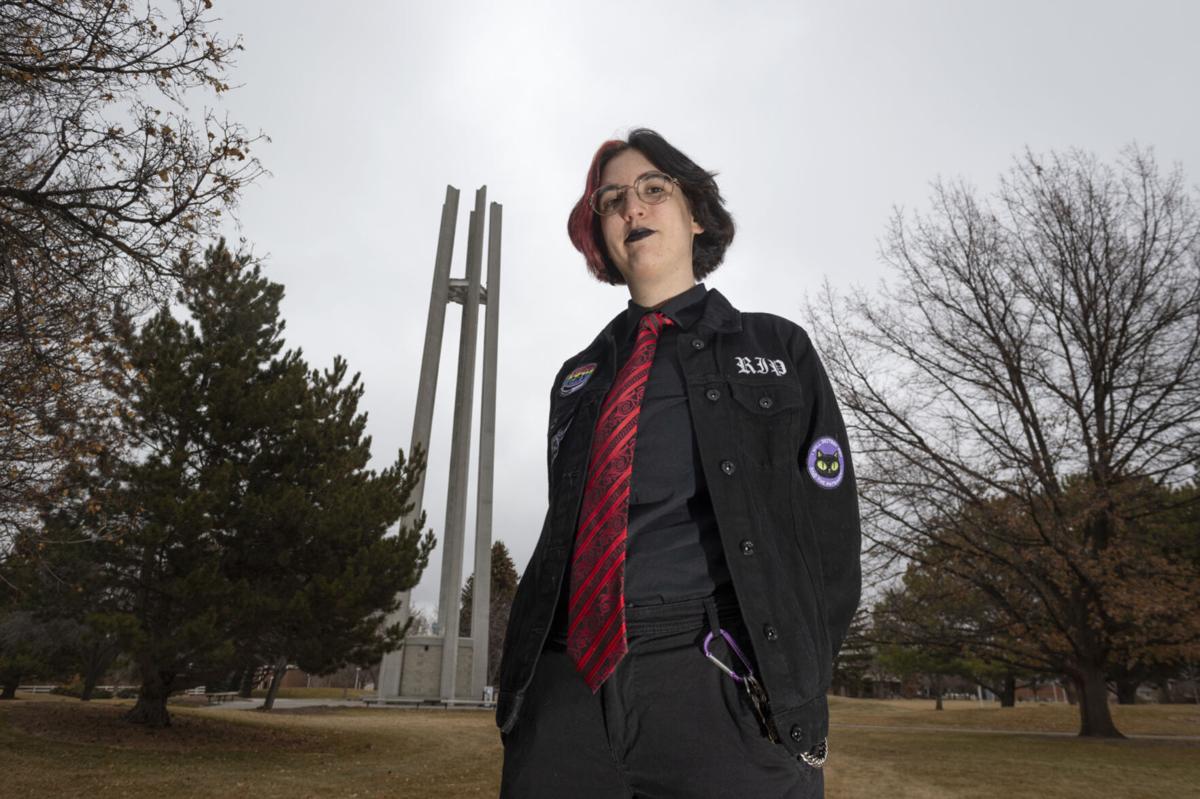 TWIN FALLS — Prior to the beginning of the spring semester, Shade emailed a professor at the College of Southern Idaho to inform her of their correct name and correct pronouns. Shade is nonbinary and identifies with the pronouns they/them.
In response, the professor agreed to refer to the student by the name Shade, rather than the legal name that's on college forms. But the professor refused to use they/them pronouns due to her "convictions," Shade said. Shade requested the Times-News not use their last name in this story.
In another email, Shade responded and told the professor that this wasn't a request.
"I was just informing you of my correct name and pronouns so you know how to refer to me," Shade said in the email. "Intentionally misgendering a student is actively creating a hostile learning environment and discriminating on the basis of gender identity."
Shade recorded themself reading the email and uploaded the video to TikTok. The video has more than 1.7 million views. It was the first time one of Shade's videos had this kind of traction.
"It's been crazy," Shade said. "My phone has calmed down a bit now, but the first few days, it was nonstop notifications."
Aside from the sheer number of people who watched the video, Shade received support in some of the comments.
"At one point, somebody commented saying that they had watched a bunch of my videos and that they had been helpful because they're about to adopt a trans daughter," Shade said. "I almost cried. That is so sweet."
While the internet responded to Shade's video, their professor didn't. The semester began on Jan. 11, and so far the professor, who Shade declined to name, has used their name but not any pronouns.
After not receiving a response from the professor, Shade reached out to Dean of Students Jason Ostrowski. Shade said Ostrowski has been helpful and informed them that the college recently formed a diversity and inclusion committee that'll work on these kinds of issues.
"We talked about trainings and culture shifts needed at CSI," Shade said.
A spokesperson for the college acknowledged Shade's story but said CSI couldn't comment on the specific situations involving personnel. The college did issue a statement clarifying what options students have in these sorts of situations.
"All students and employees at the College of Southern Idaho are able to report concerns at any time through an online link located on the college's main website," the statement reads. "The link leads to a form which can be filled out after which the concern is routed to the appropriate point of contact on campus.
"Student concerns are typically routed to the Dean of Students who works to address the concern. In cases where concerns are expressed about a faculty member, other instructional personnel are often involved, as is the Director of Human Resources when appropriate."
Chris Bragg, dean of institutional effectiveness and communication at CSI, said last fall the college formed a committee to examine aspects of diversity and inclusiveness on campus.
"Essentially their charge is to look at how we are handling issues for all sorts of different students so we have a comfortable environment for all students," Bragg said.
Additionally, the college completed a climate survey more than a year ago to ask students how comfortable and supported they feel at CSI. The college is in process of conducting a similar for all of its employees, Bragg said.
CSI is also in the midst of preparing a new strategic plan that Bragg said will include language codifying plans to support diversity and inclusion. Bragg said the college has always prioritized ensuring all students feel supported on campus, but this work continues CSI's effort to constantly "learn and get better."
"It's all in the same vein of trying to figure out if there are any gaps," Bragg said. "How do we make sure we're not getting in the way of students' progress?"
Shade started identifying with nonbinary pronouns last summer but didn't inform their CSI teachers prior to classes starting in August. Shade said it bothered them throughout the semester, and they didn't want to deal with it again.
Despite this incident, Shade said most professors and faculty members at CSI seem to be supportive and opened-minded. The teacher from Shade's other class this semester accepted the name and pronouns right away.
Shade said they aren't looking for retribution in this situation. Rather, they'd like to see teaching trainings conducted and other processes put in place to prevent something like this from happening again. Additionally, Shade said they'd like people to be aware of how hard it can be for somebody who is transgender to be called the wrong name or pronoun.
"I'm less concerned with what happens between this individual teacher and myself and more concerned with what happens school-wide," Shade said. "Because personally, I have support. I'm not somebody who is going to be super broken up about it, but I know that's not the case for a lot of trans students. In fact, for a lot of trans students, it might be that school is the only place where they could possibly get gendered correctly."