TWIN FALLS — A school superintendent is recording a video about how he decides when to call a snow day. His daughter knocks him to the ground.
"School's canceled," she said. "You're welcome."
Educators laughed Wednesday after watching the video during the College of Southern Idaho's P20 conference.
Eric Sheninger, a senior fellow on digital leadership with the International Center for Leadership in Education, played the video as part of his keynote address — "BrandED: Tell Your Story, Build Relationships, and Empower Learning."
He was previously a school principal in New York and he's the author of six books. He also gave Tuesday's keynote address.
The talk focused on how educators can use storytelling and social media to talk about good things that happen in schools and to reach their community.
The CSI Fine Arts Auditorium was full and people were even sitting on the floor.
"You want to build trust? Let people know what you're doing," Sheninger told the audience. "Be transparent."
It's the second year for the P20 conference for preschool-through-college teachers. It kicked off Tuesday and continued through Wednesday.
More than 620 educators participated, hailing from across Idaho and surrounding states. The purpose is to help improve teaching practices and give educators innovative ideas to bring back to classrooms this fall.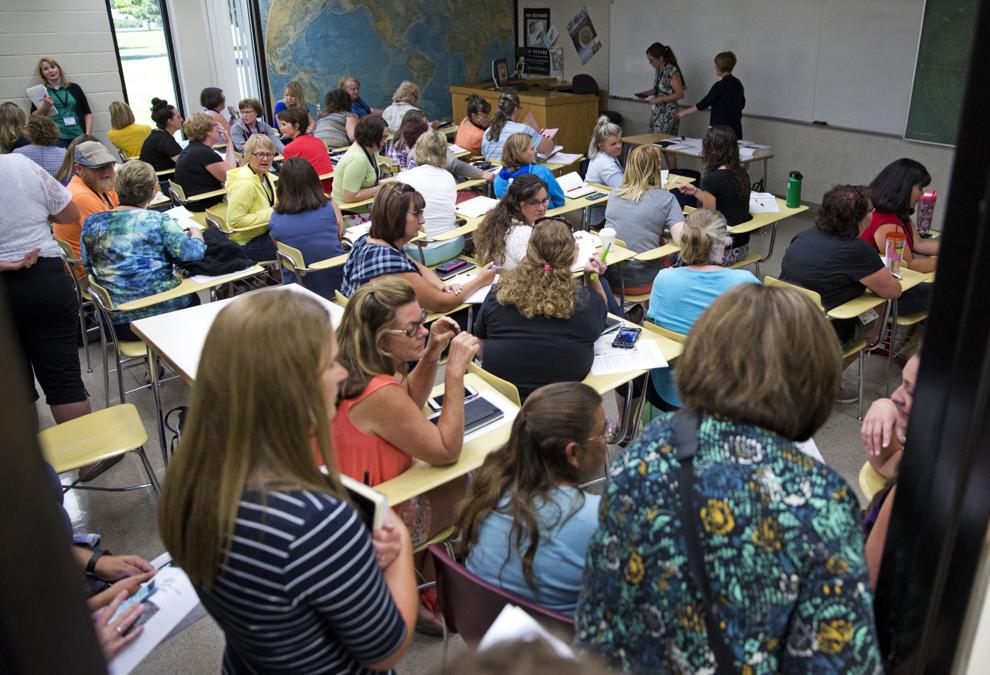 "It's good to get to see and get some perspective on what other teachers are doing," said Brett Darrington, an English teacher at Kimberly High School. He has been teaching for 10 years.
Educators don't do a good job telling their story, Sheninger told the audience during the keynote address, so the public forms their own assumptions about "the amazing work you're doing."
Educators can set up alerts — such as via Google Alerts or Mention — for their name, school or school district to track what people are saying, Sheninger said.
Plus, using social media allows schools to have greater transparency, welcome feedback, meet stakeholders where they are and reinforce a message through using multiple tools, he said.
Sheninger's examples of some of the most effective platforms include YouTube, Facebook, Twitter, Snapchat and Instagram.
It's not about how many "likes" or "shares" a post gets, he said, but whether your story or work impacts at least one other person.
With using social media, it's important to develop a strategy, Sheninger said. "The point here is you gotta be consistent."
Tammy McMorrow, a first-grade teacher in Kuna, said both keynote addresses were a highlight of the P20 conference.
She likes that the event is near the Treasure Valley and it's over the summer — so she doesn't have to get a substitute teacher for her class.
McMorrow led two sessions at the conference, including one about creating classroom books with students.
The P20 conference is a chance for teachers to share stories and improve their teaching practices, she said, because "we're kind of isolated in our schools and our classrooms."
McMorrow, who has been teaching for 23 years, released a book in June called "Gatekeepers: Let's Talk About Teaching." It's a collection of 50 short reflections on good teaching practices.
Session topics Wednesday included dual credit, digital portfolios, digital citizenship, transforming recess, supporting students who have disabilities and helping students improve their behavior.
In a grassy area outside CSI's Taylor Building, about 10 educators gathered for a session about the "Playworks" model. It's used to support positive social interactions during recesses.
A team from Kimberly Elementary School — which has nearly 1,000 students — shared how the initiative is working at their school.
They suggested ideas for educators, such as transitions that can be used to help students from one activity to another. The first one they tried out: touch something pink — that's not on a person — and form a circle in the shade.
Nearby in the Shields building, Mary Spiker, a Pocatello kindergarten teacher and Idaho's 2017 Teacher of the Year, led a session about how to keep young children accountable without a behavior chart.
Spiker shared a system she has used in class involving little green monster pictures.
She draws lines on a whiteboard — above the line, below the line and bottom line — to show students which types of behavior are acceptable and which aren't.
Spiker places green monster cutouts on the board, each representing a different action.
Every day, she talks with students about which behaviors fall into which categories, she said. "Now I felt like they had a way to gauge their behaviors."