TWIN FALLS — Katie Kauffman wants to educate middle schoolers on the importance of movement and wellness — and that goes well beyond the classroom.
To encourage students to be more active, Kauffman has pushed for initiatives at Robert Stuart Middle School in Twin Falls, including creating a walking club and pursuing grant money to create an outdoor basketball court.
Kauffman — a P.E. teacher and track coach at Robert Stuart and head soccer coach at Twin Falls High School — was named the Twin Falls School District's 2018-19 "Teacher of the Year." She received the award April 4 during the Twin Falls School District Education Foundation's "Red Apple Gala."
When she found out, "I was shocked, to be honest," Kauffman said last month. "I really had no idea I would be selected for that."
Kauffman said she has interacted — as a parent who has children in the school system — with a few of the other teachers who were nominated, and they're all excellent and worthy of recognition.
Kauffman is an outstanding classroom leader and goes out of her way to get children involved at school, Robert Stuart Principal Amy McBride said Tuesday. Plus, she looks out for her coworkers, McBride said. "She's kind of a caretaker for everyone."
If a school employee or their family members are sick, Kauffman arranges for people to bring over dinners. And if an employee is celebrating a milestone — such as earning a college degree — she organizes festivities.
The Twin Falls School District Education Foundation recognizes two certified teachers — one elementary and one middle/high school — each month from October through February. Nominations often come from students, current and former coworkers, and parents.
This school year, the education foundation received 125 nominations and selected 10 teachers of the month. Each of the recipients is recognized with a hand-carved apple sculpture, money and a certificate.
"We just thought it was a great way to honor teachers who go above and beyond for their students, inside and outside the classroom," education foundation executive director Linda Watkins said.
A committee uses a scoring rubric to evaluate the teachers of the month and the educator with the largest number of points is named "Teacher of the Year."
"It's pretty thorough," Watkins said. "Evaluators spend a lot of time reviewing those."
Kauffman will now be Twin Falls' representative vying for the title of Idaho's teacher of the year.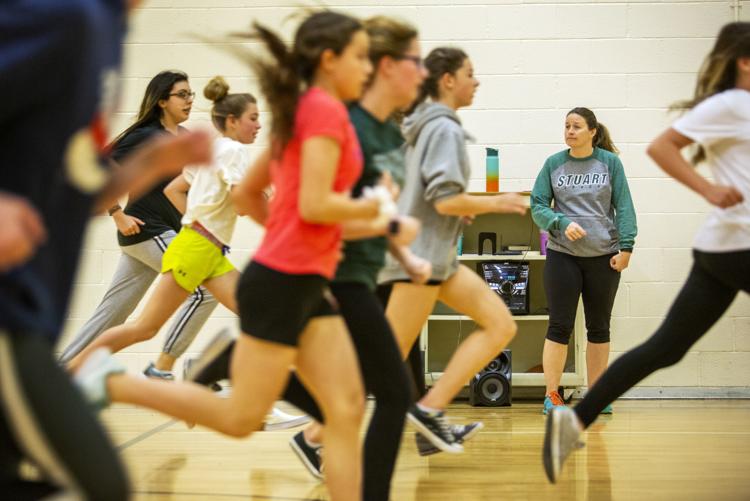 Kauffman has been teaching for 14 years — the entire time at Robert Stuart. Currently, she teaches mostly seventh-grade girls P.E.
You have free articles remaining.
When she started as a P.E. teacher, classes were co-ed, but were later split around 2010 by gender.
"It really has been advantageous, in my opinion," Kauffman said, and has led to more participation among students.
Her goal as a P.E. teacher is for "girls to be as active as possible for as long as possible," she said.
Children these days are less active than in the past, Kauffman said, and in middle school, students are only required to take P.E. during seventh-grade.
To help combat that issue, Kauffman pushes to create other ways for students to be active. Kauffman and Robert Stuart associate principal Justin White pursued grant funding for an outdoor basketball court. Concrete has been poured for the court and the project is slated for completion soon.
The school was awarded a $5,000 grant from the First Federal Foundation for the project and the Twin Falls School District will match that amount. Kauffman and White also secured grant funding from other sources, such as Fuel Up to Play 60.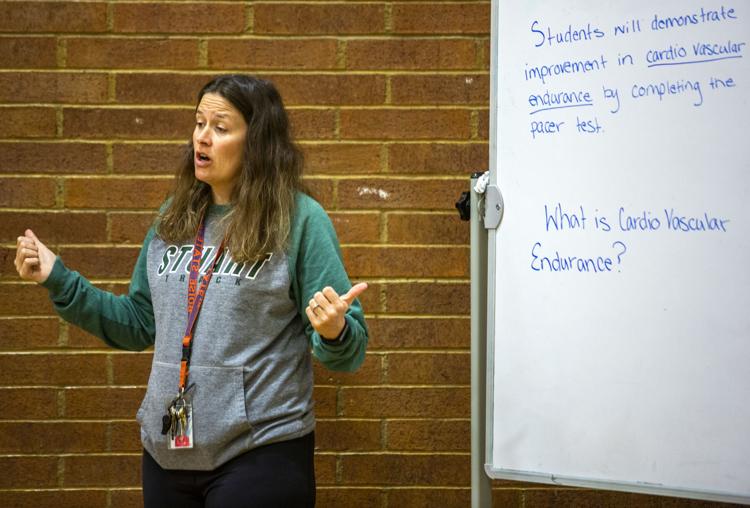 Ever since Robert Stuart opened in 1962, there has never been an outdoor basketball court, McBride said, but added it seems like a fundamental need for a school.
Kauffman was also instrumental in launching a walking club last school year, which meets twice a week before school. Participating students use equipment to scan their ID cards to track how far they walk. They earn prizes as well.
At Twin Falls High School, Kauffman has coached girls soccer for 15 years — 10 of those as head coach. For about eight of the 10 years, she has led the team to the state championship.
Kauffman is also very supportive of Robert Stuart's teams, McBride said, and provides encouragement for students to advance their athletic abilities at the high school level.
It's the second year in a row the "Teacher of the Year" has been from Robert Stuart. Bear Essentials teacher and student council adviser Kim Dahlquist received the award last year.
Kauffman said: "I think that speaks to the culture in the building."