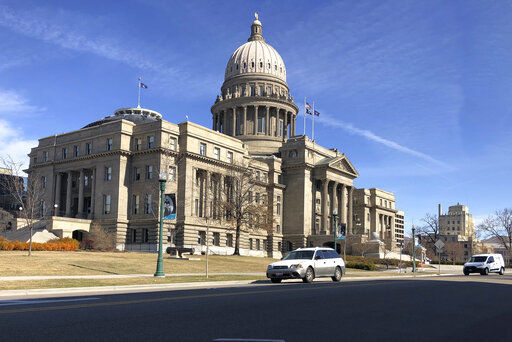 BOISE — The attorneys general of 14 Republican states have filed a brief supporting an Idaho law that bars transgender girls and women from playing on female high school and college sports teams.
The "friend of the court" brief, which was written by the office of Nebraska Attorney General Douglas Peterson, argues that states are legally allowed to draw distinctions based on sex and urges the U.S. Ninth Circuit Court of Appeals to reverse Idaho U.S. District Judge David Nye's August injunction that bars enforcement of House Bill 500 while the case works its way through the courts.
"The act draws a straightforward distinction based on biological sex and prevents biological males (regardless of how they identify) from participating in women's sports," the brief says. "Because of the average physiologically based differences in speed and strength between males and females, the act is one effective way to ensure fairness in women's sports and to preserve equal athletic opportunities for women. The Constitution allows states to use these kinds of '[s]ex classifications … to advance full development of the talent and capacities' of women."
The states of Alabama, Alaska, Arkansas, Indiana, Kansas, Kentucky, Louisiana, Mississippi, Montana, Oklahoma, South Carolina, Texas and West Virginia also signed onto the brief.
The American Civil Liberties Union and the progressive feminist group Legal Voice are suing to overturn the law. Also called the Fairness in Women's Sports Act, it passed this year and was supposed to take effect on July 1, but Nye barred its enforcement in August as the case works its way through the courts, writing in his order that the plaintiffs are "likely to succeed in establishing the act is unconstitutional as currently written."
The Alliance Defending Freedom, a conservative Christian legal group that helped to write the bill, is asking the Ninth Circuit to overturn Nye's injunction. The ADF has been involved in numerous cases across the country opposing policies that recognize gender identity and supporting ones that draw distinctions based on biological sex, including a pending Connecticut lawsuit that seeks to overturn a policy that lets transgender students compete on teams based on their gender identity.
The states' brief is one of six friend of the court briefs supporting the law filed with the Ninth Circuit on Friday. The others were from the Women's Liberation Front and the Women's Human Rights Campaign, both of which are part of the minority of feminist groups that are critical of the concept of gender identity; six women athletes and four doctors who support the law; and Idaho U.S. Attorney Bart Davis. U.S. Attorney General Bill Barr came out in favor of the law in June.
"Women deserve to compete on a level playing field," said Christiana Holcomb, a lawyer arguing the case for the Alliance Defending Freedom. "Allowing males to compete in girls' sports reduces women's athletic opportunities and destroys fair competition." Holcomb said the law protects girls and women "based on the real physical differences between the sexes in sports."
"Nothing in the Constitution requires a state to abandon fairness for girls in order to give special treatment to males who want to compete in girls' sports," she said.
Debate over transgender issues dominated much of the 2020 legislative session. As well as House Bill 500, Idaho lawmakers also passed House Bill 509, or the Idaho Vital Statistics Act, which bars transgender people from changing their sex on their birth certificates to match their gender identities. Both bills passed with almost unanimous Republican support and unanimous Democratic opposition, after often emotional public hearings and amid protests from civil rights groups and members of the transgender community. House Bill 509 has similarly been on hold since August, when a federal judge ruled it violated a 2018 injunction; the state has not challenged that ruling.
It remains to be seen whether incoming President Joe Biden's administration will continue to defend the law; the campaign's transition team didn't respond to a request for comment. However, given stances the Democrat has previously staked out in favor of federal protections for transgender people, it seems unlikely Biden's Justice Department would defend it, and it might even actively oppose it.
"On his first day in office, Biden will reinstate the Obama-Biden guidance revoked by the Trump-Pence Administration, which will restore transgender students' access to sports, bathrooms, and locker rooms in accordance with their gender identity," the gay and transgender rights page on Biden's campaign website says.
Biden reaffirmed his support for transgender rights in a statement Friday marking Transgender Day of Remembrance.
"From the moment I am sworn in as president of the United States, know that my administration will see you, listen to you, and fight for not only your safety but also the dignity and justice you have been denied," he said.
Based on the briefing schedule, the court likely won't rule on the Alliance's appeal until January at the earliest.