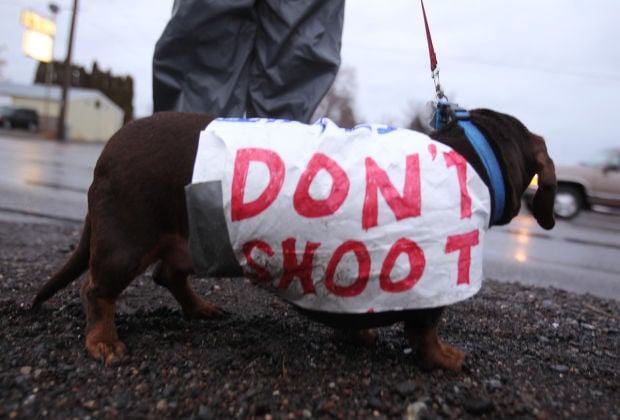 DENVER • Police in the Denver area shooting nonaggressive dogs prompted one Republican legislator to act.
"As I dug into the subject, I discovered over 40 cases where Colorado police officers shot nonthreatening dogs," said Colorado Sen. David Balmer of Arapahoe County.
The only cases cited were those that occurred at "nonviolent police calls," he said last week.
Balmer, who deployed to Bosnia and Afghanistan with the Army Reserves, believed officer training in canine behavior and nonlethal tactics could reduce such shootings and improve public safety. He worked with Colorado attorney Jennifer Edwards, an animal law specialist, to draft the Dog Protection Act.
Passed without a dissenting vote, it was signed into law last May, requiring training this year of all law enforcement officers in Colorado.
No such movement is afoot in Idaho, but the Boise Police Department recently decided to require special training for all its officers and field responders. They'll use video classes developed by the U.S. Department of Justice with the Chicago Police Department and Safe Humane Chicago.
"It's a community issue," said Boise Officer Randy Arthur, the department dog trainer and part of its K-9 unit for 18 years. "We do love dogs ... We have respect for dogs and their owners."
Law enforcement officials encounter loose dogs and hostile pets daily, and most do not end in fatal shootings.
"You have a few incidents and a lot of publicity. You also have incidents happening every day in which the police don't go to those extreme measures," said Dr. Jeff Rosenthal, executive director of the Idaho Humane Society.
The public response now reflects not only the multiplier effect of modern media and technology, but also the cultural shift in how Americans view their pets. More than half of people surveyed consider their pets to be family members.
The absence of training, policies and protocols have given police carte blanche authority to shoot dogs, said Edwards, who has been swamped by dog owners filing lawsuits.
"It's fly by the seat of your pants, and if you shoot a dog — too bad, so sad," she said.
Edwards and other attorneys litigate such shootings as a violation of the Fourth Amendment, the taking of property without due process.
About 95 percent of the shootings are deemed justified by police agencies, said Dr. Randall Lockwood, senior vice president of ASPCA Forensics Sciences and Anti-Cruelty Projects.
"The standard is very low," said Lockwood, who has studied the issue for 15 years. "If you think the dog is about to bite you, you can shoot it."
Untrained officers likely feel more threatened than those who are familiar with dog behavior and armed with tools and techniques, he said.
A 52-page U.S. Department of Justice report in 2011 stressed the need for agencies to train officers in nonlethal ways to deal with dogs.
"Law enforcement officers must advance beyond automatically using their weapons when encountered by a dog," Bernard K. Melekian, director of the Office of Community Oriented Policing Services, wrote on the first page of "The Problem with Dog-related Incidents."
"There are many other ways to ensure public and officer safety through diffusing dog encounters."
The report says failing to curb unnecessary dog shootings erodes public trust and racks up costs from judgments and settlements.
In one case the report cites, three California police departments (San Jose, Santa Clara and Gilroy) paid $1.8 million in damages after they raided two homes owned by Hell's Angels motorcycle club members. Three dogs were shot in the 1998 raid.
The killings were deemed a Fourth Amendment violation because police did not consider a nonlethal alternative while planning the raid.
A state law requiring all Tennessee highway patrol officers to be trained in dog behavior came from a 2003 incident, when an officer shot a North Carolina family's dog. The dog got loose because officers didn't heed the family's request to shut their car door after they were handcuffed outside the car. The family was stopped after someone reported a possible robbery at a gas station; it turned out there was no robbery.
The family received $77,000 in an out-of-court settlement.
Pet owners not rolling over
The public is protesting in a lot of ways, including social media.
The Facebook page "Dogs Shot by Police" is a clearinghouse of articles, photos and videos. The site has posts on the February Filer case, when Officer Tarek Hassani shot and killed a family's 7-year-old black Lab, Hooch, in the front yard of his home.
Hassani shot the dog just as a birthday party for Rick Clubb's 9-year-old son was winding down.
"It was right outside my son's bedroom. What if it had ricocheted through the window?" Clubb asked the Times-News.
Collateral damage — life and property — is a concern. Russell Lortz, whose dog was shot by Boise police in January, was upset that his car also was a victim. An officer fired five shots at Skrappy Doo, a 75-pound mutt. Three hit the car and two hit the dog, which survived.
In Filer, Clubb conceded he probably deserved to be cited. But shooting the therapy dog of the wheelchair-bound Parkinson's disease patient felt like overkill.
Public response was swift. A few days after the killing, hundreds of protesters held a rally to call for Hassani's firing, and a Facebook page called "Officer Hassani Get Out of Filer" was launched. The page has more than 12,000 "likes" now — about five times the number of people who live in the small town.
The dash camera video has been viewed on Magicvalley.com nearly 400,000 times.
"Anybody who knew anything about dogs wouldn't have shot that dog," Rosenthal said. "The dog had stopped and was backing up."
Then he relented: "It's easy for us to play judge and jury."
Video at a Nampa home in 2012 showed a pitbull-mastiff mix attacking an officer after running out through an open door. The dog's owner, angry that his dog was killed, made a public apology to police after seeing the video.
"If I was in the same situation, I would have probably done the same thing," Anthony O'Hare said.
Idaho police agencies provide little if any training in how to deal with dog-related incidents.
Arthur, the Boise K-9 trainer, said the four hours of dog-related training his department traditionally provided during its academy focuses on the role of police dogs in law enforcement.
"We realize we can be more intentional about our training, and we are going to be," Arthur said.
Meridian Police Deputy Chief Tracy Basterrechea said his department offered some dog-related training when it had animal control officers in-house. That changed when the city contracted with the Idaho Humane Society.
"We were just discussing having someone with IHS come out," Basterrechea said. "It's an issue that the public is concerned about, so we're concerned about it."
Caldwell Police Lt. Devin Riley said the department's two animal control officers are the only ones who are trained in handling dogs.
"To be honest, we should probably train on it more," Riley said.
Tools, techniques and time
Police have many options for handling aggressive dogs: fire extinguishers, batons, pepper spray, Citronella spray, bullhorns, catchpoles and Tasers. Each has limitations, and many things factor into their effectiveness.
Tasers can be tough because a dog is a horizontal target, not a vertical one as with a person. It can be tricky to land both darts in the dog. And some dogs become more agitated after being Tasered.
"Tasers are not a humane way to restrain or control a dog," Rosenthal said. "But I have to admit, I prefer Tasers to firearms."
Pepper spray is recommended. It is effective on most dogs, but not all.
Postal Service workers, who are trained to handle aggressive dogs, carry pepper spray, said Denver postal spokesman Brian Sperry. Nonetheless, 16 Idahoans were bitten while delivering mail last year. Bites of postal workers nationwide each year are in the thousands. Nearly 6,000 mail carriers were bitten in 2012.
Bites are a real concern. A severe bite on the hand could end an officer's career if he can't write and file reports, Boise Officer Steve Bonas said.
In Garden City, 10 officers have been bitten by dogs since 2006, said Chief James Bensley.
Those cases rarely make the news. An Ada County sheriff's deputy bitten in the wrist by a German shepherd-Labrador mix last weekend in Kuna was treated at a local hospital.
Fire extinguishers are very effective at repelling dogs.
"I've never had that not work," said Boise Officer Shane Williams, who has been with the department 22 years.
But Williams and others said extinguishers are used primarily in pre-planned encounters. They're generally not at hand in sudden attacks.
Does more training reduce shootings?
By year's end, all Colorado law enforcement will have been trained in dog behavior and handling, per the Dog Protection Act. Departments may develop their own programs, but a 19-member task force is creating a three-hour Web-based training free to all agencies. The task force members are donating their time.
It will be a couple of years before officials can look at the data to see if the training helped curb officer shootings of dogs.
But Edwards, the animal law attorney, said progress already has been made.
"Clearly we've made some headway in raising awareness," she said. "Colorado decided they were going to seek to make our law enforcement the most humane in the country. If one less dog is shot, then we've made a lot of headway."