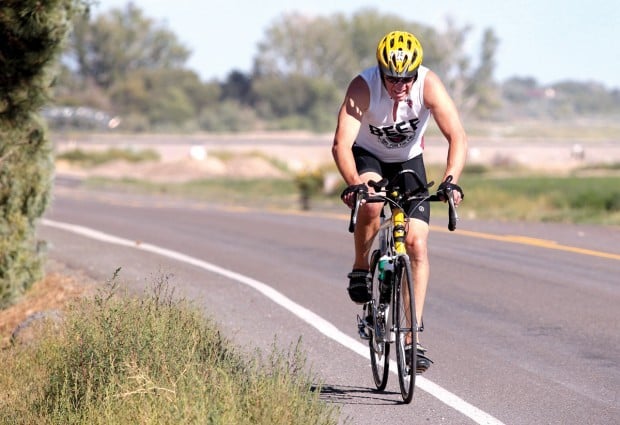 Aren't bike paths on Twin Falls streets? What are the laws for bikes on city streets? Are they allowed to ride in the middle of the street like a car?
Yes, local streets have bike lanes. The city street department maintains more than 14 miles of bike lanes, said streets supervisor Mark Thomson.
According to city code 9-11-1 on riding regulations, traffic laws apply to bicyclists. They must dismount to make turns if authorized signs prohibit right, left or U-turns.
A bicycle must have a permanent, regular seat attached and cannot carry more people than its design and equipment accommodate. An adult may carry a child securely attached in a backpack , sling or attached child carrier.
If a bike lane isn't available, a bicyclist may use the lane appropriate for his destination, staying toward the right side of the road and traveling in the same direction as vehicles. Cyclists may not ride more than two abreast on roads, though they may on paths or bike lanes.
A bicyclist approaching a sidewalk must yield the right-of-way to all pedestrians and to vehicles emerging from alleys or driveways.
Riders may not cling to vehicles or follow a vehicle closely, and they must keep at least one hand on the handlebars.
A bicycle may be ridden on a sidewalk or crosswalk unless prohibited. If the number of pedestrians using the sidewalk renders bicycle riding unsafe, the cyclist must dismount and walk the bicycle. Cyclists on the sidewalk must give an audible warning before passing pedestrians.
A bicycle cannot be parked on the sidewalk, only in zones marked.
Idaho Code Title 49, Chapter 7, includes guidelines not stated in city code:
Bicycle racing on highways is prohibited unless a race has been approved by the Idaho Transportation Department or local law enforcement.
Every bicycle or rider must have light reflectors at night visible from at least 500 feet front and back.
Bicyclists must obey stop and turn laws at stop signs. They must yield to any vehicle in an intersection. A signal of intention to turn right or left must be given within 100 feet before turning unless the hand is needed to control and operate the bicycle.
Have a question? Just ask and we'll find an answer for you. Email your question to Kimberly Williams Brackett at timesnewscuriousmind@gmail.com with "Curious Mind" in the subject line.