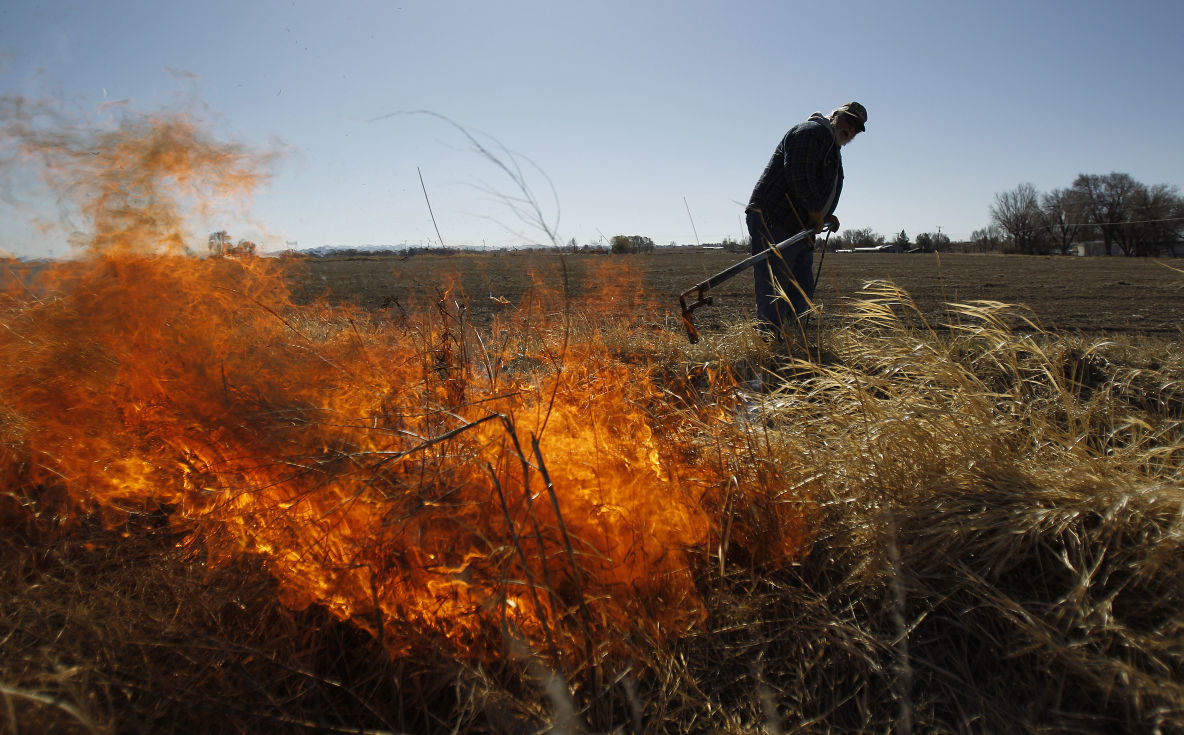 Q: How many miles of canal and ditches are burned in the Magic Valley? And who burns it?
A: "We are now in the middle of burning," said Brian Olmstead, general manager for the Twin Falls Canal Company. "All of our ditch riders try to burn all of their ditches each spring unless they have been adequately grazed, or are in a high hazard area where the fire could spread to cause damage to private property. I would estimate that we burn roughly 600 miles of ditches each spring, all of that within the next three weeks."
Burning began March 2 "and then went full speed on the 9th," Olmstead said. "When it is too wet, we work on check boards, headgates, etc."
"TFCC has a right-of-way on all our laterals, coulees, and canals that was granted to us by the State of Idaho in the 1902 contract with Twin Falls Land and Water Company (I.B. Perrine)," he said. "Our rights-of-way are specifically for the purposes of delivering water and maintaining the system. We work with landowners on gates and fences to make sure they don't prevent us from doing necessary maintenance activities. Only on extremely rare occasions do we have a conflict with landowners over our rights-of-way and we, of course, try to work those out without having to resort to legal action. Luckily, in Idaho, our state legislators are very supportive of canal companies and the vital task we perform, so there is considerable legislation dealing with irrigation and drainage rights."
The Salmon River Canal Company has 300 miles of main canal and laterals for about 25,000 acres of farms south of Twin Falls.
"North Side Canal Company operates and maintains approximately 900 miles of canals and ditches used to convey irrigation water to 160,000 acres of farmland on the north side of the Snake River through Jerome, Gooding, and Elmore counties," said Alan Hansten, general manager for North Side Canal Company. "Dead weeds and other debris are burned every spring using propane weed burners to clear out the canal system so that the irrigation water will be able to move through the system as efficiently as possible. This also helps to minimize flooding risk to the public and landowners. Landowners are encouraged to help burn the canals since spring weather conditions can limit the company's ability to burn safely in the short amount of time that is available. Also, it is greatly appreciated when adjacent landowners remove any irrigation equipment or other items from the canal banks so that the company's staff can access the banks to burn and maintain them."
The width of a canal or ditch easement area, from the bank of the canal/ditch to a fence, must be 16 feet. According to Big Wood Canal Company's web site, "Idaho law gives us the legal right to use these easements through either fee title ownership or by right-of-ways. Easements give us access so we can monitor and adjust water flows. We also need access so we can remove sediment and debris from the ditches; control weed growth by mowing, spraying or burning; pipe, line and refurbish ditches and perform other maintenance activities. Generally, easements are an area on either or both sides of the canal, lateral or ditch. The easement also gives us the right to deposit material on the banks that has been removed during cleaning and maintenance. We also have the right to take out obstructions to the easement and to prohibit activities which unreasonably interfere with maintenance."
To prevent encroachment, water users must first contact the canal company if any construction, landscaping or activity within or affecting any of the canals, laterals or easements is planned.
Located in Shoshone, Big Wood Canal Company's watermaster was not available for further information.
Have a question? Just ask and we'll find an answer for you. Email your question to Kimberly Williams Brackett at timesnewscuriousmind@gmail.com with "Curious Mind" in the subject line.
Get local news delivered to your inbox!
Subscribe to our Daily Headlines newsletter.